11 Best Feminist Kids Costumes From The '90s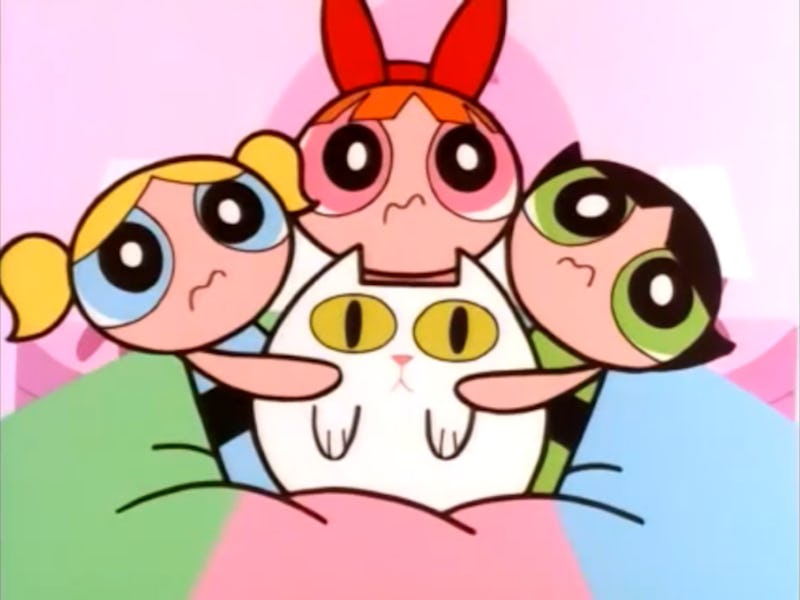 We can all agree that the '90s was pretty much the coolest decade, especially when it came to snacks, cartoons, and having the best '90s feminist Halloween costumes. Is it really that surprising that the 10 years that brought us Riot Grrrl, Salt-N-Pepa, and Topanga Lawrence would also inspire a girl power moment for kids, even around Halloween?
Sure, a lot of us were dressing up as Belle, Jasmine, or various other princesses, but there were plenty of other kids costumes from the '90s that celebrated feminism. From Saturday morning cartoons to classic kids movies to now iconic music, the '90s presented kids with kick-ass female characters who went far beyond beauty icons, love interests, and damsels in distress. They were girls we loved watching on screen or singing along with in the car, so when Halloween came around, they became the girls we couldn't wait to dress up as either. The real problem wasn't picking a great costume, but making sure that you and your best friend didn't end up with the same thing.
No, you aren't a kid anymore, but you can still appreciate looking back at some of the best feminist kids costumes from the '90s. And hey, just because you aren't going trick-or-treating this year, who says you can't dress up as one of these for Halloween?
1. Sailor Moon
... or any of the other Sailors, for that matter, were popular costumes in the '90s. The anime series featured 10 magical girls with the power to fight off any threats to their home. They were fierce and loyal friends who kicked some major ass — and they became costumes that caused instant envy among peers.
2. Jessie
The Toy Story movies inspired so many kids costumes of the '90s, from little Buzz Lighyears to matching Mr. and Mrs. Potato Heads, but the real costume hero was Jessie. She was a tough-talking cowgirl who was brave, daring, and loyal, and her outfit was one you could spot in any neighborhood on Halloween, then and now.
3. The Spice Girls
Was there anything you and your friends wanted to dress up as more than the Spice Girls in the '90s? They had each others' backs, did what they wanted, and didn't care what other people, men or women, thought — oh, and they had really fun clothes. You might have argued over which group member you could be, but in the end, you all ended up dressing as one of these badass pop stars.
4. Pink Power Ranger
One of the most popular kids costume of the '90s, the Pink Power Ranger is a total feminist queen. Not only did the Pink Power Ranger show girls that they could kick just as much ass as the guys they were surrounded by, but it showed them that, if they wanted, they could be feminine while doing it.
5. Zenon & Nebula
Out of all the amazing Disney Channel movies from the '90s, Zenon: Girl of the 21st Century was the most feminist. Zenon and her BFF Nebula were troublemakers for sure, but they stood up to the wrongdoings of people much older and much more powerful then they were, and looked amazing doing it. Once they walked on screen, every little girl in America was instantly jealous of their wacky hair, funky clothes, and killer accessories, and immediately added it to their Halloween costume wish list.
6. Powerpuff Girls
Sugar, spice, everything nice, and... Chemical X? Yes, those were the makings of three little girls you loved watching get the bad guys daily on Cartoon Network. When Halloween came around, you couldn't wait to track down your Buttercup costume while your friends dressed up as Bubbles and Blossoms.
7. Lisa Simpson
Lisa Simpson inspired me to do a lot of things — learn to play the saxophone, give up eating meat — but she also inspired my childhood Halloween costume (and let's be real, an adult one, too). I wasn't the only one, though. Plenty of girls rocked spiked hair, a red dress, and pearls in the '90s, and seeing as The Simpsons is still on today, the trend isn't ending any time soon. No complaints here!
8. Xena
Sure, Xena the Warrior Princess was a popular costume among women in the '90s, but their were plenty of kids dressed up in pleated armor with chakrams on hand. It is the equivalent of seeing little boys dressed up as Hercules or Superman, only way cooler, and way more '90s.
9. Buffy
Though Buffy is a costume aimed a little more towards adults, there were plenty of teen girls who flipped out their hair, strapped on their high heels, and tucked a stake into their jeans for that last round of trick-or-treating, or their first "cool" Halloween party. She's tough, sexy, and in the perfect spirit for a Halloween costume.
10. Reggie Rocket
If you didn't want to be Reggie Rocket for Halloween, then you were a total shoobie. Her army pants, pink t-shirt, and awesome skateboard were all you needed for a DIY costume everyone was jealous of.
11. Susie Carmichael
Even though The Rugrats was a show about babies, it was always popular with older kids who didn't mind dressing up in diapers and carrying around rattles as part of their Halloween costumes. The most feminist character to dress as, though? Susie Carmichael is the outspoken hero for the babies, and a character favorite for sure, especially around Halloween.
For more Halloween ideas, check out Bustle on YouTube.
Images: Cartoon Network; Giphy (11)