Football Fans May Love This 'Shark Tank' Service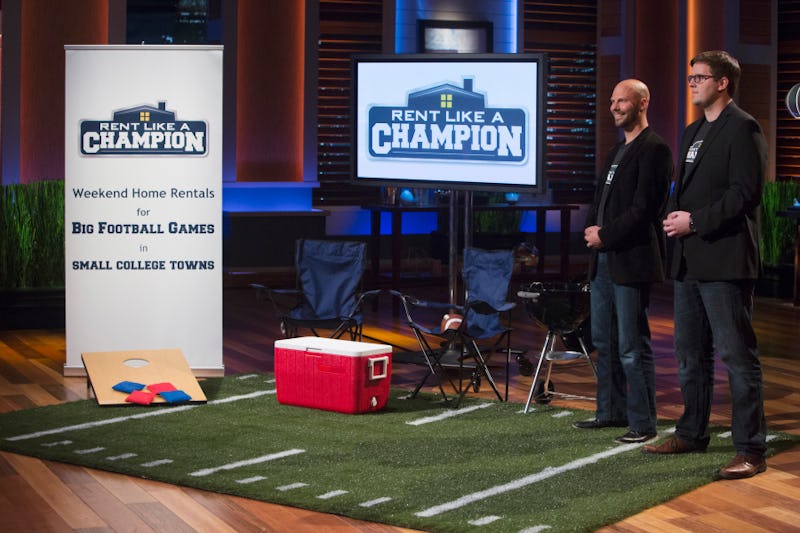 If you have been paying even the smallest amount of attention this fall, you know that college football is kind of a big deal in the United States. Not only do many fans spend their Saturdays parked in front of the TV to catch the big game, or rather, several big games that day, but people also travel far and wide to see their favorite teams in action. If you ever find yourself in that latter category, you might want to check out Rent Like a Champion from Shark Tank .
Since this service entering the Tank during Friday night's episode is sports-related, it seems likely that Shark Mark Cuban's ears will perk up at the very sound of the company's name since the intro of every episode reminds us that he's "the outspoken owner of the Dallas Mavericks." These Chicago-based entrepreneurs might also connect with Lori Greiner, who also hails from the Windy City. And it's definitely going to be interesting to see what the cowboy shirt-loving tech billionaire Chris Sacca, who will appear as a guest Shark during Friday night's episode, thinks of this web-based service.
Oh, if only we could flash-forward in time to Friday night at 9 p.m. EST when the latest episode of Shark Tank will air. Well, most of us don't have that ability, but, you have to admit that this preview of Rent Like a Champion below is just about the next best thing.
It's Airbnb For Game Day
Anyone that has ever been to a college football game knows that navigating through the campus and the crowds can be a real nightmare. However, Rent Like a Champion tries to make it so the only heartbreak you feel on game day is if your team unfortunately loses. This online service facilitates short-term rentals between homeowners and those looking for a place to stay in college towns when they head to the big game. Those looking for lodging while attending a commencement or really any event in a college town are also encouraged to Rent Like a Champion. The idea of the service is really to find big groups affordable, comfortable, and convenient places to stay together during times when small college towns get crazy crowded with visitors.
Everybody Should Win
Rent Like a Champion's website should be fairly intuitive for anyone that has used the Internet before. If you're looking to rent a place for the weekend, all you have to do is head over to the website, search for the school that you're looking for accommodation near, and then browse the listings that meet your location, price, and size criteria. Once you find a home that tickles your fancy, you can reserve it with a credit card online, and then the key and other important info about the home will be waiting for you in a lock box when you arrive. Usually, check-in is at 5 p.m. on Fridays, and check-out is at 12 p.m. on Sundays, although some renters will allow you to extend your stay.
If you're looking to make some extra cash, you can also list your home on Rent Like a Champion. If you're worried about damage — and who could blame you, really — the company has an insurance policy that covers every homeowner up to $1 million in liability protection and structural damage, according to Rent Like a Champion, which also says on its website that it has a "low incident rate." With homeowner earnings averaging $1,100 per weekend, according to the company, that money might be too easy to pass up.
It's Not Everywhere Yet
Rent Like a Champion's reach isn't quite as widespread yet as some other online rental services. It currently serves 21 college towns, which, considering there are a few thousand universities in the U.S., Rent Like a Champion definitely has its work cut out for it.
But The Business Seems To Be Heading In The Right Direction
Rent Like a Champion is on track to book $4 million in gross rental proceeds this year, CEO Mike Doyle recently told The Chicago Tribune. That of course doesn't mean the company will be taking home that amount of earnings at the end of the day or even turn a profit for that matter, but that certainly isn't a figure to scoff at. Rent Like a Champion may be a company to keep an eye out for in the future.
This Is A College Company Through And Through
Rent Like a Champion was always giving the old college try. It first launched in 2006 as a student housing company with the founders, all of whom graduated from Notre Dame University, listing a vacant apartment up for rent on Craigslist and eBay for those looking for a place to crash during the football weekend. Notre Dame fans ended up renting the place, which inspired the founders to seriously pursue this business. Doyle, who also graduated from Notre Dame, joined the company in 2010 to expand it to other college towns with a major football presence. The name of the company, Rent Like a Champion, is even a riff on the "Play Like a Champion Today" sign that the Fighting Irish slap as they make their way onto the field. Though they may not be in college anymore, these guys clearly still bleed blue and gold.
Now It's Taking On Chicago's Start-Up Scene
California may have Silicon Valley, and New York may be home to many start-ups, but never count out Chicago. The entrepreneurs behind Rent Like a Champion developed their business in the city's well-known tech incubator 1871 and are currently a part of another accelerator called Chicago Catapult. It looks like this company is doing everything it can to climb to No.1 in the Second City.
Images: Adam Rose/ABC; Giphy (3)