Go As Sansa From 'Game of Thrones' For Halloween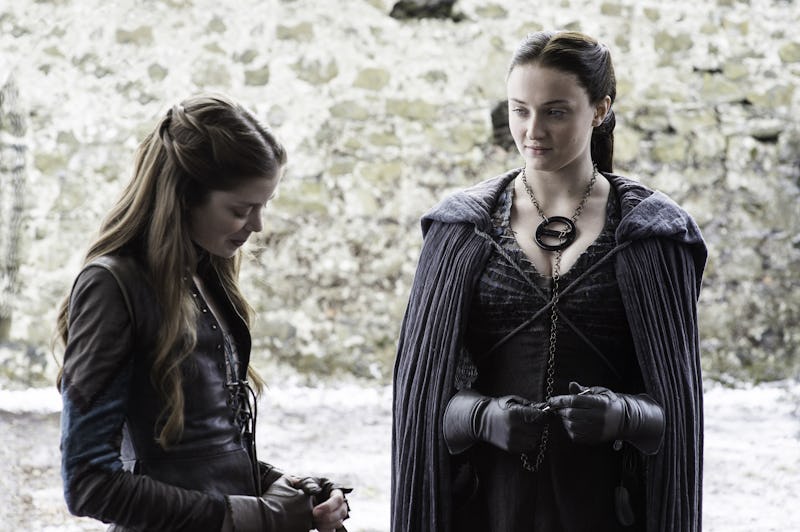 There are so many awesome characters in movies and television this year that it's hard to pick just one to embody in October and with the clock ticking, the perfect look may be unattainable. For example, I know you want to dress as Sansa Stark from Game of Thrones this Halloween, but a full cosplay-level look seems intimidating. However, it's really not as difficult as you think, which is important because Halloween is just days away.
Besides being one of the best survivors in her family, fight me on this, Lady Sansa has some of the most iconic looks on Game of Thrones. She uses clothes and hair styles to tell us where her loyalty lies. Remember when she started twinning on Margaery Tyrell's hairdo? It's one of my favorite, subtle, things about her character. Since she doesn't always have the freedom to speak out against her situation, her clothes tell the story and speak volumes.
For this Halloween costume, I've chosen the "Dark Sansa" outfit (pictured above) that debuted at the end of Season 4 and was featured prominently in Season 5. Having finally escaped King's Landing and gotten a grasp on her situation with Lord Petyr Baelish, the Severus Snape-but-actually-worse of Westeros, she dyed her hair black and made this dress that showed she also knows how to manipulate Littlefinger right back, but has officially entered the Game of Thrones arena. Luckily, this is a pretty simple costume to replicate. Check it out.
Black V-Neck Dress
First, you'll need a black maxi-dress, like this one from Forever 21 that's $15.90 and fits the faux "period" fashion and weather requirements of Game of Thrones while looking cute.
Feather Collar
Sansa's back dress was covered in feathers, but for your costume you only need to focus on the shoulders. Luckily, feathery collars are available at Dancewear Solutions for only $11.95 and can be comfortably added to your outfit. Or, if you want to really embody the Sansa spirit and/or don't have time to wait for shipping, you can make your own feather shoulder pads with this DIY tutorial.
Intimidating Pendant
You can get a replica Sansa "needle" necklace like this one on Etsy for $22, and the seller has other options in smaller sizes if you'd prefer something a little less dramatic.
A Winter(fell) Cloak
Please don't throw me in some kind of dungeon for the nerd crime I am about to commit. If you're looking to put together a last-minute Sansa Stark costume, why not use a Lord of the Rings cloak from a Halloween store? This one from HalloweenCostumes costs $29.99 and it's the right color and shape for Sansa.
Power Braid
Finally, if your hair is long enough, you've got to twist it up into Sansa's Northern braided look. This particular style is reminiscent of her mother Catelyn, and signified her return home. You can get black temporary hairspray at PartyCity for $3.99 if you want. Look out, Westeros. You're ready to start casually plotting the downfall of your enemies as Sansa Stark.
Images: Helen Sloan/HBO; HalloweenCostumes; Etsy; Forever21; Dancewear Solutions