Another Real Life Serial Killer Joins 'AHS: Hotel'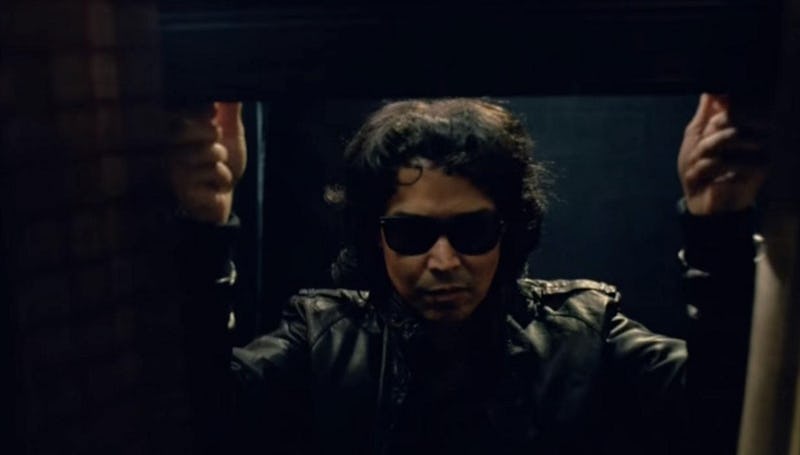 Since the Hotel Cortez isn't already crowded enough with serial killers, it appears that yet another real life murderer will be checking in for the highly anticipated Halloween special. Based on the trailer for the Oct. 28 episode appropriately titled "Devil's Night," it looks like Richard Ramirez will be on American Horror Story: Hotel alongside the likes of notorious murderers Aileen Wuornos, John Wayne Gacy, and Jeffrey Dahmer. This evening is sounding better and better, am I right? (For us viewers — not for poor John Lowe, who apparently hasn't suffered enough this season.) So, what's the deal with this latest cast addition and what happened to Richard Ramirez in real life?
Well, in 1989 he was convicted on 13 murder charges (in addition to numerous sexual assault and burglary charges) and died in 2013 — so he'll likely appear on the show as a ghost, just like the others. The biggest difference between Ramirez and his fellow ghostly Halloween guests is that he actually lived at the Cecil Hotel — which is the inspiration for the Hotel Cortez. So, it looks like he'll be returning to his old stomping grounds to presumably commit a few more heinous acts before heading back to his grave.
Ramirez was dubbed the "Night Stalker" due to his penchant for evening attacks, and he terrorized Californians for over two years. His attacks primarily occurred in the homes of his victims, and Ramirez reportedly stayed in a $14-a-night room at the Cecil Hotel when he wasn't out murdering people in Los Angeles. He was apprehended by police on August 30, 1985 after his fingerprints were found in a victim's car. He was convicted with his crimes in 1989 and sentenced to the death penalty.
Coincidentally, the Night Stalker ended up in the same jail as Sean Penn in 1987 as he awaited trial. Penn was serving a brief sentence for reckless driving and punching an extra during a film shoot — and it seems that Ramirez hoped to strike up a friendship with him. As Penn told the Los Angeles Times, Ramirez requested Penn's autograph and then sent him a creepy note that read: "Hey, Sean, stay tough and hit them again — Richard Ramirez, 666." Penn responded, but probably not in the way Ramirez had hoped:
You know, Richard, it's impossible to be incarcerated and not feel a certain kinship with your fellow inmates. Well, Richard, I've done the impossible, I feel absolutely no kinship with you. And I hope gas descends upon you before sanity does, you know?
Ramirez was later transferred to San Quentin Prison where he sat on death row for 23 years. In June 2013, the Los Angeles Times reported that Ramirez had died from blood cancer at Marin General Hospital in Greenbrae, CA. Los Angeles Deputy District Attorney, who prosecuted Ramirez, had these words to say about the Night Stalker's demise: "This person hurt many people, and our thoughts should be with the next of kin and survivors of these senseless attacks."
I think it's safe to say, with the addition of the Night Stalker, the ghostly AHS dinner party just got a whole lot creepier.
Images: Screengrab/FX; Wikimedia Commons