Is This Gwen's Secret Weapon On 'The Voice'?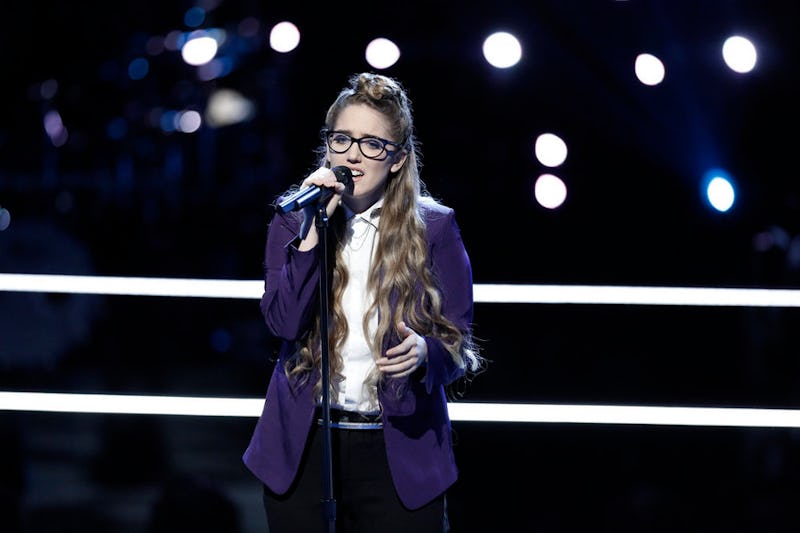 What's the key to The Voice success? Apparently, it's listening to any crazy advice Gwen Stefani has about your appearance. Korin Bukowski threw caution to the wind in The Voice Knockout Rounds by ditching her glasses — which she needs to see — for her performance. Did it pay off? Absolutely. Bukowski expressed herself both physically and vocally in her emotional rendition of "All I Want," securing her spot on Team Gwen for the Live Playoffs.
This isn't the first time Stefani has given a contestant style advice. Just last night she suggested 15-year-old Braiden Sunshine slick back his unruly curly hair. He listened and won his Knockout Round. More famously, Stefani gave Season 7 contestant Craig Wayne Boyd an entire makeover. And guess what — he won the entire season. Coincidence? Could be, but I think there's magic in Stefani's ability to make her team feel like their best selves. Let's put it this way — when you feel + look your best, you feel more confident. When you feel more confident, you put on a better performance. This could the secret sauce to Stefani's whole coaching strategy.
Stefani isn't instructing her team members to make these changes purely for vanity reasons. She's making these suggestions to get them into character — and guess what, it works. Bukowski was able to really tell the story of the lyrics through her eyes tonight. If she had her glasses on we wouldn't have been able to see that emotion as well. Though this show is called The Voice, the contestants need to have equally stellar stage presence and performance skills to back up their vocal talent in order to win. Stefani is one of the greatest performers of her time, so there's no doubt why this is an aspect of her team members that she tends to focus on more than the other coaches. Is it the secret to her success? Well, she hasn't had a winner yet, but based off what I've seen so far, it just might be Team Gwen's season.
Image: Tyler Golden/NBC