6 Tutorials For Every Item In The UD Naked Vault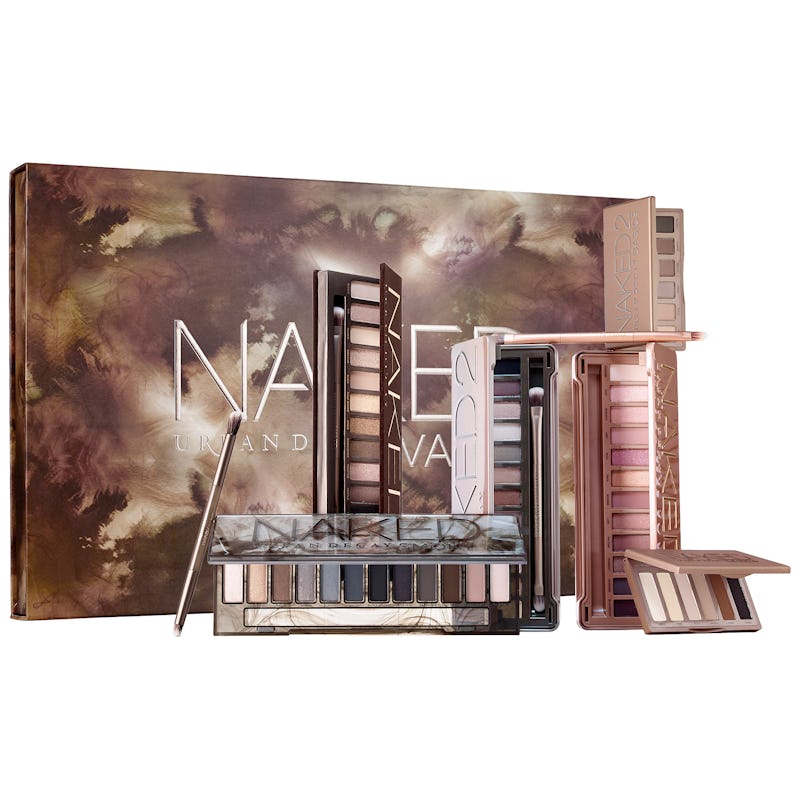 Urban Decay's Naked palette is a cult classic for a reason. Its perfectly blendable shades are ideal for every occasion and they're all so pretty, you'll want to wear each and every palette all at once. It's practically impossible to pick between all the Naked palettes, but now you don't have to. Urban Decay released the Naked Vault Volume II, and it includes every single Naked palette ever produced.
Last year was the first time Urban Decay released a collection of Naked palettes, and fans understandably freaked out. This year, they released a second volume of the collection, and it somehow already sold out on the Sephora website. But never fear, because the website currently says the Naked Vault Volume II is "coming soon," and it's priced at a not-too-bad $165. Yes, that's a small fortune to pay for eyeshadow. But considering the retail value of the kit is $274, that's actually a savings of over $100. Um, sign me up.
Of course, this collection is not for the average beauty collector. You have to be majorly committed to your eye makeup if you're going to drop over $150 on products. This could be the perfect item for your Christmas wish list if you're an aspiring MUA or just a lover of eyeshadows! If you do manage to get your hands on one of the kits, here are six perfect tutorials, so you can take advantage of all of the palettes at your disposal.
1. Naked Palette
This palette is a classic for a reason, and this tutorial will teach you how to use the basic Naked palette.
2. Naked 2 Palette
The Naked 2 palette is my personal favorite, and I'm a major fan of its smoky colors. This tutorial for a romantic smoky eye is going right on my must-do list.
3. Naked 3 Palette
The Naked 3 palette has rosy gold tones, and it's perfect for people with brown eyes. If you love girly pink colors, this tutorial is perfect for you.
4. Naked Smoky Palette
This Jennifer Lawrence-inspired tutorial is perfect if you want a smoky eye that's not too over the top. And who doesn't love Jennifer Lawrence? Try it out as soon as you get your hands on the Naked Smoky palette.
5. Naked Basics Palette
I'm not going to lie, sometimes I'm seriously tempted by the matte neutrals in the Naked Basics palette (despite the fact that I already have two other palettes). There's something so simple and classic about these colors, and I can see this tutorial being my everyday look.
6. Naked Basics 2 Palette
Naked Basic 2 has a few darker colors than the classic Basics, so it's perfect if you like simple, smoky eyes. I seriously love this tutorial.
After watching all these tutorials, you'll be an expert in the best eye makeup techniques around. After that, go forth with confidence and mix and match your Naked palettes.
Image: Sephora