NARS x Steven Klein Film Is Eerily Cool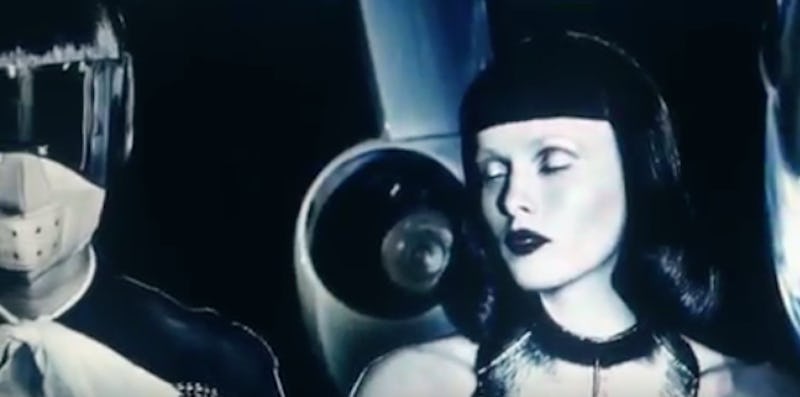 NARS and fashion photographer Steven Klein have teamed up for a holiday makeup collection that boasts some visually stunning packaging that has nothing to do with sleigh bells, Santas, or or the usual seasonal imaging. The products are all about power pigments and killer shine, but it's the packaging that draws you in the most. NARS and Steven Klein released a short film that is a creepy (in the best way) and cool reminder of the visual depth of their collaboration, which is available online now.
The NARS x Steven Klein collabo is eerily gorgeous on all levels. The product cases are even stamped with Klein's name. Also, the outer packaging features bold lips, splashes of color, and a domestic goddess wearing a mask that obscures her face, and more. It's the graphics and the design, as well as what's inside the compacts and lipstick cases, that elevate the products to "must own." I can't stop looking at them and that's always a good sign.
The film was created by Steven Klein Studios. It's dramatic, cinematic, and full of more arresting images. That makes sense, since he is, you know, a photog! The film reminds me of the fashionable, gender-bending party that the brand and the photog hosted this summer.
The faceless domestic goddess. What's going on under the mask? IDK. But we see this figure in the packaging for the Tearjerker eye set, as well. I would find a way to repurpose the packaging in an artful way in my house.
The futuristic Bettie Page look also factors into the film. You have to watch it to come up with your own read of the happenings.
See what I mean by creepy and cool?
Smudgy liner is a "do," no matter who is rocking it!
Watch the NARS x Klein short film below. It's only a minute and it's densely packed with confounding and lovely imagery. But that's the beauty of this collaboration. It's not standard nor is it representative of traditional beauty mores or even common, familiar holiday themes. NARS x Steven Klein are turning holiday beauty sets into something... new. That's no small feat!
Images: YouTube (4)