14 Best Reactions To 'Cursed Child' Ticket Sales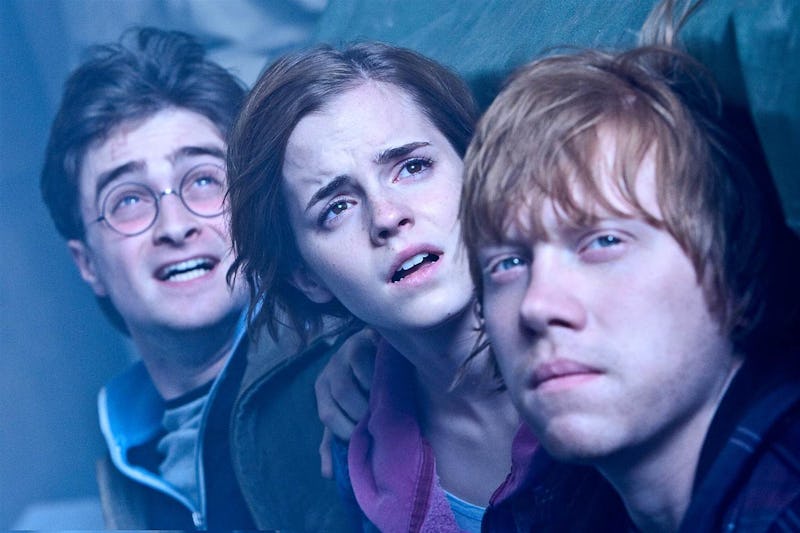 This week is the week that tickets for Harry Potter and the Cursed Child went on sale, which you know unless you've been living under a rock or, like me, trapped on a continent that doesn't contain London, where the performances will be taking place, and are thus willfully avoiding information about it to avoid breaking your own heart. But, no matter what your situation, now you know, and we can all be devastated together about missing out on the eighth story in the Harry Potter series together. The Cursed Child will focus on Harry and Hermione's son Albus Severus Potter, but in stage play form.
Because, oh, did I not mention? We're all missing out on it. Unless you were up in the wee hours refreshing your browser or waiting in a digital line — sorry, a queue — behind thousands of other hopeful Muggles, you have by now certainly missed out on tickets. It sucks, but it's just the way of the world. Some of us just aren't meant to have our butts in the seats in June 2016, delightfully absorbing the first new story in the series since 2007. (I truly may cry.)
But, instead of drifting into depression and letting life pass you by, do what I'm doing, which is living vicariously through those who actually had a shot at the tickets and spent the morning of Oct. 28 on a roller coaster of emotion trying to get them. Harry Potter fans are as creative as they are passionate, and it's getting pretty nutty over there on Twitter.
My jealousy knows no bounds.
Even getting to the front of the line isn't a guarantee!
Haaaaa. Today, we are all Sirius Black. Don't let them take your humanity.
Probably doesn't even feel like that much of an exaggeration.
We've all been waiting for this a long time, without even realizing what we were waiting for. (I guess I always assumed it would be another book.)
Side eye.
Gonna have to start using "this is my Azkaban" in my personal life, I'm pretty sure.
Sorry not sorry.
WHY DO WE LIVE IN A WORLD SO CRUEL.
Gimme.
Has she been a Death Eater all along???
This is perfect.
Fifty points from Slytherin!
This is some real talk, right here.
Am I crazy, or does anyone else feel slightly better having read that? I may not have tickets, but I also didn't spend my morning with my heart racing and getting punished by technology, so maybe it all evens out? But, on second thought no, no it doesn't. I just want some Muggle-loving tickets.
Image: Warner Bros.