"World's Smallest Stroller" Fits In Your Handbag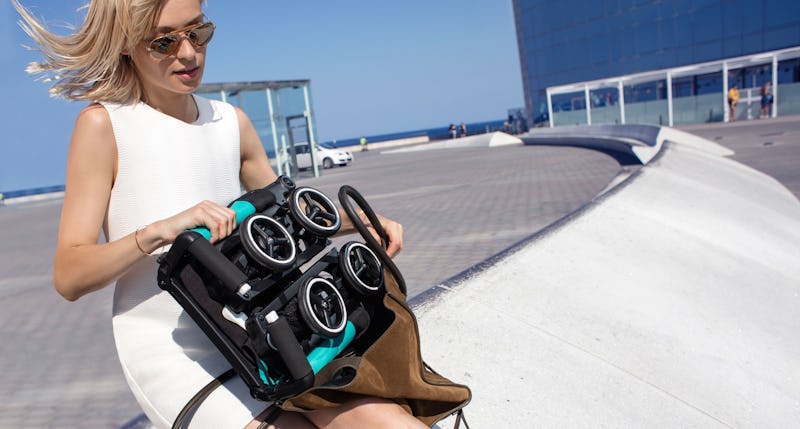 When I was pregnant with my daughter three years ago, I scoured the Internet for the best strollers on the market. Sure, size was a consideration — we lived in a small Brooklyn walkup, on the top floor. But as an avid runner, I was focused on other things, like tires and shocks and fancy speakers. That said, if someone had told me how damn impractical it would be to carry that 25 lbs. hunk of aluminum up and down said stairs with a newborn, I'd have seriously revised my search. And if the GB Pockit (aka the world's smallest stroller), had been around then, I would have jumped at the chance to own it.
Developed by Goodbaby international design studios for its GB brand, the Pockit made its consumer debut earlier this week when it appeared at the ABC Kids Expo in Las Vegas, and it quickly caught everyone's attention. So what makes this small stroller so special? Well aside from the fact it earned the Guinness World Record title of World's Smallest Folded Pram— it can be folded down a the size of a large handbag, i.e. 12-by-14-by-7 inches, in a matter of seconds — it weighs only 9 lbs. and can be reopened just as quickly and easily. And as Jen Johnson, GB's director of marketing communication, told Mashable, that was their goal: "Our inspiration was to allow parents to travel anywhere with their children and have this easy, lightweight product."
Throw an adjustable 5-point harness, a removable seat (to make washing the fabric as easy as possible), and a storage basket that can hold up to 11 pounds into the mix, and the Pockit has all the safety, security, and amenities you would expect from a top-of-the-line stroller but with a mid-level price of $229. The only catch? It can't be yours until next year: The GB Pockit will be available in speciality stores and baby boutiques in Spring 2016.
But the GB Pockit isn't the only amazing stroller out there today. In fact, parents have never had so many impressive options before. Here are a few other strollers that go way beyond anything our own parents had to push us around in:
The Babyzen Yoyo Stroller: Airplane-Certified & Ready For Take-Off
While the lightweight and compact Babyzen Yoyo stroller may not be breaking any Guinness World Records, its 12.8 lbs. frame and portable design make it one heck of a great choice for urban and jet-setting parents. Its biggest claim to fame is this: The Yoyo folds down super small and flat, making it the size of a carry-on — so you can bring it onto any commercial plane and stow it away in the overhead compartment.
The Thule Urban Glide: A Serious Stroller, For Serious Runners
With a lightweight frame (or at least by jogging stroller standards), pneumatic wheels, and easy, one-handed foldability, the Thule Urban Glide is a runner's dream. Why? Well if you've ever run with a stroller you know how important a smooth, safe ride is, and with a pivoting and locking front wheel and solid rear suspension the Thule Glide will give you all of that and more. (Plus you can use it in sand and snow — a huge plus for a pedestrian like me.)
The Quinny Longboardstroller: For The Laid-Back Skater In You
The Quinny longboardstroller is a truly unique experience. Half stroller, half longboard, this stroller gives parents the freedom to ride a longboard while enabling them to safely transport their children. (It also grants you the ability to travel faster and further with your kid in tow than you could with a regular stroller.)
The Doona Infant Car Seat: The Only Stroller/Carseat Combo On The Market
Have you ever taken your newborn to run errands with you, only to find your squishy ball of joy is sleeping soundly by the time you back out of the driveway? Have you ever put off those errands for fear of waking said squishy ball of joy? If you have, you're probably wondering why it took so long for someone to develop the Doona, an infant car seat/stroller combo. That's right, this car seat converts into a stroller with the push of a button. How cool is that?
Honestly, these Gen Z babies just don't know how good they have it. These rides are way better than anything we used to cruise around in, amiright?
Images: Courtesy of Goodbaby International, Giphy