I Dressed Like A Golden Girl For A Week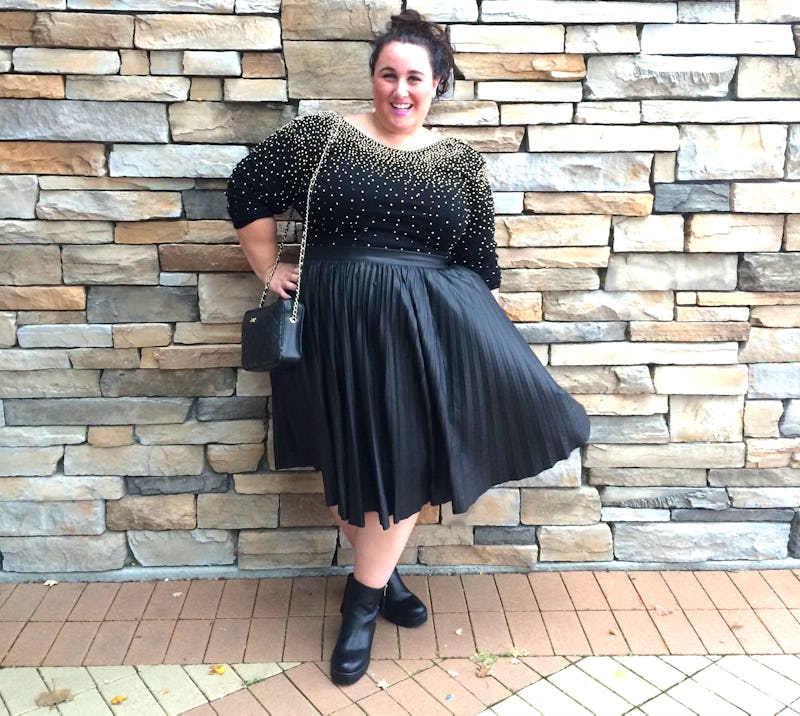 Although the Golden Girls went off the air in 1992 when I was only five years old, it's still one of my all-time favorite shows. Seeing older women in media is something that's only recently begun to get traction, arguably thanks to the blog turned book turned documentary Advanced Style , all of which helped expose the world to women such as Jacquie "Tajah" Murdock who went on to star in a 2012 Lanvin campaign at the age of 82. But the ladies of the Golden Girls have been proving that style has no age limit through 20 plus years of re-runs.
When I designed a collection of clothing inspired by the Golden Girls for my line Ready To Stare, I really didn't think twice about what people might think of creating a collection for 20 and 30-somethings based off of senior citizens in the '80s and early '90s. To me, the Golden Girls embodied so many of the things that were important to my brand: Individuality, sexual freedom, and — most importantly — confidence. It seemed like a perfect fit.
And so came the idea of actually dressing like the Golden Girls for a week. I knew their statement style was probably going to make me stand out, and I wanted to gauge how people reacted along the way. I didn't want to only dress like Blanche the whole time, so I hit thrift and vintage stores to add a few Rose, Sophia, and Dorothy pieces to my already gaudy wardrobe. So grab some cheesecake while I embark on a week as a 27-year-old Golden Girl.
Day 1: Rose
Since the sweatshirt is covered in a colorful clock pattern and accented with rhinestones, it seemed like something just cheesy enough for Rose. Even though black is far from Rose's typical aesthetic, it was closer to my own than wearing a sweater vest covered in teddy bears.
I work by myself for the most part, so the first person I saw was a model who came for a fitting that afternoon. The first words out of her mouth were, "I love your sweatshirt!" I told her I was dressing like Golden Girls characters for a week and she proceeded to tell me how much she loved the show. When I saw my best friend later that day, she said, "It's cute for you." This is probably the nicest way of saying, "I would never wear that." My mom — who really never comments on my clothes unless she thinks I should change — also said, "Where did you get that shirt from? I don't know why I like it, but I do. It's just different."
Of these three reactions, my mom's shocked me the most. Her style is more modern classic and definitely not gaudy, so I was pleasantly surprised. After day one, I felt armed to head back to my closet and try it again.
Day 2: Blanche
Like I said, dressing like Blanche is already very in my comfort zone, so even though this was a new thrift store purchase, the look was really no stretch for me. The sequin trim across the bust seemed very Ms. Devereaux. When my best friend saw me, her first reaction was, "You look like a disco queen." With her, you never know if it's shade or a compliment, so I decided to take it as the latter.
We decided to head to a place where we knew we would likely be the youngest ones there: the local suburban casino. I've been there a few times since I moved back to Ohio, so I knew what to expect. When we arrived at the front door, I went to pull my ID out of my purse because I have been carded every other time I have gone. But this time, the security guard was clearly not going to card us and it led to a really awkward interaction. I couldn't help but wonder if my Golden Girl attire had something to do with it.
Day 3: Dorothy
So if you are thinking, I look like Golden Girls meets Black Swan, there's a good reason for it. I had to model for my brand's holiday lookbook on this day. This meant I had to wear a button-down shirt anyway so that I didn't ruin my hair and makeup when it was finished. I decided to opt for this silky striped one from — you guessed it — the thrift store. I could totally see Dorothy wearing it buttoned all the way up with an oversized sweater and slouchy boots.
Although I would probably wear a shirt like this on a regular day, there was something about wearing it to the shoot that made me feel self-conscious. After about 10 minutes at the studio, I ran to my car and ripped out the shoulder pads. I'm normally not bothered by shoulder pads, but these really weren't laying right. No one at the shoot commented on my shirt, but I felt the need to apologize for it and make excuses like, "Sorry I'm wearing this crazy shirt."
This was a strange moment for me, because I have worn far more outlandish things that I have never felt the need to apologize for. I think that if I had taken the time to really style the look, I would have felt more proud to wear this Dorothy-esque shirt. When I got home later and asked my mom to photograph me, however, she unexpectedly commented on how much she loved the item.
Day 4: Blanche
There aren't many pieces I can say I've kept in my wardrobe for over five years, but this sequin sweater is one of those rare gems. I first wore it to a vintage market that I did as a vendor in 2009, feeling confident in the look because I felt so much like a Golden Girl. This outfit also saw the first time I was ever stopped by a street style photographer. So, this sweater and I have some history.
When I wore it for this experiment, I didn't think too much about the styling. I simply paired it with some leggings and blue lipstick. I didn't see anyone all day except my best friend, who had some not-so-great feedback on this look: "Are you supposed to be dressing like a grandma today because that outfit misses the mark. You're just wearing a weird sweater." That being said, dressing like a grandma was sort of the point. So I did feel just a little bit smug.
Day 5: Dorothy
After the past two days of stylistic fails, I decided I had to step it up. Thus the Dorothy Cape from my Golden Girls inspired collection. I had to go to a networking event at the local fashion school to meet with students looking for internships. Of course, I wanted to wear a piece from my brand and also look like a chic Golden Girl along the way. I paired it with a cream turtleneck covered in beaded pearls and a chain belt.
My mom — once again — commented that she liked this sweater. Even though she seemed to like everything I picked up at the thrift store for this experiment, it still surprised me. When I got to the networking event, I was immediately mistaken as a student instead of a brand owner, which was quite the opposite reaction to not getting carded at the casino. I had been feeling like this outfit aged me, but I guess I was wrong.
Most of the students were dressed in fashion-forward business casual looks, and when they came up to me, many of them commented, "I like this," and sort of pointed at the combination of the cape, sweater, and belt. Whether or not they actually liked the look or wanted to butter me up for the internship remains unclear, but this was the most confident I had felt thus far.
Day 6: Sophia
I really didn't know what I was going to wear to be Sophia. I tried looking for a floral high-collar dress in size fat at the thrift store, but didn't find anything close. I figured the only way was to wear a vintage pillbox hat and all black. I admit this look was lackluster. (Side note: My dad insisted on posing with me because he helped me find the hat, so I indulged him.)
When my mom saw this look, her response was more in line with what I expected to hear from her the other days: "Are you really wearing that?" she asked as I was about to step out of the door. I was already less than enthused about it myself, but I replied "yes" and went about my day. I didn't get much outside feedback on it other than some snickering at the post office.
Day 7: Blanche
On the last day of this experiment, I think I finally got it right. I found this sweater dress at the thrift store covered in gold beads. It has a plunging beaded back and long sleeves. The only problem was that it was a size 14 and I am a 22/24. I decided to try it on anyway in the hope of lots of stretch. Other than being pretty short, it fit like a glove! All week long, I knew I wanted to wear this dress, but I couldn't quite figure out where I could sport something so short. A lightbulb went off when I decided to wear this pleated leather skirt over it.
When my best friend came to pick me up, she remarked, "Oh look, I'm taking my grandma to the mall." But I was really feeling this look, so I ignored her (plus, I was supposed to look like a grandma). The reactions to this outfit were pretty "night and day" as compared to the feedback I had received on previous occasions. At every store I went into, people went out of their way to tell me they liked my dress (I think they thought this was one piece and not two). And if they didn't say it to me, I heard them whisper to their friends that they loved it.
When I was taking this photo outside the mall, someone came up and starting yelling, "Yes! Werk it honey! You better represent for the big girls." And at the final stop we made, I got into a conversation with someone about how to be more body positive inspired by an initial comment about my skirt. It felt like this outfit was everything I strive for in terms of using fashion as a means of empowerment.
My Final Thoughts?
Although it took until the last day, I realized that wearing something that one of the Golden Girls might sport really didn't add anything to my routine in and of itself. It wasn't until I infused my own styling that I felt truly confident and like one of the gals, rather than trying to replicate their looks to a T. It's also important to note that I couldn't dress like Blanche without feeling like I was the prettiest one in the room. So that's something!
By the end of the week, I finally learned that the best way to dress like a Golden Girl is to stay true to my personal style along the way. Rather than emulating the celebrities or characters we love, we can adapt their looks with our own signature to create something much better and much more inducing of body positivity. The days I was able to feel more like a myself (albeit a slightly senior citizen version of myself), I saw my confidence really shine the most.
Images: Alysse Dalessandro; Giphy