The One Way To Prevent Dry Hands This Winter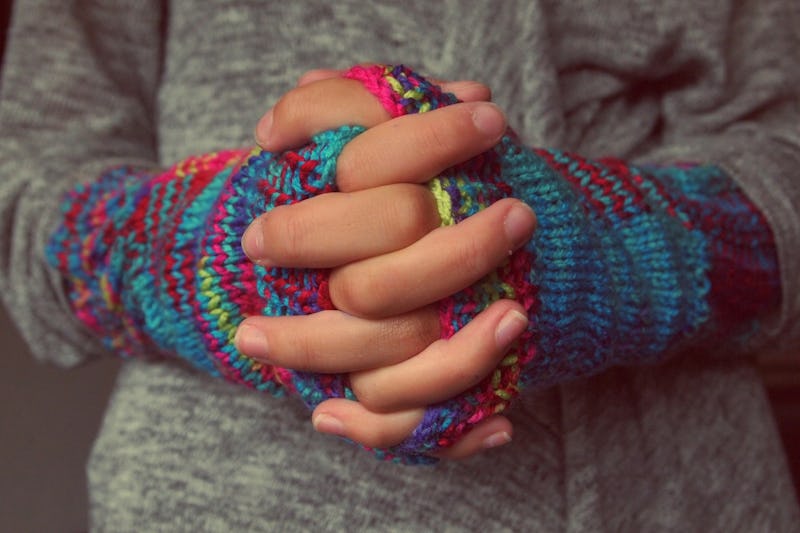 I'll be honest: Winter is kind of the worst. Besides the fact that its makes many of us want to hide away inside for months, cold weather also wreaks havoc on your skin. If your hands usually catch the worst of the cold and dry weather, there's one simple trick to keep them from becoming chronically dry, cracking, and even developing eczema: make hand lotion a habit and keep a bottle next to your hand soap.
This probably sounds like an obvious solution. But how often do we skip moisturizing after a shower because the lotion is hidden away in the cavernous depths under the sink and we can't be bothered to go spelunking for it? So, the key is to appeal to the laziest part of ourselves. Especially because washing our hands can dry them out in addition to the cold air, getting into the habit of moisturizing after every time we wash our hands can really help prevent dry and cracked hands. And, as those prone to eczema probably know, it's easier to prevent than correct. The best way to make this a habit though, is to really cater to yourself.
Plopping down any old moisturizer next to your hand soap is probably not going to encourage you to use it. It has to be a formula you enjoy using, and it has to be in a bottle with a pump. That means, pick a lotion that you know you enjoy the scent of, and is comfortable on the hands (i.e. not too greasy). If it doesn't come in a pump-bottle? No problem. Either buy an empty one or clean out an old one and simply fill it with your favorite formula. If you're not sure what you might like, here are a few ideas to get you started.
1. Hand Lotion
This cult-favorite has five percent shea butter, oat milk, and honey extract that is lightweight and never greasy.
L'Occitane Shea Butter Extra-Gentle Lotion for Hands and Body, $26, usa.loccitane.com
2. Custom Combo
If your favorite formula doesn't come in a pump-bottle, just pick the dispenser of your choice in which to house it.
Hand Chemistry Extreme Hydration, $20, target.com; Charcoal Stone Soap/Lotion Dispenser, $13, target.com
3. Body Lotion
Maybe your favorite hand lotion is your body lotion. Just make sure to keep it out on the counter so you remember to reach for it.
Hempz Triple Moisture Body Creme, $28, ulta.com
Here's to totally hydrated hands this winter.
Want more beauty tips? Check out the video below, and be sure to subscribe to Bustle's YouTube page for more hacks and tricks!
Images: Jedidja/Pixabay, Courtesy Brands