How To Find The Best Hand Cream For You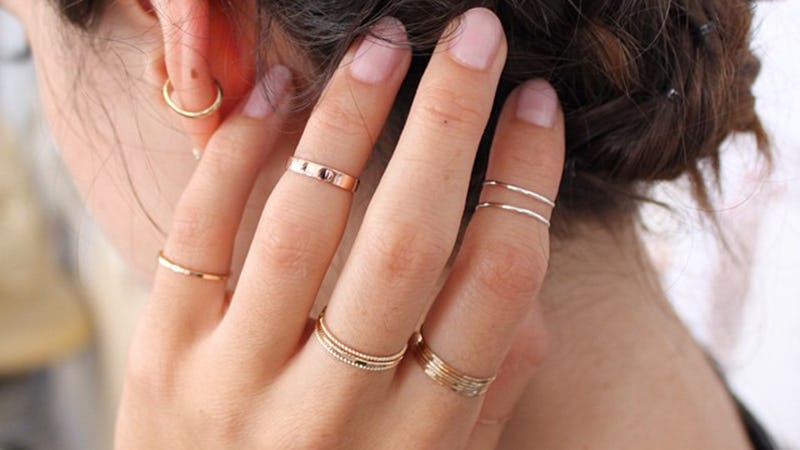 Compared to the entire rest of our bodies, the skin on our hands probably gets the most abuse. That's why it's of the utmost importance to find the best hand cream for you. Yes, there are different types. Constant hand washing and sanitizing makes for serious dryness on your extremities. All that cracking and dehydrated skin might seem hopeless, but adding a good hand cream to your everyday routine can really save your skin from total disaster.
We tend to treat our complexion with love and care, but way too often do we forget to give the other parts of our body the same respect. And although all parts of our skin are exposed to threatening elements, areas like our elbows, knees and hands are often neglected, leading to rough and dry skin in return.
Offering a nourishing cocktail of peptides, vitamins, and antioxidants, hand creams can supply hydrating moisture, as well as offering infinite amounts of benefits upon application. However, all those benefits to choose from comes with the challenge of finding the cream that best suits your needs.
Whether you want intense moisture or an SPF filled cream that can protect you from sun damage, finding that go-to cream doesn't have to be hard. To take the confusion out finding what product is best for you, these experts break down how to find the best hand cream in really simple ways.
1. Map Out Your Skincare Concerns
"Selecting the right hand cream for your needs is just like selecting the right skincare products, as it's all based on what the concern is that you're trying to combat," explains Dr. Gary Goldfaden, of Goldfaden MD.
To map up your concerns with ease, it's best to really take account of what your skin is struggling with most. Are your hands really on the dry side? Perhaps you should look into intensive care creams. Need to shed some flaky skin fast? Then a cream boasting exfoliating benefits should really do the trick. Whatever the case though, there are tons of creams on the market ready to address everything from weak nails to rough skin.
"Hand cream can smooth and soothe rough, dry hands, as well as hydrate nail beds to prevent weak, peeling nails," explains Neutrogena makeup artist Amy Oresman. "Hand cream can be applied throughout the day or nightly to restore hand health — I even use it after I polish my nails because it helps my manicure look better and last longer."
2. Decide How Much Moisture You Need
While there are many types of creams on the market, probably the biggest hand concern comes moisture, which dry and dehydrated hands can't seem to get enough of. And although it may be tempting to buy the biggest and greasiest cream you can find, sticking with hydrating ointments is probably the best way to go if you have a severe case of dryness.
"If you need a lot of moisture, then ceramides are essential," says Dr. Jennifer Reichel, M.D., a Seattle-based dermatologist and RealSelf contributor. "I recommend products like Aquaphor or Vaseline, as lighter ointments are always the most moisture giving." Load up on these at night, when your skin does the most of its healing.
If you need an everyday hand cream that you can stash inside your bag, experts like Oresman recommend formulas that keep the skin hydrated and smooth all day long.
"I always tell my clients to use hand cream throughout the day to keep hands hydrated and smooth," says Amy Oresman. "The Neutrogena Hand Cream has a highly concentrated, glycerin-rich formula to rapidly heal dry hands, noticeably improving the look and feel of your skin."
Neutrogena Norwegian Formula Fast Absorbing Hand Cream, $5, Amazon
3. Load Up On SPF
Believe it or not, your hands are equally (if not more) vulnerable to the sun damage as the skin on your face. To keep them shielded from harmful UVA/UVB rays, look for lotions that contain SPF, which are becoming more popular in recent years. These are best used in the daily hours to guarantee long lasting protection.
"Sunscreen is also important for all over your body, but most people forget to apply on their hands or the tops of their feet," adds Amy Oresman. No hand lotion with SPF? Your normal sunscreen will work too. "I like Neutrogena's Ultra Sheer Dry-Touch Sunscreen to keep my hands protected," Oresman says.
Neutrogena Ultra Sheer Dry-touch Sunscreen, $11, Amazon
4. Try A Multitasker
All these benefits can be really overwhelming, but picking up a multitasking cream takes the guesswork out of it. They can offer up all sorts of benefits (like brightening and exfoliating properties) in one handy tube.
"The most beneficial hand treatment products are ones that offer multidimensional benefits such as sun protection and hydration, brightening and plumping, exfoliation and repairing," says Dr. Goldfaden. "If the chosen hand cream only targets one or two concerns, make sure to add in another product that targets the others," he recommends.
Finding and selecting an effective hand cream may seem like a hard task, but if you map out your skincare concerns carefully, you can definitely find a product match that best suits your skincare needs. To get the best cream possible, try finding multitasking creams or products that specifically address any types of issues you may be dealing with — and get ready for the softest hands of your life.
Image: @catbirdnyc/Instagram