Women Chefs Have Some Kick-Ass Advice To Dish Out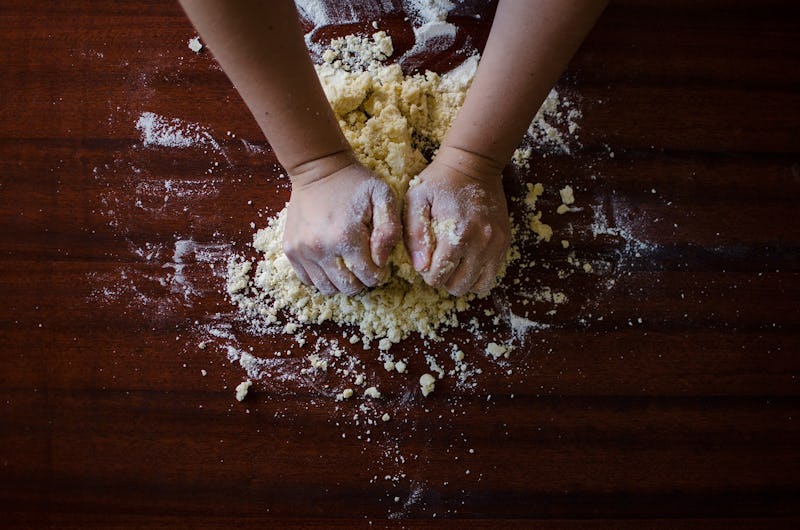 It's no secret that the food industry is a competitive, male-dominated world. Despite "women belonging in the kitchen" being a misogynistic cliché, it seems that only means the kitchen at home. Once women start climbing the career ladder to working in restaurants — they can face some serious sexism in the kitchen.
So the new book Women Chefs of New York , which shines a spotlight on 25 of the most talented women in the New York food business, is exactly the antidote that's needed. Women Chefs of New York is made up of interviews compiled by food writer Nadia Arumugam, and reveals each chef's backgrounds, stories, and quirks — alongside some seriously mouthwatering recipes. Whether you like cooking food, photographing it, writing about it, or just eating it — this book will dazzle and inspire you.
One of the culinary superstars featured is Zahra Tangorra, the owner and founder of the Italian restaurant Brucie. Yes, that Brucie. The restaurant that brought us a Kimye-themed Valentine's Day menu earlier in 2015, and a Beyoncé-themed one the year before. It's not every day that a restaurant understands my irrational desire to eat dishes with names like "Breastiny's Child" — so it's fair to say Brucie is a pretty special place.
That's why, when the founder and her female staff speak out about how they feel empowered in such a male-dominated industry, we should listen. Here's what they have to say.
Zahra Tangorra, Chef/Owner
Capitalize on your unique strengths that have been bestowed on to you for being born female. Multitask, be intuitive, endure copious amounts of pain while making it all seem effortless. Keep a picture of Beyoncé in the kitchen and make sure everyone prays to it twice a day. Have all the fun, whenever possible, because a joyous existence is the most remarkably impressive thing you can achieve.
Aya Sato, Beverage Director/ Bar Manager
Gather your sisters, then dig into the work. Do what you can to advocate for other women at your own workplace and in the industry in general — hire them, promote them, be curious about them. Trust each other and dig deep into the work. Some people I know come to Brucie and say "it's so awesome to see women chefs!" and I am like, "I didn't notice that was strange at all."
Jennie Lupo, Chef de Cuisine
Don't apologize. If something is wrong, whether it be a delivery that is incorrect or not getting paid as well as your male coworkers, don't apologize for wanting to be treated equally. Women deserve just as much respect and success as men for their hard work and demanding it is never something to apologize for!
Paulina Gorczyn, General Manager
Being a woman in a male-dominated environment requires one to achieve an incredible level of balance, between your personal-self and the world in which you work. Be a powerhouse, yet remain humble. Work your ass off, but always be compassionate and in touch with others — never let your ego get the best of you. Embrace and support your coworkers — both male and female — and don't let the obstacles and people who you struggle against identify the person that you are. Rise above these obstacles, in union with others, as a reflection of your inner strength through outward expressions of encouragement and support.
Nicole Bailey, Service Director
Stand up for yourself, trust your instincts, even when everyone else says they are wrong. Shake things up! Don't feel as though you have to accept things just because they have been done a certain way forever. Create change in small ways everyday by challenging the status quo. Use other women as allies and support systems. Prioritize sexy pillow fights!
Image: Pixabay; Courtesy of Bloomsbury/Brucie