Mr. March Hosts A Killer Dinner Party On 'AHS'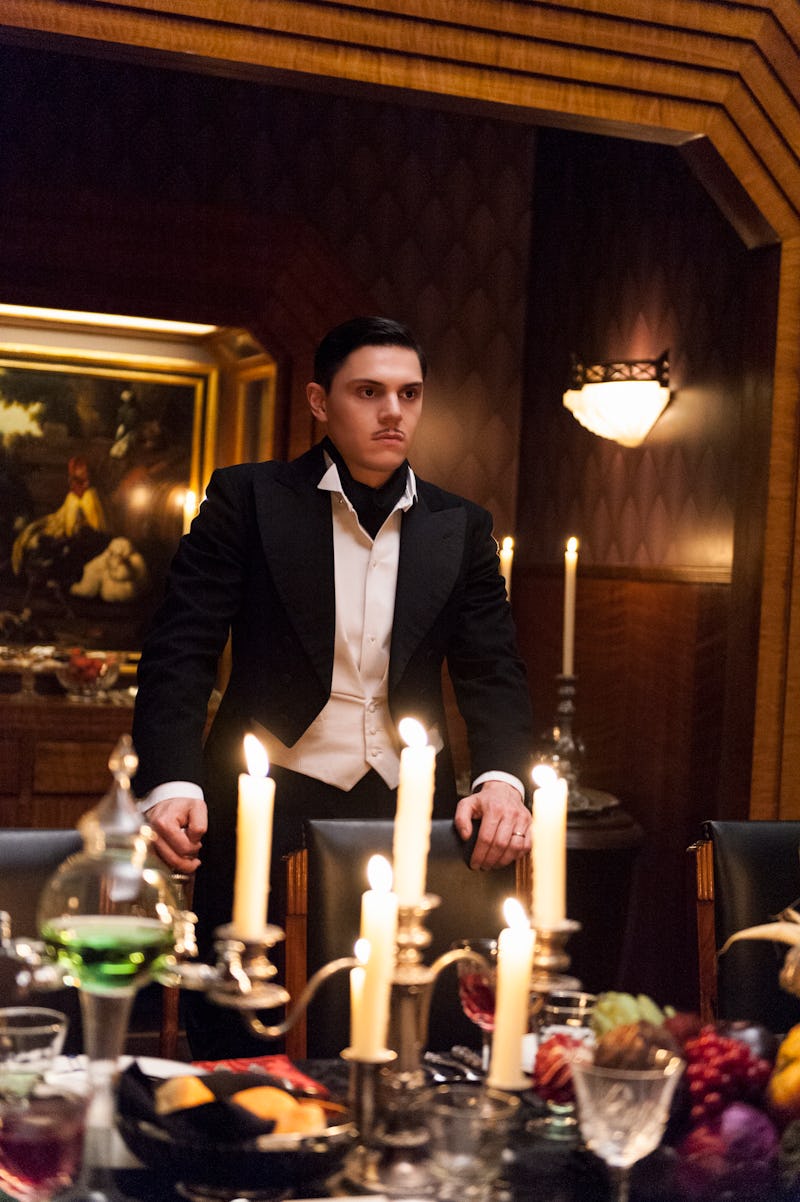 Move over, Martha Stewart, because there's a new dinner party savant in town. In "Devil's Night," Mr. March hosts a serial killer dinner party, where all of the guests are — you guessed it — "the greatest killers of [their] time." As one does with Halloween right around the corner, obvi. The guests of Mr. March are all infamous serial killers, which basically makes this the scariest Facebook event invitation to ever exist. So, who is on the guest list for the evening?
Among the notable serial killers seen in "Devil's Night," John is also invited to the dinner party that Mr. March is hosting. Liz Taylor delivers the invitation to him, and I think it's pretty obvious that while Liz says, "You've been invited..." Liz is really saying, "GET THE F*CK OUTTA HERE, MAN!" John's invitation to Devil's Night might be a hint that he is a serial killer — like, IDK, the 10 Commandments Killer — but that's another mystery for another day.
There are a lot of questions I have about this dinner party. Does it happen every year? How does Mr. March decide who gets invited? What's on the menu? (I take that back... I don't want to know, since there is a cannibal on the guest list.) So, who made the cut for the dinner party?
1. Aileen Wuornos
Lily Rabe returns to AHS as Aileen Wuornos, who was convicted of killing at least six men in late '80s, early '90s. She received the death penalty and was killed in 2002.
2. John Wayne Gacy
No, that's not Twisty from AHS: Freak Show, it's serial killer John Wayne Gacy. John Carroll Lynch will once again don clown makeup as the "Killer Clown." Gacy — who performed as a clown at events — was found guilty of killing 33 young boys in Chicago, and sentenced to death in 1994.
3. Jeffrey Dahmer
Seth Gabel plays Jeffrey Dahmer, notorious cannibal and serial killer active during 1978 to 1991. Dahmer was found guilty of murdering 17 men over the course of the 13 years, and sentenced to 15 consecutive life terms. In 1994, he was killed by another inmate.
4. Richard Ramirez
Richard "Night Stalker" Ramirez will also show up during the "Devil's Night" episode, although per the promo, it seems like he throws open a window, so maybe he wasn't invited and he's mad? Ramirez was convicted in 1989 of murdering 13 people, along with sexually assaulting and robbing others. He also worshipped Satan. As it turns out, Ramirez stayed at the Cecil Hotel — the inspiration of Hotel Cortez — during his criminal past.
5. The Zodiac Killer
His face was never shown at the dinner party on purpose, that's because this 1960s and '70s killer was never caught. He killed at least five people in the Bay Area of California, and his unknown identity has sparked a lot of theories over the years. Recently people even (jokingly) speculated that John Green was him because he looked so similar to the police sketch of the killer. The author's response to the talk was this: "My defense is as follows: I was born in 1977. I am not a Time Lord. Also, that guy has a much thinner nose than I do."
So where does Detective John fit into this? His invitation could signal something we don't know about him, yet. Either way, something tells me that this isn't going to be dinner party with charades and Pictionary, so beware... It's probably going to get scary.
Suzanne Tenner/FX; screengrabs/FX (4)