The Best Female Comic Book Hero Costumes Ever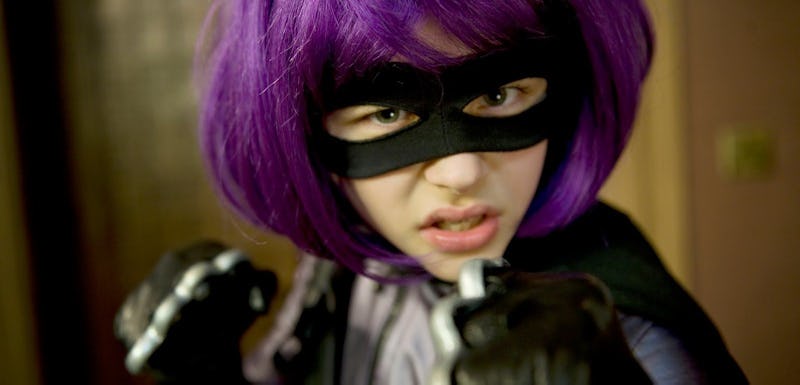 On Wednesday, Empire magazine unveiled an exclusive look at Cara Delevingne's character, Enchantress, in the upcoming Suicide Squad — and boy, does she look cool. Pairing a piercingly haunted expression on her face (which is one part empowered and two parts terrifying) with the sort of costume which looks, for all intents and purposes, a little on the impractical side (seriously, are those chain mail undies? Don't try to roundhouse kick bad guys any time soon if that's the case, girl), Enchantress is packing some serious style points. I am loving that crescent moon headdress and all aspects of that metal warrior goddess vibe she has going on.
Suffice to say, there hasn't been much of a glut of comic book heroines who have successfully made it onto the big screen (or, if they have, then they've scarcely been given the freedom to actually lead their own movie), but some of the ones which audiences have had the pleasure of watching over the years have showcased some unbelievable ensembles. They may range from the practical to the very impractical, but wow if they're not all something that I wish I could get away with wearing, even just around the house. (I want to feel heroic when I'm doing the dishes, OK?)
Laurie Jupiter (Watchmen)
As far as I'm concerned, Jupiter's costume in Watchmen is truly to die for. With a perfect yellow and black color combination (my favorite ever combo as it's basically nature's way of warning the world of danger) packed into a slick full sleeved PVC body suit, Jupiter looks treacherous and powerful. The added bonus for me is those thigh-high boots attached to suspenders which trail off from the lines of the actual body. Let me repeat: To die for.
Tank Girl (Tank Girl)
Tank Girl, how do I love thee? Let me count the ways. As you'd expect from a completely anarchic character, Tank Girl doesn't have one set costume with which to be a badass in (I'd like to think that I'd maintain a fun, full wardrobe too during times of a water desperate dystopia) — blending a set of styles which take influence from early '80's punk, mod, hip hop and well, whatever artillery you might find lying around in a place where tanks are. Tank Girl wears a cacophony of outfits which include bowler hats, her boyfriend Booga's bullseye t-shirt (shown above), rockets strapped to a bra, feather boas and patched up denim cut-off jackets. She is a true renaissance style icon for the fashion deranged.
Catwoman (Batman Returns)
I doubt that there will be any cinematic version of Catwoman who will outshine the one that Tim Burton laid out for the character in Batman Returns. Michelle Pfeiffer — for me at least — portrayed the be all and end alls of the essential Catwoman, and her costume is a major part of that. Fashioned from an old PVC rain coat and stitched up like many a crust punk patchwork jacket (traditionally finished with dental floss), Burton's Catwoman is DIY bondage gear done right, straight through to the stitching which comes loose when Catwoman gets her fight on. Oh, and those claws? Fierce.
Hit-Girl (Kick Ass)
The thing that I like most about Hit-Girl's costume is that it's exactly the sort of thing that a young girl would want to wear to be a hero in. With a baby pink belt complete with HG initials on the buckle, tartan schoolgirl skirt (because sometimes heroes can't waste too much time after school to get ready for battle) and purple lamé bodysuit with shin and shoulder protectors, Hit-Girl's outfit is sugar and spice and all things nice with a hidden layer of menace. It's also super practical though with enough to pockets to stash any number of explosives or firearms (or, you know, candy) when tackling a troupe of bad guys.
Poison Ivy (Batman And Robin)
In a movie where our eponymous heroes wear costumes in which every facet of their bodies are dramatically emphasized in rubber (everything! Even the Bat-Nipples and the Bat-Butt!), it comes as little surprise that director Joel Schumacher chose to take Poison Ivy's costume into distinct cabaret territory. But you know what? I love it. Whether the film is hot garbage or not isn't for me to decide, but Uma Thurman looked spectacular in a costume which involved glitter leaf detailing, green leaf eyebrows and a thick mane of red hair so synthetic that it's a good job Poison Ivy is a friend of nature and not a friend of fire.
Storm (X-Men)
I'll be honest here and say that there are two winning factors to Storm's look: the first is those long silver locks topped off with dramatic baby bangs and the second is that cape. Do not underestimate the power of a good cape, folks. Whilst the general X-Men uniform is pretty generic — a leather bodysuit with an X on the belt buckle — Storm adds flair to her costume by connecting a cape to the neck and the wrists with which to truly add some spectacle to her already bodacious powers. That is some serious fashion forward thinking, right there. If your costume doesn't help to announce you the second you enter the room, then you're doing it all wrong.
Supergirl (Supergirl)
It felt as though every time I went to visit my grandma when I was a kid that Supergirl (from 1984) was on the television. I'm not entirely sure why that was the case, but I absolutely loved it. I honestly believed that if I could just find a Supergirl costume that I too could fly around the world and be a super powered maverick. The Supergirl costume is probably the most basic of any cinematic superhero costume that's ever existed, and that's maybe why I love it so much — because it looks like something which I probably could have made myself out of old bedsheets and super glue (no pun intended). Still, what's important is that though the costume is ultra basic (and definitely casual enough to wear round to a friends house without causing too much of a fuss, just remove the cape first), it never detracted from how magical and inspiring the girl inside the outfit appeared to me as a kid.
Barb Wire (Barb Wire)
Based on the Dark Horse comics about a nightclub owner turned mercenary and bounty hunter, Barb Wire is a woman who delivers her duties in a outfit which is 100 percent vibing some cycle gang, rock'n'roll realness. It's too easy to throw unwarranted shade on this costume for being trashy or basically, a parody of itself (including that major hair volume), but it's actually incredibly wearable and wonderfully body positive. The structure of that deep dip bodice and the way it creates sharp lines on the front of her figure is like her torso is giving a two finger salute to every room that Barb enters. Which is entirely correct. Babe had one heck of an attitude (don't call her babe).
It's going to be super exciting to see how the rest of the Suicide Squad ensemble cast look in their own character costumes and especially in action when the film comes out in August, 2016. Judging from what we've seen of everyone so far, then we're definitely in for a treat.
Images: Lionsgate; Giphy; Eden-Clementine.tumblr.com/Giphy; Reddit.com/Giphy; Totalfilm.tumblr.com/Giphy (2); Funnymushroom.tumblr.com/Giphy; TriStar Pictures; Geneva-Diva.tumblr.com/Giphy