How To Cook A Boozy Thanksgiving Dinner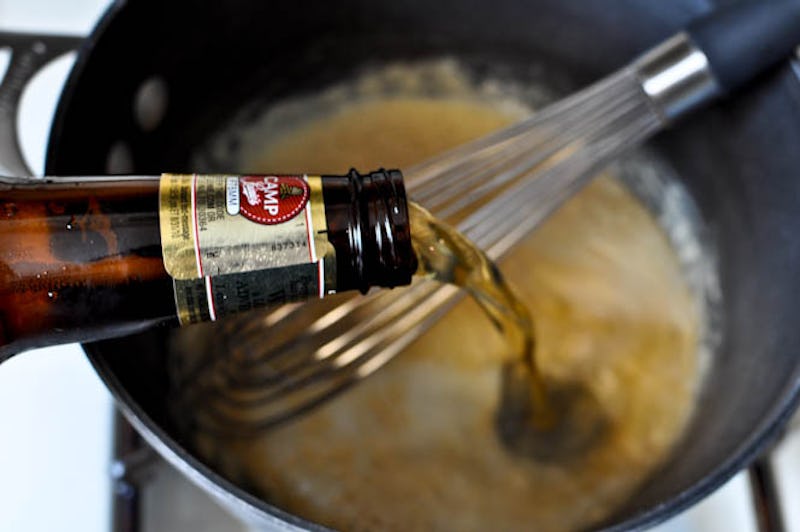 The holidays are when we regroup with our relatives and loved ones to rekindle familial bonds over hearty dishes, and while this all sounds fine and dandy, a little liquid courage is often required to muscle our way through the trying times that Turkey Day brings. For those with whom this strikes a chord, here's a roundup of Thanksgiving recipes to make with alcohol so that every course is booze-infused. Because sometimes, there's just not enough wine to go around.
For many adults, family gatherings can be an exhausting endeavor. At any point (and many points) during the evening, we may experience the need to remedy the situation with mechanisms of the boozy variety. Thanksgiving is a particularly tolling time, especially between another one of Uncle Jerry's borderline bigoted rants, or your grandmother's incessant inquisition regarding your sustained single status. By the time you survive the onslaught of prying personal questions, you'll welcome any inebriating escape as a godsend. While the anti-sobering effects of alcohol can be achieved through liberal pours of Pinot or discreet swigs of the rye your dad was just gifted, sometimes our duress makes us yearn for a little more. But because it would be inappropriate to post up by the mini-bar helping yourself to round after round right in front of your family, a decidedly more prudent way to get your fix is through a delicious lineup of Thanksgiving sides and desserts (and even a main act) that all have that extra boozy kick.
1. Bacon Beer Cornbread
"More bacon. More booze," is what this crumbly concoction from How Sweet It Is calls for, and rightly so. What baked good wouldn't taste better with a full cup of your favorite beer?
2. Rosemary And Cheddar Beer Biscuits
This boozy mix allows for your favorite brew at every step of the process. After the beer's been stirred in and the biscuits are ready to bake, recipe creator Cookie & Kate says, "Go ahead, crack open a beer for yourself as the dough puffs up in the oven."
3. Slow Cooker Bourbon Apple Butter
An alcohol-infused topper to your boozy bread options, this slow-cooked bourbon apple butter by Table For Two is "like eating a cinnamon covered apple with a little booze."
4. Pumpkin Spice Pull Apart Bread With Butter Rum Glaze
For a sweeter nibble during cocktail hour, this buttery rum glazed beauty is the solid-form answer to all your pumpkin spice cravings. Recipe creator Willow Bird Baking says "the sweet autumn flavors were the real victory."
5. Whipped Bourbon Bacon Sweet Potatoes
Achieve next level sweet potatoes with the addition of bacon and bourbon. The recipe by How Sweet It Is calls for two tablespoons of the latter.
6. Brandy Gravy
Just a touch of cognac or brandy give your gravy an extra edge following this recipe by Brown Eyed Baker.
7. Easy Beer Mac N' Cheese
This feel-good side will get you feeling even better with the addition of your favorite brew. How Sweet It Is used amber beer, but give other varieties a go to play with flavor.
8. Boozy Orange Blossom Cranberry Sauce
This sauce gives new meaning to "cranberry cocktail." Recipe creator Tori Avey promises "you'll never go back to canned" after trying this homemade cranberry sauce that puts itself in a whole other league with orange blossom water and three tablespoons of Cointreau ("or more to taste").
9. Boozy Sausage, Fig, And Cranberry Stuffing
Win at stuffing this year with this recipe by Brown Eyed Baker that combines sausage with figs and cranberries that have been soaked in brandy.
10. Bourbon Basted Turkey With Cider Bourbon Gravy
Even the star of the show can get a booze-infused makeover. This turkey recipe by How Sweet It Is calls for basting the bird in bourbon. In addition to whiskey, the main dish will be loaded with flavor when smoked with applewood chips and a brown sugar spice rub.
11. Bourbon Sweet Potato Casserole With Sweet And Savory Bacon Pecans
This loaded casserole from Half Baked Harvest brings together candied bacon, pecans, buttery brown sugar sweet potatoes, and bourbon for "the perfect match."
12. Slow Roasted Cherries With Brandy And Balsamic Vinegar
These slow roasted cherries bathe in their own juice plus balsamic vinegar and brandy for a concentrated flavor best served à la mode. Recipe creator Apron and Sneakers says it's "heavenly" with ice cream.
13. Vanilla Bourbon Baked Acorn Squash
This buttery beauty may have you rethinking your whole approach to preparing vegetables and, like recipe creator How Sweet It Is, wanting to add this glaze to everything. "I'm sure it's the 'bourbon' part that helps it go down the pipe."
14. Dutch Apple Pie
This rendition of the Thanksgiving staple calls for four to six tablespoons of ice cold booze. A Spicy Perspective suggests apple brandy or maple Crown Royal.
15. Loaded Chocolate Hazelnut Liqueur Turnovers
These buzz-worthy turnovers by Half Baked Harvest get a boozy kick wrapped in pie dough spiked with hazelnut liquor.
16. Pumpkin Tiramisu
Swap out rum for pumpkin liqueur with this decidedly autumnal remix of the Italian dessert. Foodie Crush reassures that after baking, the liqueur is just as good for drinking too.
17. Amaretto Apple Crisp With Toasted Almonds
What How Sweet It Is describes as "only the beginning of a fall recipe smackdown," this apple crisp soaked in amaretto liqueur is your intoxicating answer to getting your full serving of fruit this Thanksgiving.
18. Whiskey And Spiced Walnut Ice Cream
Spiced walnut ice cream is infused with whiskey for the ultimate hedonistic harvest-flavored decadence. This recipe by A Spicy Perspective is the perfect way to end the night's festivities.
For more food ideas, check out Bustle on YouTube.
Images: How Sweet It Is (7), Cookie & Kate, Table For Two, Willow Bird Baking, Brown Eyed Baker (2), Tori Avey, Half Baked Harvest (2), Apron And Sneakers, A Spicy Perspective (2), Foodie Crush