26 Wine Gift Ideas For The Holidays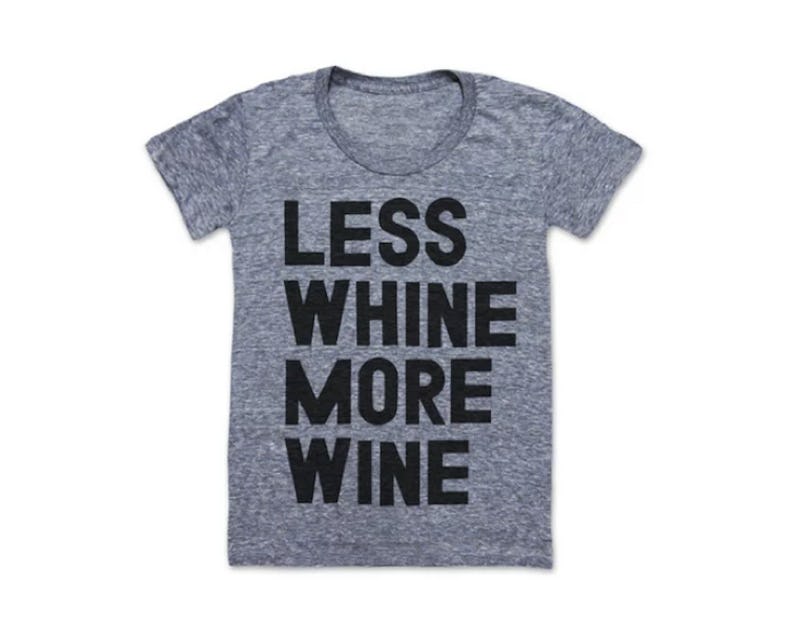 There are some tried-and-true go-to wine gift ideas you probably rely on every year when the holidays roll around. This, of course, includes some cutesy wine charms, but more often than not, a bottle of their favorite vino. While an award-winning vintage never hurt anyone, simply handing over a bottle of wine is a bit of a cop-out. If you're looking to step up your gift-giving game this season and offer up something with a little more creativity than a bottle of Cabernet Sauvignon, here is a roundup of gift ideas for the wine lovers in your life.
If asked to list your friends who you'd consider to "love wine," chances are you'd be listing most of them. This is the beauty of a wine-themed gift: it's a streamlined approach to buy for any friends whose favorite fruits are grapes — as long as they're fermented. From clothing, to literature, to home goods, this long lineup of options has something different and unique for everyone at every price and every place along the wine-loving scale. For the outdoorsy type, there are a couple ways for them to transport their bottle of vino, and then a few more options for alfresco consumption once they reach their destination. For the white wine aficionado, there are a couple cool accessories to chill their glass to just the right temp. For the red wine lover, there's a glass to quench the most gargantuan thirst, and then a little kit to clean up the mess in case there are any casualties. Really top it off by pairing one of these goodies with their favorite bottle, and you'll have a gift that would make Bacchus proud.
1. Wine/Work Doormat
Give a little direction to your wine-loving workaholic. Coming or going, they'll know what's in store.
Wine/Work Doormat, $32.00, Etsy
2. Red Wine iPhone Case
Your friend will always have a glass to hold onto with this cheeky iPhone case that puts all other clear cases to shame. There's no argument that this glass is half full.
Red Wine iPhone Case, $12.00, Fancy
3. Wine Soaps
These wine-turned soap bars will turn your loved one's "day-to-day wake-up routine into happy hour." The all-natural vegan soaps blend layered notes from actual wine varieties, letting your skin drink up a completely decadent experience.
Wine Soaps Set of Four, $28.00, Uncommon Goods
4. Wino Necklace
Give your BFF a little bling with this dainty self-proclaiming charm necklace.
Wino Necklace, $38.00, Nylon
5. Wine Folly: The Essential Guide To Wine
Provide some relevant reading material for your favorite wino with this book that breaks down the fundamentals.
"Wine Folly: The Essential Guide To Wine" by Madeline Puckette and Justine Hammack, $25.00, Urban Outfitters
6. The Essential Scratch and Sniff of Becoming A Wine Expert
For the friend whose literary pursuits are a little more elementary, this scratch and sniff option is just as informative.
The Essential Scratch & Sniff Guide To Becoming A Wine Expert by Richard Betts, $13.32, Amazon
7. Wine Stain Emergency Kit
An essential for any die-hard wine drinker, this little kit will take care of any spillage problems from their third pour of pinot.
Wine 911 Stain Remover, $9.99, Dot & Bo
8. Winesday Muscle Tank
Wine isn't just reserved for the weekend. Upgrade your friend's Wednesday, and make it her new favorite day of the week with this darling muscle tank.
Winesday Muscle Tank, $34.00, Nylon
9. Taste For Wine Murder Mystery and Party Game
For Clue lovers who also enjoy Cabernet Sauvignion, this multiplayer party game, and perfect addition to a wine-tasting night, is a playful gift choice. Set in California wine country and starring characters with names like Barry Underwood and Marilyn Merlot, this murder mystery party pack promises an evening of wine-drenched fun.
Taste For Wine and Murder Mystery Party Game, $22.95, Home Wet Bar
10. Foldable Flask
The wine-loving outdoorsmen and women in your life will appreciate this collapsible wine flask. It carries a standard bottle of wine, and folds up when empty, making it easy to pack for camping excursions.
Wine2Go Foldable Wine Bottle Flask, $12, Urban Outfitters
11. Leather Wine Caddy
For the wine-lover on the go, this bicycle accessory safely transports your friend and their favorite bottle. The leather straps secure the bottle to the bike anytime they need to take their Riesling for a ride.
Leather Wine Caddy by Fyxation, $40, Fancy
12. Wine Time Glass
If your friend is tired of being the only one with a wine glass while everyone else is drinking beer, they can finally fit in with this slick mashup (and "latest party trick") of stemware and stein.
Wine Time Glass, $17.00, Dot & Bo
13. Solo Cup Wine Glass
Once a frat star, always a frat star. You know just the friend who would appreciate this throwback to yesteryear.
Red Solo Cup Wine Glass Set of Two, $24, Fancy
14. Oversized Wine Glass
The big drinker in your life deserves this oversized glass to accommodate her thirst.
Oversized Wine Glass, $12, Urban Outfitters
15. Wino Pin
Let your bestie accessorize with this social alert button.
Wino Pin, $3.20, Nylon
16. Instant Wine Chiller
If the wine hasn't had enough time to chill but company is here, this instant wine chiller saves the day.
Instant Wine Chiller by Ravi, $40, Fancy
17. Wine Pearls
If your white wine loving friend would rather chill her wine once it's in the glass, she can chill her wine sans dilution with these pretty pearls.
Wine Pearls, $24.95, Uncommon Goods
18. Wine Cork Trivet Kit
The crafty individual on your gift list can repurpose their corks for a personal twist with this kitchen staple that doubles as a display full of memories.
Wine Cork Trivet Kit, $19, Dot & Bo
19. Moleskine Wine Journal
Your favorite wine-lover will be able to record their love affair with vino in this Moleskine journal made for documenting their conquests, and taking notes on the notes of the blend.
Moleskine Passion Journal — Wine, $17.05, Amazon
20. Wine Hook
The answer to the beach bum for whom beer or a tropical drink just won't cut it, this wine hook means they never have to compromise again by sipping their Syrah in anything other than a stemmed wine glass.
Wine Hook, $9.99, Fancy
21. Wine Stakes
Perfect for the picnicker, these metal wine stakes keep your stemware securely afloat just above the grassy sprawl.
Wine Stakes Set of Two, $14.95, Plow & Hearth
22. Building Blocks Wine Stand
Now your friend can enjoy an adult spin on a childhood pastime with this stackable wine stand modeled after building blocks.
Building Blocks Wine Stand, $29.00, Dot & Bo
23. Wine Sack
Bring back the good old days of slap-bagging in college, with a sophisticated spin. One might even dare to say "this sleek bag gives boxed wine a good name." One thing's for sure, this stylish carrier deserves something more refined than your university days' state liquor store pickup.
Wine Sack, $69.95, Uncommon Goods
24. Less Whine More Wine T-Shirt
Let your bolder friend speak her mind with this brazen tee.
Less Whine More Whine T-Shirt, $22.40, Nylon
25. Insulated Brown Bag
For the friend who loves drinking in outdoor areas where public consumption isn't allowed, this cozy coverup with a twist is the answer. What appears to be a basic brown paper bag actually has insulation properties, and is made of strong synthetic paper (Tyvek) that won't tear with the wine's weight.
Insulated Brown Bag, $13.00, Fancy
26. Wine Bottle Chandelier
For your newlywed friends who recently became homeowners, this rustic chandelier is the perfect addition to their new dining room. The piece offers 40 watts of light, and holds up to 12 empty wine bottles, allowing the couple to immortalize meaningful wines shared during their new life together.
Wine Bottle Dangle Chandelier, $99.00, Dot & Bo
For more wine ideas, check out Bustle on YouTube.
Images: Nylon (5), Etsy, Fancy (5), Uncommon Goods, Urban Outfitters (3), Amazon (2), Dot & Bo (4), Home Wet Bar, Plow & Hearth