'Grandfathered' Is Sticking Around, Thank Goodness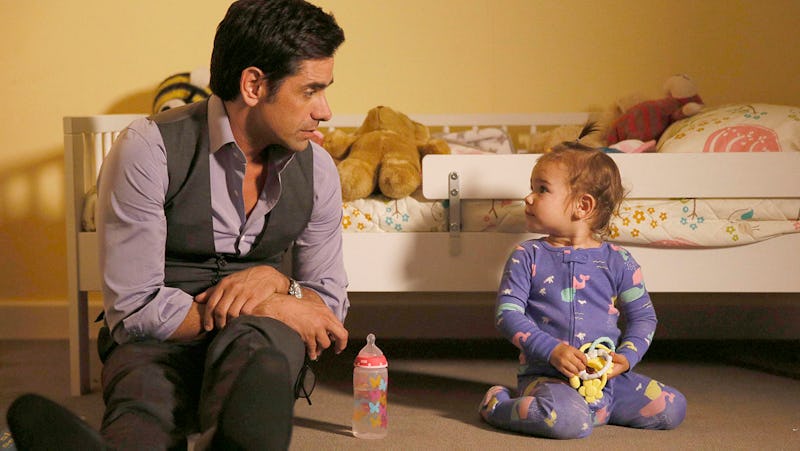 Generally in life, we tend to get over our childhood crushes. We get older, they get older, our tastes change, life moves on. However, I think it's safe to say that any of us who fell in love with John Stamos as Full House 's Uncle Jesse back in the late '80s/early '90s have experienced the exception to this rule. Stamos is as hot as he ever was, if not hotter, and he's still got the smooth, natural approach to acting that made him so endearing on family TV. He's found that niche again on Grandfathered, the Fox comedy series that features Stamos as a bachelor who tries to settle down once he finds out that he not only has children, but grandchildren, as well. While the series was initially picked up on a trial basis, it's performed well enough to impress network bosses, as Fox has given Grandfathered a full-season order. You know what that means: more Stamos for everyone!
The success of the series is certainly welcome, particularly considering that the ratings haven't been through the roof for the show thus far. The series premiere only got 5.4 million views, and so far it's averaging about a 1.2 rating in the 18 to 49 demographic. The numbers aren't overly impressive, but they show that Grandfathered has potential, and thankfully Fox is willing to try and build on that. After all, it takes time to really get an audience involved in a series and to build a narrative that sets it up for long-term airing. The fact that the network is giving Grandfathered a chance to do so gives me hope for the future of TV, for sure.
The full-season order means nine additional episodes have been ordered, which will see it through the rest of the 2015-2016 TV season and give us enough new episodes to last through May or so, when most shows end for summer hiatus. What happens from there is anyone's guess, but there's plenty of time for Grandfathered to make its mark not only on Fox, but in the world of primetime TV in general, and that's an exciting prospect. After all, not only is Stamos on our screens every week, but so are the likes of Christina Milian, Josh Peck, and Ravil Patel — all tremendously talented actors that work well together, from what we've seen so far.
I'm looking forward to seeing where Grandfathered goes from here. With only a few episodes initially ordered, it's likely that showrunners couldn't really lay roots to any big storylines, just in case the show was cancelled. Now that they know they at least have a full season, I'm sure some big things are underway, and I can't wait to see what they are. Plus, you know, more Stamos.
Images: Fox