17 Totally Unforgettable Uncle Jesse Outifts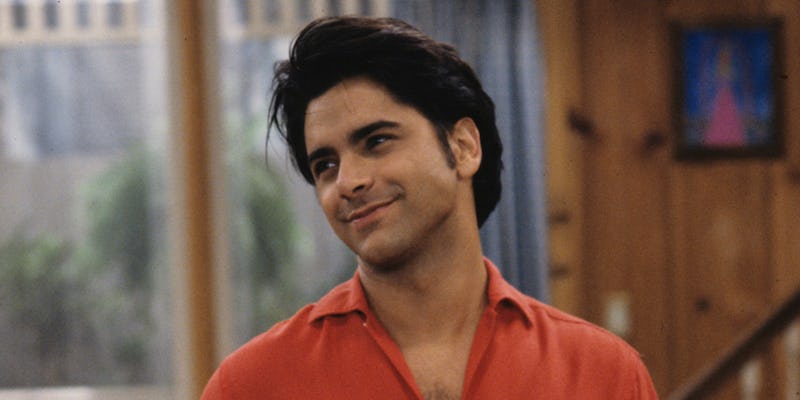 Although DJ's boyfriend Steve was a cutie, the number one dreamboat of Full House was — and always will be — Uncle Jesse. John Stamos brought style to the Tanner household with his gelled hair and leather jacket, so I decided to revisit the late '80s and early '90s for the most classic Uncle Jesse outfits from Full House . As an adult, I've come to the slow realization that maybe I was always wary of Michelle on Full House because I was jealous of her close relationship with her rockstar uncle. But who can blame me? The musician bad boy with a soft spot for his nieces made me cry, "Have mercy!"
Stamos is still making people swoon and will continue to do so when the show's spinoff Fuller House hits Netflix. But there was something about this man-child that fans of Full House couldn't help but swoon at. Along with his legendary hair, Uncle Jesse frequently sported tight black pants, vests, leather jackets, crosses, and an array of colorful shirts (apparently shades of turquoise and teal were his color). Elvis Presley was his icon and his style showed it. So from the epic — to the epically horrendous — here are 17 of his unforgettable outfits from Full House.
1. The Classic Uncle Jesse
Black vest, unbuttoned shirt, styled hair, and a visible interest in music — this was Uncle Jesse's core outfit.
2. Existential Crisis Black Turtleneck
What would Albert Camus do?
3. Biker Gang Family
Nothing says tough like baby bikers and red bandanas.
4. Channeling Marty McFly
Uncle Jesse is about to break out in his own rendition of "Johnny B. Goode."
5. Broken Arm Tank Top
Just because you broke both your arms in a motorcycle accident after a haircut doesn't mean you still shouldn't look stylish.
6. Bolo Tie Formal
Uncle Jesse is ready for a night on the town in the Southwest with his bolo tie, vest, and jacket, while Joey is taking baby steps toward becoming his character Ranger Joe.
7. Hats At The Dinner Table
Uncle Jesse doesn't play by the rules, so even though you may not be allowed to wear a baseball hat at your dinner table, Uncle Jesse is. He makes the move even more badass by wearing it backwards.
8. Sexy Baby Daddy V-Neck
A V-neck t-shirt and a super long necklace is all you need to prove you'll be a responsible and hot father.
9. Turtlenecked Don Johnson
Don Johnson couldn't wear a turtleneck due to the heat in Miami Vice, but the San Francisco weather allowed Uncle Jesse to wear this powder blue sports coat with a white sweater.
10. Construction Worker Chic
Just because you're working with tools doesn't mean you can't look stylish at the same time.
11. Bathrobe Dining
The luxurious, monogrammed bathrobe, the Harry Potter glasses, and (of course) the cross necklace make for the perfect ensemble while dining at the kitchen table.
12. This... Shirt
As I have been rendered speechless by his shirt, I'm going to let it speak for itself.
13. Travel Sweater
I was concerned Jesse wouldn't be warm enough at the airport in his bulky sweater, so I'm glad he threw a turtleneck underneath it. This will be the outfit you try to recreate for your next Ugly Christmas Sweater party.
14. Shirt Around The Waist
It wasn't the '90s if you didn't have a shirt tied around your waist and Uncle Jesse knew that. He also wanted to intimidate Steve with his cross.
15. Gangster Casual
Pleated pants just don't stay up right without suspenders — and a little chest hair never hurt anyone.
16. Young Love Flannel
Nothing says love like coordinating colors and Jesse and Becky knew that. Plus, this outfit proved that every type of rocker could don the occasional grunge look.
17. Music Video Costumes
Do you think Uncle Jesse would only wear one outfit in his music video for his hit song "Forever"? Ha! The most fashion-forward man of Full House wouldn't have dared. From his strategically-placed sheets to his junk-hugging ripped jeans to his deep V-neck, Uncle Jesse made his music video attire, just like his everyday looks, something that Full House fans would remember... forever.
Images: ABC (21)