Have You Tried These Conditioner Hacks?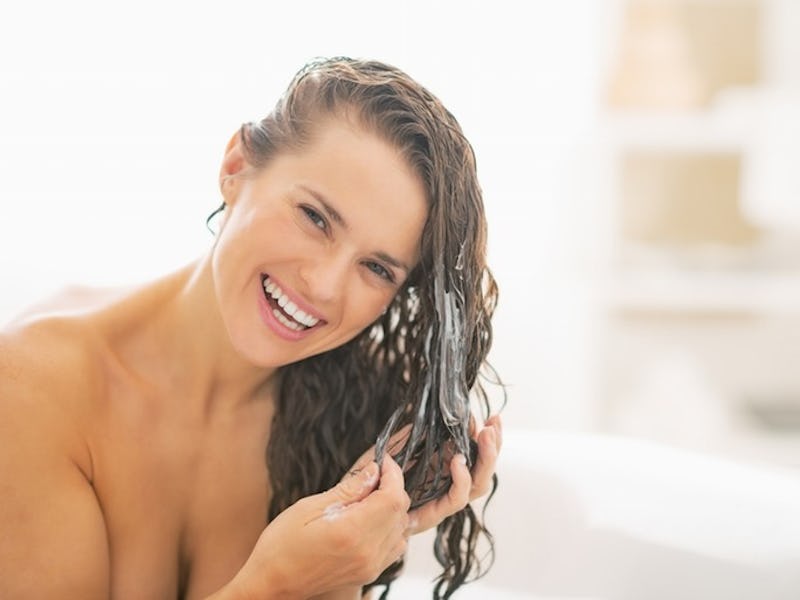 Washing your hair seems like the most basic of tasks. I mean, you just lather up, rinse, and repeat, right? Wrong. From the best method to use to alternative products you can try, there's plenty of hair conditioning hacks that you should probably know about if you want to make the most out of your hair washes. And if you don't wash your hair very frequently, then you better make sure it counts when you do.
Conditioning is probably the most important stage in the hair washing process. If you want your hair to be shiny, frizz-free, and moisturized, then it all comes down to how you condition it. And properly conditioned hair means it will be stronger and healthier, so you can do more to it (like color it or use those curling/flat irons). Granted, everyone's hair is different and some might require special treatment (for example, color-treated hair could be more dry and damaged), but on average, these hacks will work for just about anyone.
If you want to up your hair washing game and have the healthiest hair possible, here are 8 conditioner hacks you absolutely need to know about.
1. You Can DIY Your Conditioner
Nutiva Organic Virgin Coconut Oil, $22, Amazon
You don't have to spend big money on brand names and fancy salon conditioners, you can make your own conditioner from products you probably already have at home. I swear by coconut oil, but olive oil works just as well.
2. Conditioner Can Double As A Styling Product
I generally never wash all the conditioner out of my hair. Leaving some conditioner on (not a ton, you don't want to look oily and greasy, but just enough) will help the hair dry shiny and frizz-free.
3. Only Condition The Ends
Roots = freshly grown hair, and that isn't going to be damaged. Your ends are what need moisture the most, so condition your ends, but before you rinse it, work the ends into the rest of your hair so it all gets quickly coated.
4. Try A Conditioning Spray
L'Oreal Leave-In Conditioning Spray (2-pack), $23, Amazon
If you have thin or fine hair and don't want to apply a heavy conditioner, try spritzing a nourishing, conditioning spray.
5. Apply Conditioner First
Shampoo is notorious for drying out your hair, so apply conditioner to the ends before you shampoo, then when you lather up, the more brittle ends are protected. (You'll still want to shampoo again afterwards).
6. Use It As A Hair Mask
OGX Coconut Milk Conditioner , $10, Jet
If you don't want to spend extra money on a separate hair mask, your conditioner will totally work. Just apply to wet hair and leave it on for as long as possible (an hour is good, or even sleep with it on overnight), then rinse and wash your hair like you normally would.
7. Leave It On Long Enough
If you don't have time for a hair mask, you still should make sure to leave your conditioner on as long as possible. Apply conditioner and then shave, wash yourself, etc. before rinsing. Try to leave it on for at least five minutes.
SheaMoisture Raw Shea Butter Restorative Conditioner, $18, Amazon
8. Comb With Conditioner On
Mason Pearson Comb, $35, Amazon
Comb out your hair while you're still in the shower with the conditioner on, as it will be less susceptible to breakage.
Images: Sienna Fantozzi; Piotr Marcinski/Flickr; Amazon; Drugstore.com; Alliance/Fotolia