You're Probably Washing Your Hair All Wrong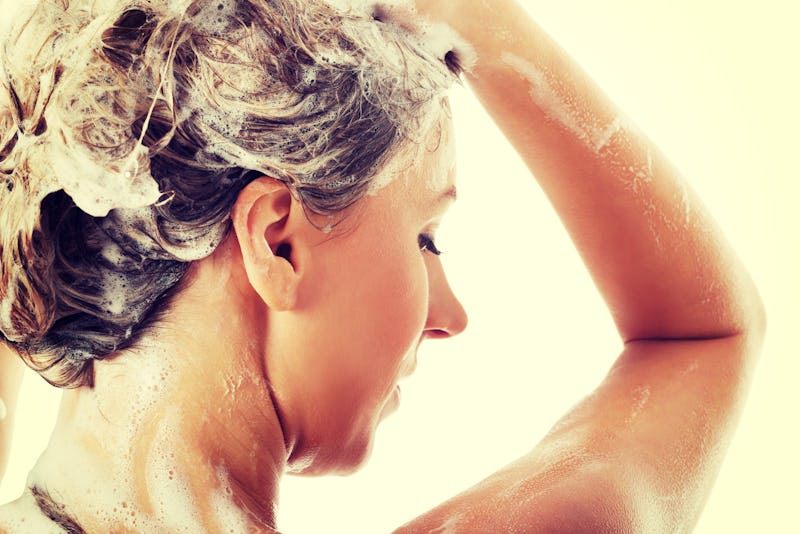 I'm naturally shy around new people, and as a result, I use my long, thick hair as my security blanket. I couldn't fathom cutting it short and embracing fall's long bob trend, although I will admit I'm secretly lusting after Emma Stone's new 'do. But keeping it long comes at a price — I have to take extra special precautions to keep it healthy, or I'll just end up looking like a homeless hippie. Not a cute look.
Over the years, through talking to stylists, experimenting with new methods, traveling around the world and learning tidbits from other cultures, or just talking with my friends, I've collected a lot of info about hair and I think I've finally got my haircare routine down to a science. Truly, my hair has never looked or felt healthier, nor has my routine ever been easier. But my knowledge didn't come without trial and tribulation, and what I learned from it all is that we've been washing our hair totally wrong. So turn off that shower head and toss out those regular old bath towels, because it's time to adopt an entirely new hair routine. Trust me, your locks will thank you.
Batiste Dry Shampoo Fresh , $9, Dermstore
I know, this sounds counterintuitive, but I honestly wash my hair once a week, maybe every eight days if I'm busy. You truly don't need to wash it that much, and it just ends up stripping the natural oils from your hair, leaving it dry and damaged. So wash it twice a week, max. Use a dry shampoo and tie it up in a bun when you aren't out socializing to keep it clean between washes. And if you absolutely have to wash it everyday (but you don't! I swear you don't!), just rinse it, no shampoo!
2. Oil Up
Nutiva Organic Virgin Coconut Oil , $8, Amazon
So it's been a week since your last shampoo: great, but that still doesn't negate shampoo's drying effects. Apply coconut oil to the ends of your hair (which tend to be the most damaged part) before you shampoo, and only lather up the roots. When you rinse, the shampoo will trickle down and glide over the ends, which will be protected by the oil. Two steps ahead of ya, shampoo.
3. Comb It Out
Mason Pearson Rake Comb , $35, Dermstore
Comb your hair to detangle it while you have your conditioner on in the shower. It will protect your hair from breakage, which it's highly susceptible to when it's wet and freshly washed. Once you're out of the shower, leave it alone! You don't need to comb it twice. And make sure to use a wide tooth comb for extra protection.
4. Keep It Cool
Rinse your hair with cold water. I know, I know, it doesn't feel good, especially in the winter, but it helps seal the hair follicle, leaves it shiny, frizz-free, and even protects hair color, which can get brassy with too much hot water. Enough reasons to convince you?
Turbie Twist Microfiber Super Absorbent Hair Towel , $10, Amazon
When you wrap it in a towel, reach for microfiber instead of your usual cotton. It reduces frizz, protects against breakage, and since it absorbs water faster, it speeds up drying time. So you have more time to spend on a morning workout, or, you know, grab some donuts on your way to the office. Whatever works.
6. Put A Mask On, But Not The Kind You're Thinking
I'm borderline fanatical about my weekly hair mask, and I've always alternated between various store bought deep conditioners, but I've heard that slathering your hair in shine products tends to only hide the problem rather than fix it. That means your hair could still be damaged, in need of protein, and you wouldn't necessarily see. And with the recent emphasis on all natural, organic products, I've kept my routine a bit closer to home — in my refrigerator, to be exact.
Mix two egg yolks with two tablespoons of olive or coconut oil, put it on dry hair for thirty minutes and rinse off. Yes, it might smell like bodies rotting in a sewer, but it really works. It replenishes your hair with protein and adds a shine and luminance that you just can't get out of a bottle. Plus, it's all natural and way less expensive than pricey designer brands, so you can spend money on more important things, like donuts!
Images: Piotr Marcinski/Flickr Giphy (4); Amazon (2); Getty Images (2)