Last Minute Witch Makeup You Can Do At Home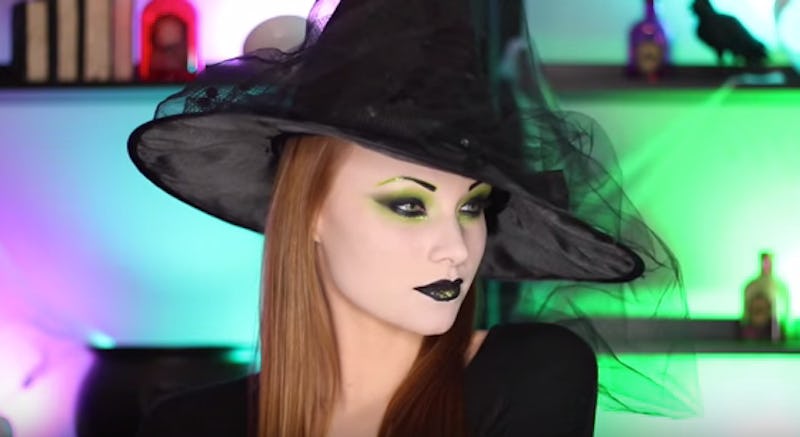 Halloween has basically arrived, and if you're anything like me then you probably left all plans for a costume to the last minute. No need to fret, however, because all you really need to nail a badass Halloween costume is a super cool makeup look. This year, why not put a creative twist on a classic with some simple and stylish last minute witch makeup that you can easily do at home? Throw on a pointy hat, grab any ol' broom, and you've got a spooktacular look that is sure to win you that costume contest.
The greatest part about a witch costume is the versatility — the options are literally endless. You can go full-on green face paint with stick-on prosthetics, or opt for a more demure look with some black lipstick and false lashes. There is really no single right way to look like a witch, and there are zillions of different routes you can take to customize a cool style.
You don't need any fancy shmancy makeup to create these unique looks, either. In fact, you probably already have most the necessary items in your drawers, and whatever you're missing you can pick up for cheap at the drugstore. So let's get into the holiday spirit!
Here are seven of the awesomest and easiest witch makeup tutorials from YouTube.
1. All Over Green Witch
If you're going for an intense dramatic look, this tutorial is for you. It may look complex at first glance, but she breaks it down into super simple steps that are easily achievable.
2. Subtle Green Witch
If a face full of paint isn't your thing, you can still get that eerie witch effect with subtle touches of green on your lids and lips.
3. Glam Witch
The spider web detailing may look really hard to do but it's actually incredibly simple. Plus the rhinestones add a pretty glamorous touch.
4. Purple Witch
Dark shades of purple are a nice alternative to the ubiquitous lime green. Plus, they look gorgeous on pretty much all skin tones.
5. Simple Witch
This tutorial provides another take on the spider wed eye detailing, in a much more subdued way, if that's your thing.
6. Gothic Witch
All you really need for this easy tutorial is some smoky black shadow and ultra dark lipstick. It doesn't get much simpler than that.
7. Hocus Pocus Witch
Hocus Pocus is arguably the greatest Halloween movie of all time, and now you can create a makeup look just like the Sanderson sisters.
Want more beauty tips? Check out the video below, and be sure to subscribe to Bustle's YouTube page for more hacks and tricks!
Image: Screenshot/Youtube