Andy Samberg Deserves a Golden Globe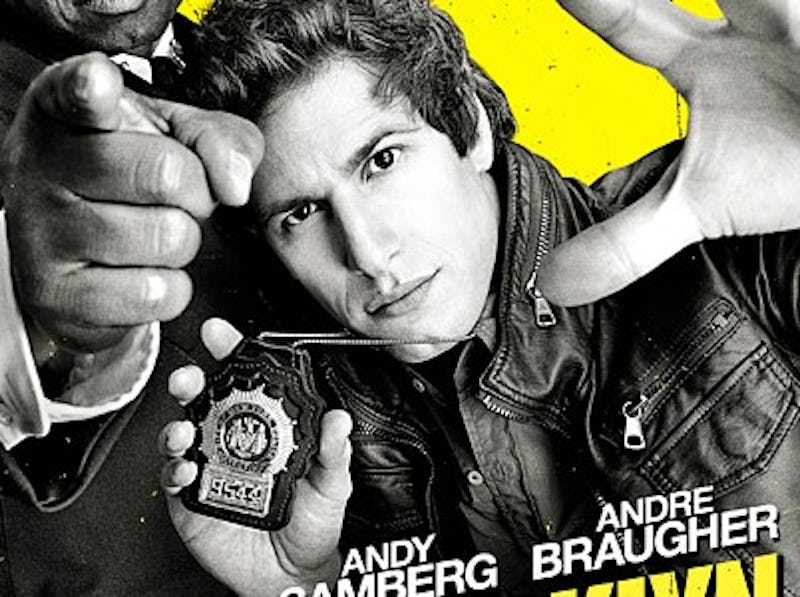 Fox's best new show, Brooklyn Nine-Nine, comes back tonight after their more-than-a month long hiatus. Even more exciting is that Andy Samberg who plays big-headed hot-shot detective Jake Peralta, has been recently nominated for a Golden Globe for his role on the new workplace comedy. (Brooklyn Nine-Nine was also nominated for Best TV Series, Musical or Comedy). Pretty impressive for SNL alum Samberg, a first-time sitcom actor who is also one of the creators and producers of the show.
While I agree that the Globes should have nominated one of the other really strong, REALLY funny members of Nine-Nine's impressing and diverse cast (Chelsea Peretti should win a Golden Globe solely for her outstanding tweets), I actually hope that Samberg takes the Globe. Why? Well, the other nominations this year in the Best Actor: Musical or Comedy series go to Jason Bateman (Arrested Development), Michael J. Fox (The Michael J. Fox Show), Jim Parsons (The Big Bang Theory), and Don Cheadle (House of Lies).
While Arrested deserves its due diligence, Bateman wasn't that memorable on the show's renewed fourth season this year. I am SICK of hearing of The Big Bang Theory, and anyway Jim Parsons has won his fair share of awards for playing Sheldon Cooper (in fact, he just picked up an Emmy). Michael J. Fox is laudable for returning to TV, I'll concede, and Don Cheadle is always fantastic, but I think newcomer Sandberg has surprised us the most this year, and the Globes should pay credit.
In the beginning of Nine-Nine, Samberg's Peralta was fairly one-dimensional; as the season's gone on, though, he's become much more personal in revealing his motives (clearly looking for a father figure!) and that transition to a solid, human character in half a season of a first show is awesome. Hopefully, Samberg takes the Globe, which will also propel 99's star further on the rise, and hopefully next year we'll see the ensemble cast get nominated for a Globe.
And I'll just say I'm biased and unable to resist Andy Samberg's charms. He's so endearing! On discussing his nomination with The LA Times:
I won't lie. I will probably strip naked, pour champagne, run through the Grove straight into an early-morning screening of "Captain Phillips." And that's when the whispers will start: "This movie is so intense, why is Andy Samberg naked, covered in champagne?" And I'll be like, "It's 10:30 a.m. and I'm celebrating my Globe nominish like Yvonne told me."
Brooklyn Nine-Nine returns Tuesday night on Fox.
Image: Fox