'Miss You Already' Finds The Humor In A Real Loss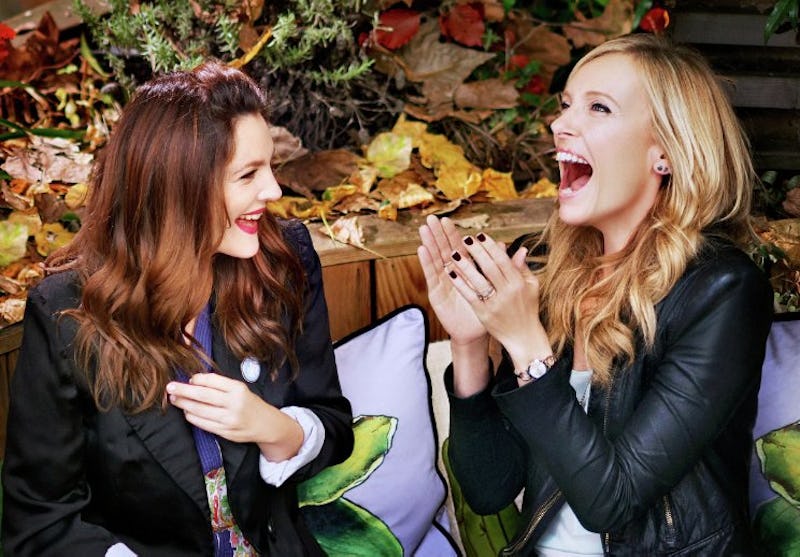 For all that this year has been hailed as a breakthrough for women in front of, and behind, the camera, the female-fronted films on offer tend to be pretty dour, bleak, and restrained (The Keeping Room, Suffragette, Truth, to name a few). Yet while it's ostensibly a cancer movie, neither of these adjectives could be said to describe Nov. 6's Miss You Already. It's riotous and upbeat right till its last breath; it follows the lifelong, and sometimes pathological, friendship between Milly (Toni Collette) and Jess (Drew Barrymore). In addition, it passes the Bechdel test immediately and repeatedly, focusing more on the female best-friendship than their respective relationships with their husbands. Despite the humor throughout the entire movie, it treats its subject with deference, refusing taboos commonly associated with cancer (especially breast cancer) and its treatment. It feels real, and lends the appearance that Miss You Already is based on a true story.
The movie is based on Morwenna Banks' radio play Goodbye, which aired on Radio 4 in 2013. Banks, an actress (she's probably best known to American audiences for her role as Tony mother Anthea on Skins) also wrote the screenplay for Miss You Already. Banks told The Guardian that she was inspired by the loss of friends who died of cancer in their 30s. It was her attempt "to make sense of the death of three friends," she said. But the movie is not just about Banks' personal experience; it also relies on the dedication of its cast and crew to make it seem as real as it appears.
Banks had actually begun working on a novel version of the story with one of those three friends, a woman named Deborah, who told Banks she had a "funny idea" for a book, according to The Guardian. As they worked on the novel together, Deborah gradually weakened too much to continue the project.
"She entrusted the writing to me and asked me to do something with it," Banks told The Guardian. "But that was a complicated request. I felt protective." She approached the families, who gave her their approval to continue working on the narrative, but she was then rebuffed by literary agents. She ultimately decided to turn the story into a drama; it premiered to much acclaim as a radio play, winning the Tinniswood Award.
Though the film's director Catherine Hardwicke (Twilight, Thirteen) wasn't initially enamored with the screenplay, according to a separate Guardian interview, she eventually came around with a bit of editing. "I thought it was too sentimental," she said, adding that it needed more humor and grit. Yet she said she identified with the narrative. Like many women, she has lost friends to breast cancer, and with a bit of coaxing, found her way into the script.
Despite the movie's real-life grounding, the final product seems pretty far removed from the stories that inspired it. It probably wouldn't have been possible without Morwenna Banks' story, yet Miss You Already incorporates bits of truth from across its cast and crew. Barrymore and Collette are of the same ages as their characters, and while that might seem like a truism, it's by no means a given in today's Hollywood. (When Amy Poehler played Rachel McAdams' mother in Mean Girls, she was just seven years older — they could have just as easily been peers.) Notably, it's an age when women often have to start thinking about family histories and genetic predispositions.
The cast also devoted parts of themselves towards making the story all the more realistic. Collette and Barrymore reportedly hit it off immediately (as did their children), becoming fast friends. Collette also shaved her hair in solidarity with her character, who loses hers to chemotherapy as the film progresses. One particularly poignant scene occurs when Milly buys her first wig, and her mother and best friend can't bear to watch her shave off the rest of her remaining locks.
In the end, Miss You Already is more about a universal truth than a specific story. It's nearly impossible not to identify with the best friends' heartbreaks. Even if not cancer, we've all experienced some kind of loss that allows us to empathize with Jess and Milly's narrative. It's that empathy that really goes for your tear ducts. Arm yourself with tissues.
Images: Lionsgate (3)