'The Voice's Kota Wade Spills Her Beauty Secrets
The silver-haired firecracker on TV's most addictive singing competition is more than just a pretty face (and a stunning voice) — The Voice 's Kota Wade is nothing short of superwoman, considering her crazy resume at just 23 years old. She's the lead singer of indie-rock band Bad Wolf, the girl behind fashion and beauty YouTube channel SteamFaerie, and the owner of an all-ages music venue, Amplyfi in L.A. Oh, and she's killing it on Team Gwen on The Voice's ninth season.
Winning over three of the four judges in the show's Blind Auditions (bet you regret not turning your chair now, Adam), Wade chose Gwen Stefani as her coach, and it seems like a match made in Voice heaven, musically and stylishly. Like the No Doubt frontwoman, Wade's known for her incredible singing chops and her eclectic, cool-girl wardrobe.
Before she won the audience over with her explosive performance of "Bring It On Home To Me," her silver-lilac hair had everyone enamored (myself included). Long, shiny and fun, it's almost as lovely as the musician herself.
I chatted with the contestant about her coach, singing with Rihanna (she's a guest coach on Monday's show!), her beauty must-haves, and her stage-stealing confidence. Here's what she shared with me:
1. On Joining Team Gwen
"It has been crazy working with someone that I have literally idolized my whole life….I know every word to every Gwen song. And that's just the music side — fashion-wise, she's always been a huge inspiration to me," says Wade. "She's a chameleon… [in the rehearsals,] she always had something new and unique that she was trying out, and her hair was always something creative."
Stefani has even inspired her to make the most of the show's wardrobe department by choosing and styling pieces in ways she wouldn't have thought of before, she added.
2. On Working With Rihanna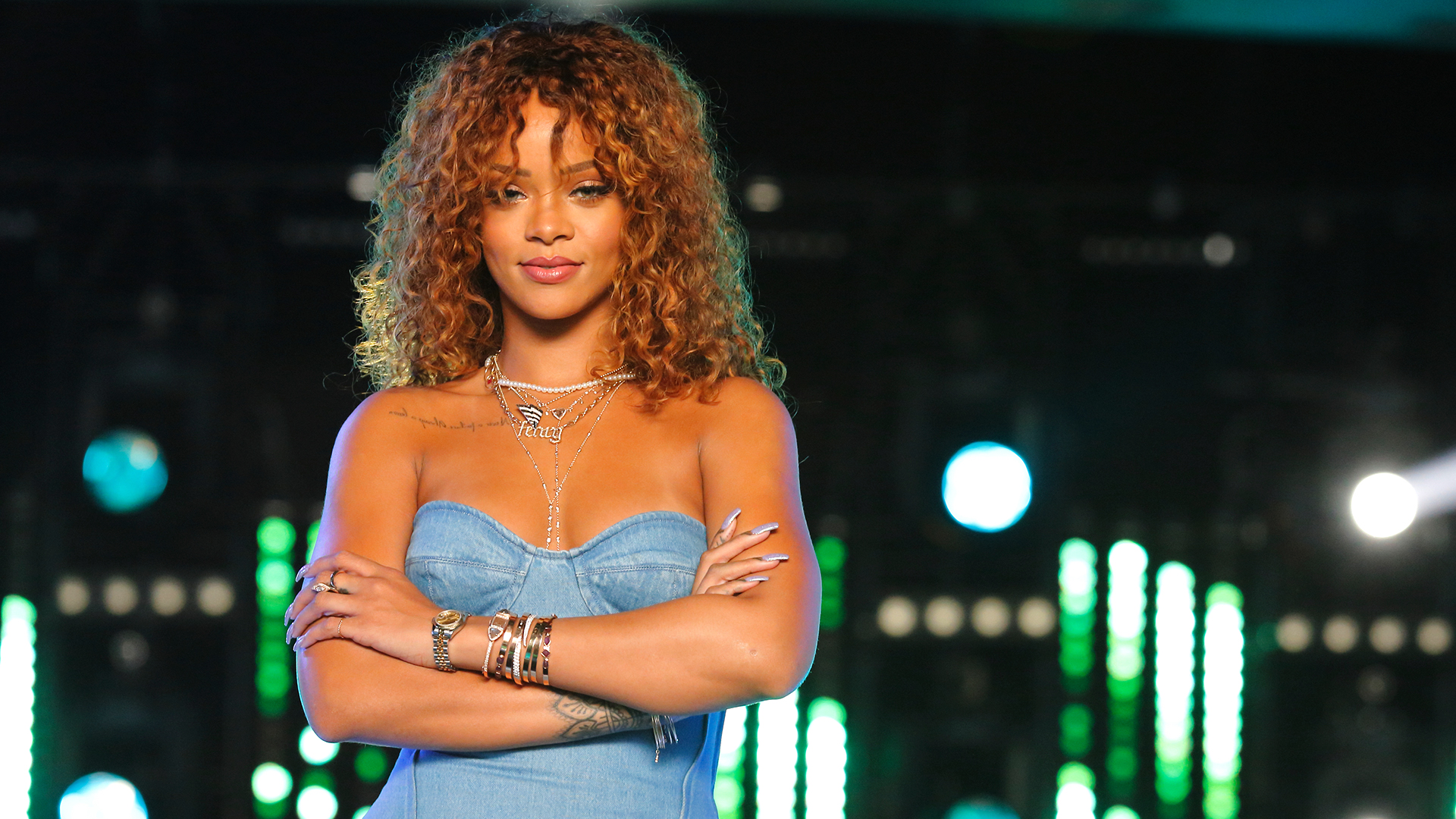 The only thing better than being coached by Gwen? Being coached by Gwen and Rihanna. "I was so intimidated because she has this badass persona and she's super edgy and unique and creative," shares Wade. "But she is so smart, and she was very insightful. She's really easygoing and super nice."
3. On Finding Her Style
It's all about having fun when it comes to Wade's wardrobe. "I like to wear stuff that's ethereal, but still has a little bit of edge, because I'm a rock artist. But I still like being really feminine and kind of fairy-like so I have a lot of ruffles and lace and long layers. Lately I've really been into a more goth look with a soft feel." Not that her style's always been this way — she's experimented in different phases, such as punk, hippie, retro, and rockability. "I love changing up my look," she says.
As for rocking your own style, Wade recommends searching for cool pieces in unexpected places. "My whole life I've shopped at thrift stores and garage sales because you find the most unique stuff there... you have to kind of think outside the box."
4. On That Hair
"I have had every hair color under the rainbow… but I found silver three or four years ago, and it just kind of stuck," she says. "Upkeep is hard, I'm not going to lie, but I try not to process my whole head a lot. I just keep up with my roots [every six to eight weeks] and tone the rest."
Personally, her incredible color makes me seriously consider going for bold tresses, and I can't be alone in that. "If you've thought about it for more than a couple of months, then it's probably something that you really do want, so just try it," she encourages. (Wade also adds that you should go to a stylist that you trust or someone who specializes in color. Sage advice.)
5. On Her Skincare Routine
Hard to believe that Wade's ***flawless porcelain skin has seen bad days, but even rock stars struggle sometimes. "I have very sensitive, delicate skin. In high school, my skin freaked out, and I tried everything. But really, the only thing that has worked for me is kind of letting it breathe." Sometimes less is more, especially when it comes to your face — Wade uses Olay face wash and not much else. She swears by the skincare golden rule: always, always, always wash your face and remove any makeup before bed.
Olay Classic Sensitive Foaming Face Wash, $4.99, target.com
What about those times you can't get your skin under control, despite your best efforts? Remember that it happens to everyone at one point or another, Wade says. She's no stranger to feeling self-conscious about it: "There will be days when I'm doing a photo shoot or a video and my skin isn't looking good, and it's really distracting to me. But 99 percent of the time, you're the only one who's thinking about it." Truth.
6. On Keeping Her Makeup Intact
One universal beauty truth: Keeping your makeup intact can be the biggest challenge. As a performer and a beauty vlogger, Wade knows the struggle all too well, but she relies on primer to create a base. "My eyelids are particularly oily, so I always use a really good eyelid primer for eyeshadow," she adds. She also recommends using a setting spray, or setting your makeup with powder if your skin's on the oily side.
7. On Her Beauty Must-Haves
In a time crunch, Wade relies on a few products. "I use L'Oreal True Match Foundation because it's perfect for any kind of wear — you can layer it or put it on lightly. And I can't leave the house without my eyebrows done. I use BH Cosmetic's Flawless Brow Trio, it's my favorite thing ever." She adds a swipe blush for a little color, and finishes with mascara (Urban Decay Perversion is her go-to.)
L'Oréal® Paris True Match Super-Blendable Makeup, $3.78-10.39, target.com
Flawless Brow Trio, $5.50, bhcosmetics.com
Perversion Mascara, $22, beauty.com
8. On Confidence
It's no surprise that Wade has some incredible confidence, on stage and off. And a lot of that comes from accepting who you are, fully and honestly. "Everybody is completely different, and the things that you might not like about yourself could be things that someone else [does]," says Wade. "You just have to embrace every part of you, whether you consider it a 'flaw' or not."
Spoken like a true individual. Watch Wade put that confidence on display — along with a predictably amazing performance — on Monday night's episode of The Voice.
Images: NBC