'RHOA' Showed A New Side Of Cynthia's Marriage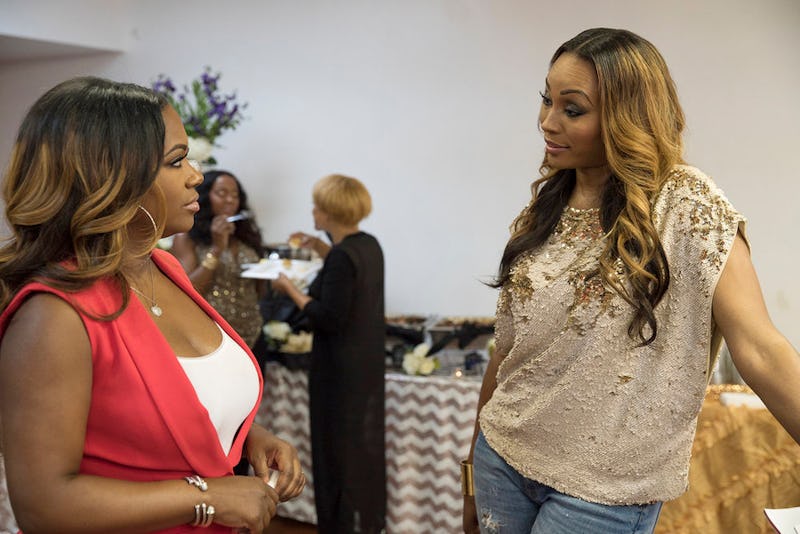 After a long season of speculation about whether Phaedra Parks was cheating on her husband Apollo while he was in the process of going to jail for fraud, it looks like her biggest critic, Cynthia Bailey, is going through some marital troubles of her own. But did Peter cheat on Cynthia Bailey? The Real Housewives of Atlanta couple have always presented a united front, but there's been plenty of speculation over the years about whether or not Peter has been faithful to his wife, even though nothing was ever proven.
But in the Season 8 premiere of RHOA, things were not good in the Bailey-Thomas household. A video of Peter getting inappropriately close with a woman in his Charlotte, NC bar (Sports One) spread among the 'wives. And Cynthia was shocked that Peter didn't even apologize for the suggestive pose.
The video can be seen in the below Instagram video from The Shade Room, and does show Peter in an intimate embrace with another woman. But on it's own, it's not that scandalous. Really, the bad part is the totally disrespectful way Peter reacted to the accusations, and the way he tried to play it off as though Cynthia was crazy, even though according to her, he's trying to get an apartment in Charlotte, and they don't even spend time together anymore.
And Cynthia read him the riot act, saying that it doesn't even matter if he knows the woman in the video, because the was he behaved was disrespectful to their marriage, and even said she was embarrassed by him. It was great to see Cynthia telling Peter off for his mistakes, and trying to make him take their marriage seriously. And she threw in a launch party for her new sunglasses line, which look pretty great.
But it seems like since the opening of Sports One, that some of the infidelity accusations that other cast members threw around in previous seasons are finally coming to light. And things do not seem great between Peter and Cynthia — she even admitted that she's no longer attracted to her husband. That's... not a good sign. While Cynthia seems willing to tough out this rough patch in the marriage, it will depend on whether Peter is willing to apologize for his role.
Image: Mark Hill/Bravo