+Size Blogger Callie Thorpe Reps Batwing Sleeves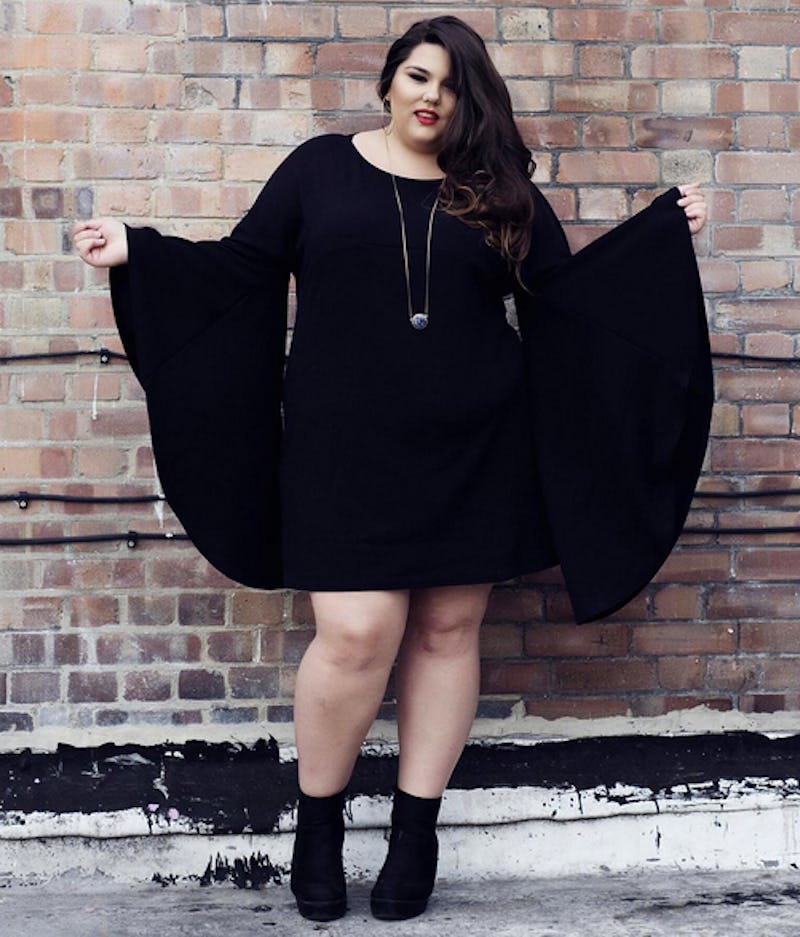 London-based blogger Callie Thorpe is certainly a trendsetter. From rocking chunky boots and loud print dresses to peep toe boots and high waisted suede skirts, Thorpe's outfits are never not inspiring. This past week, Thorpe rocked a gorgeous batwing dress on her blog From The Corners Of The Curve, thus inciting what I hope will be a batwing revolution. The dress is designed by Missguided+, Missguided's line for women sizes 16 to 24. Although this size range could arguably use more expansive inclusivity, it's off to a great start by creating trendy garments for curvier silhouettes and being endorsed by Thorpe herself.
There are many trends out there that are often considered off-limits for plus size or fat-identifying people. From my experience, a batwing sleeve is often considered too bulky of a garment to be "flattering" on plus size babes. However, Thorpe smashes all of these so-called rules and expectations (as she so often does), and demonstrates that the batwing dress is yet another trend that all humans can proudly embrace.
Batwing sleeves are not a brand new concept, of course, and have been seen around since the early 1900s, making comebacks here and there. Honestly, though, what could be better than a grand and widely sweeping sleeve to add some empress vibes to your look?
Plus Size Flared Sleeve Swing Dress Black, $59.50, missguidedus.com
There are many ways to accessorize a black batwing dress as well. The garment's often neutral color palette allows it to pair with just about anything, but its grand sleeves scream "serving up big looks" no matter how you wear it.
Combine it with gladiator sandals to give it that warrior goddess vibe. Style it with a long pendant necklace and floppy hat if you're aiming for a more boho chic style. Or wear it with some tights, combat boots, and a bold black lip to channel your inner goth chick. As Thorpe demonstrates, the batwing dress can also be easily worn with your favorite pair of chunky boots.
Contemporary Batwing-Sleeved Dress, $29.90, forever21.com
There are even more ways to rock the batwing trend, though, especially for those who may be shy about jumping right into enormous wings. You can try a smaller wing or even incorporate the trend into your wardrobe in a more subtle way still, like with a batwing sweater or cardigan.
Glamorous Knit A Love Song Ribbed Cardigan, $68, nastygal.com
Other neutral colors, like white and brown, can also be easily applied to the styling tips mentioned above. However, if louder prints are your thing, go for it! Honestly, it's a great silhouette on anyone, no matter how you choose to rock it.
Boohoo Plus Lois Loose Knit Batwing Cardigan, $26, boohoo.com
So channel a little bit of Callie Thorpe and try out this bold look.
Images: Callie Thorpe/FromTheCornersOfTheCurve; Courtesy Brands