9 Times Callie Thorpe Broke Plus Size "Rules"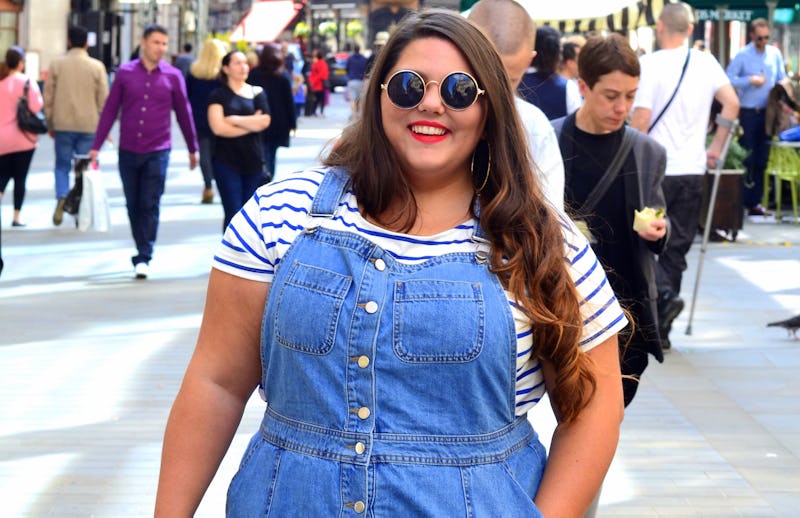 You probably know her from her appearance in the Channel4 documentary Plus Sized Wars or via her blog From the Corners Of the Curve, but if for whatever reason you don't, get ready to fall in love with plus size style blogger Callie Thorpe. Thorpe isn't just a blogger with a pretty face and a covet-worthy wardrobe, though. Her outfits are constantly breaking plus size style "rules." And that's a very good thing.
Whether she's traveling through Southeast Asia and refusing to apologize for her size, or taking style shots in some of her more oversized, masculine-inspired outfits, it's clear that Thorpe has very little regard for the tired, old rules that dictate the way plus size women are "supposed" to dress. Callie Thorpe's plus size style tips aren't about who should and shouldn't wear what, but are rather the opposite: "Be creative with your wardrobe and don't feel limited if a trend you like doesn't come in your size," she told Bustle. She encourages women to opt for DIY and be creative in developing looks they can't find retailers offering up.
There are so many things and so many spoken and unspoken rules that fuller-figured women are supposed to just know and abide by — in fashion and in life. Well, no one can tell Callie Thorpe what to do, and here are nine times she proved it:
1. When She Wore Ankle Boots
Never wear ankle boots because you "cut off the visual line of your leg" and "look short." Plus size women are supposed to want to try and trick people into thinking we're tall and lean. Thorpe says, "Who cares?" with this chic chunky ankle boot.
2. When She Wore This Oversized Shirtdress
Thorpe admits that she does love a good bodycon style every now and again, but that she's sick of the norm of plus size women needing to create an hourglass to "flatter" their curves. "As a plus size woman you don't always have to be looking for a way to show off your figure," she wrote on her blog. Uh-huh honey!
3. When She Wore A Full-Length Duster
Oh, what was that? You say that plus size women aren't supposed to wear long, shapeless clothing because their bodies "get lost in it" and it "makes them look bigger?" I couldn't hear you over all Thorpe's fabulous.
4. When She Wore Culottes
These easy, breezy shorts look incredible on Thorpe, who would be missing out on all of this gorgeous-ness if she listened to the plus size "rule" about about not tucking things in.
5. When She Wore A Strapless Bathing Suit
"You don't want to show too much skin!""It's going to make your shoulders look too broad.""Don't you need more support than that?"People I'm Glad That Callie Thorpe Ignored When Picking A Bathing Suit
6. When She Wore Skinny Jeans
Have you ever thought that maybe plus size women want to show off every single curve and angle of their bottom half to the world and not "balance out" our top halves with a straight leg or bootcut pant?
7. When She Wore An All-Over Print
A bright, bold, large print all over is supposed to be a no-no — but all I'm seeing here is "yes."
8. When She Wore A Crop Top
No, I don't think she missed the memo that all plus size women are "supposed" to want to hide their bellies. I just think she simply doesn't care.
9. When She Wore A Short Skirt And Knee-Highs
You know how plus size women are told that our skirts and shorts should at least reach our knees to "create the illusion of a thinner leg?" Yeah, I guess Thorpe is just cool with her actual legs.
Images: Callie Thorpe/From the Corners Of the Curve