How 'Spotlight's Cast Compares To The Real People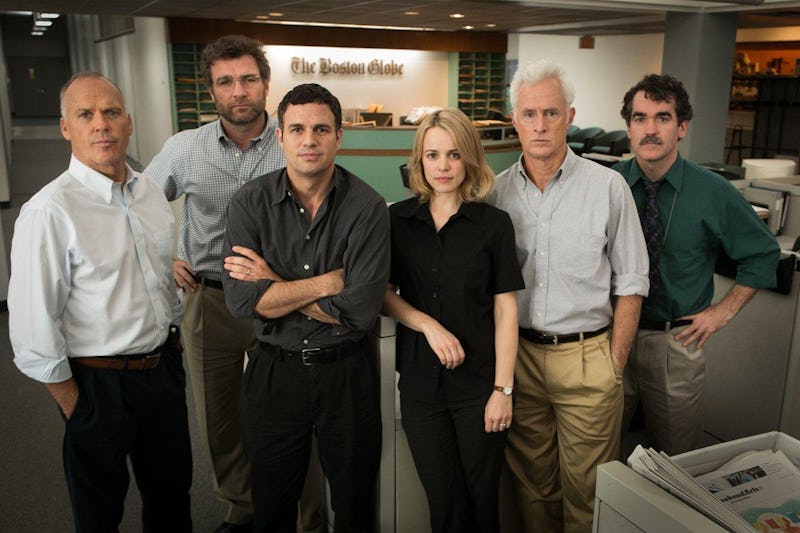 The new movie Spotlight takes audiences back to the early 2000s, when the Boston Globe exposed the massive abuse scandal prevalent in the Catholic church. The Globe won the 2003 Pulitzer Prize for Public Service for its coverage of the events, and the team that unearthed the scandal grew in fame. These reporters were Michael Rezendes, Walter V. Robinson, Sacha Pfeiffer, Marty Baron, Ben Bradlee Jr, and Matt Carroll, all of whom are portrayed in the film by an A-list cast. But how accurate are the actors' representations— that is, how do the Spotlight actors compare to the real people in terms of looks, voice, and more?
Well, it's ironic that the film is called Spotlight, because its sizable cast is made up of many well-known faces. On the one hand, it makes sense that filmmakers would want renowned, award-winning cast members for the important roles in this historic film. On the other hand, it's interesting that they chose actors who are recognizable themselves to portray actual people (many of whom are also familiar public figures due to media appearances). So, how much do these A-listers look like their real-life counterparts? Luckily for you, the actual Globe team attended the Spotlight premiere and posed with their on-screen selves on the red carpet, so now you can compare them side-by-side.
Michael Rezendes, Played By Mark Ruffalo
Well, there isn't a ton of similarity in facial structure and height, but if you gave Ruffalo a combover (and maybe a Keratin treatment), the resemblance is passable.
Walter V. Robinson, Played By Michael Keaton
OK, fairly close! Kudos for Keaton.
Sacha Pfeiffer Played By Rachel McAdams
I feel like Hollywood thinks that they can transform Rachel McAdams into any person in the world just by changing the color of her hair. They are mistaken. That being said, if she was cast to play me in a movie, I certainly wouldn't complain.
Marty Baron, Played By Liev Schreiber
There's definitely a similarity in their eyes, and if you take away 15 years' worth of grey, it's plausible that the Globe editor would look even more like Screiber.
Ben Bradlee, Jr., Played By John Slattery
Hm, not so much. I'm sure Slattery gives an amazing performance, but if we're going off looks alone, wouldn't it have made more sense for him to switch roles with Keaton?
Matt Carroll, Played By Brian d'Arcy James
Once you slap a mustache on James, the resemblance is definitely there. Although it also kind of makes him look like Joaquin Phoenix in Her . Awkward.
Okay, Hollywood, you did well enough this time. But I'd wager that the performances in Spotlight far outshine the physical resemblance between the actors and the real Globe team.
Image: Open Road Films