Brangelina's New Movie Is NOT A Doc, Everyone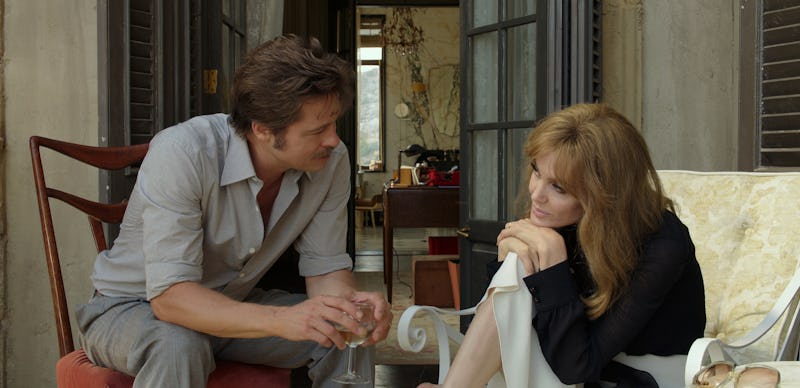 By the Sea, Angelina Jolie's second film in which she costars with now-husband Brad Pitt (the first being Mr. & Mrs. Smith back in 2005), follows the duo as couple, chronicling their characters' tumultuous marriage — within the otherwise romantic backdrop of France during the 1970s. The film, the third that has been directed by Jolie herself, studies an intimate topic — the union between man and wife — but seeing as Brangelina is one of Hollywood's beloved power couples, you can't help but wonder if By the Sea is based on a true story. When the movie hits theaters on Nov. 13, will viewers actually be viewing a sneak peek into the A-list couple's love life?
As much as your analytical selves might want to think yes, Jolie has set the record straight on just how much of her real life inspired the fictional one portrayed in her very personal film, which she not only directed, but wrote the screenplay for and produced. In a rare joint interview with Pitt on the Today show Nov. 2, Jolie said outright to Tom Brokaw that the relationship in By The Sea is nothing like her actual marriage to Pitt. Said the actress,
"I'm counting on the audience to know that if it was close to us at all, we could never make this film — it's because we're actually very stable and these aren't our issues."
And in a recent behind-the-scenes clip for People , Jolie said that she "wrote By The Sea because I wanted to explore grief." She said much of the film is about her mother and her feelings about her mother, who died from ovarian cancer in 2007.
"Everybody in the film represents a different way of addressing grief. Some have yet to experience it, some are able to come to terms with it and some are overwhelmed by it," Jolie said. The actress has been very open about her own struggles, including the preventative surgeries she had to remove her ovaries and fallopian tubes back in March of this year, in addition to a double mastectomy in May 2013. During the Today show interview, Jolie described how the doctor who did her ovarian surgery was also her mother's doctor, and she also discussed what it was like to visit her mother in the hospital while she was ill. Said Jolie,
"We can't say what the whole film is about, but a lot of the film was when I went to visit my mom in the hospital, when she found out she had cancer the first time, she was gonna have her ovaries removed, (and) she was very upset, feeling like...they're taking out her parts that were female, and there was a woman down the hall who was wailing. I later found out it was a young woman who had not had children yet, and that put everything into perspective."
In By The Sea, Jolie stars as Vanessa, a former dancer and wife of an American writer named Roland (Pitt). The couple travels to a French resort aptly located near the sea, where they come to grips with the difficulties of their matrimony while also getting involved with some of the resort's locals. The romantic drama is a sharp departure from Jolie's historical biographic war-sports drama Unbroken (2014) and romance film set during the Bosnian war, In the Land of Blood and Honey (2011).
In a recent interview with Vogue, Jolie said that shooting the movie was pretty much her honeymoon with Pitt, since they started shooting shortly after their wedding on Gozo, a Maltese island It's great to have the movie as proof that Brangelina is still going strong, and know that we loyal fans have nothing to worry about when we see the two of them fighting on screen this month. Really, it's a testament to Jolie and Pitt's incredible acting chops, as well as the bravery and vulnerability that Jolie continues to share with the world in relation to personal matters concerning her health — whether it's through an op-ed in the New York Times or through film. It speaks to the star's strength as both a person and a notable creative force. As for whether By The Sea will earn Jolie her first Oscar? You'll have to be the judge when the film hits theaters on Nov. 13.
Image: Universal Pictures