17 Plus Size Faux Fur Coats You Need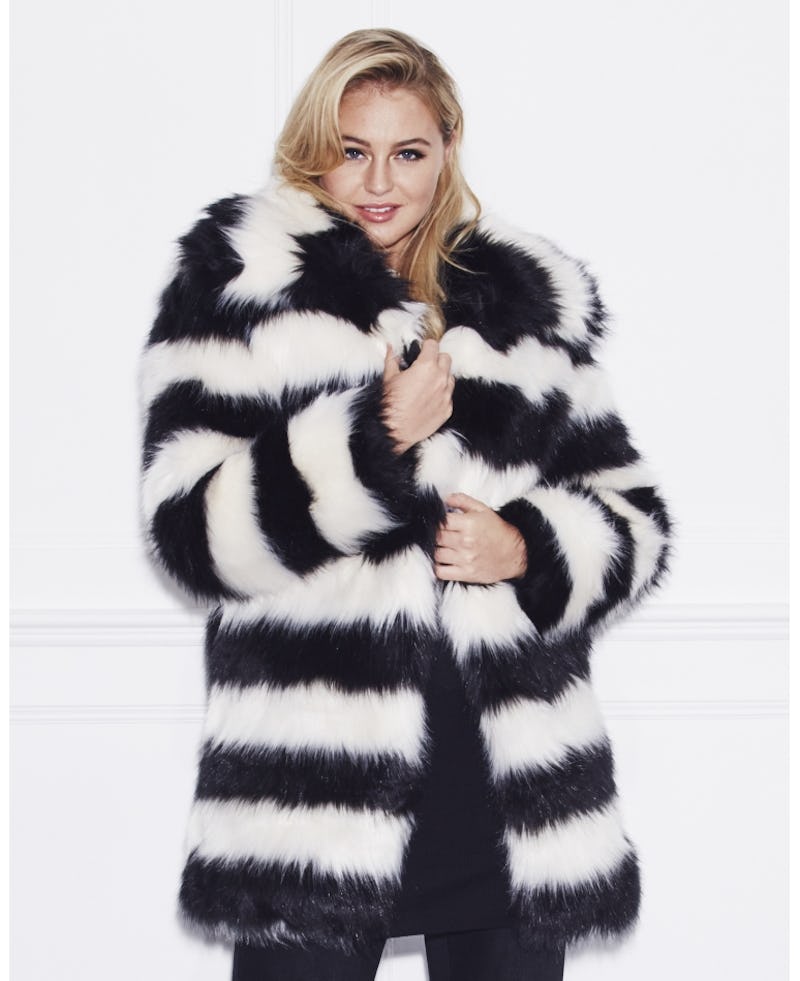 As much as it pains me to admit it, winter is quickly approaching. And if there's one thing on my personal shopping wish-list it's plus size faux fur coats. Faux fur is the perfect way to assert a bold personal style while keeping yourself from freezing.
I couldn't help but notice the increase in fur-clad Halloween costumes this year, even among celebrities. I saw a ton of costumes inspired by '90s-era Lil Kim including Karrueche Tran who sported an electric blue faux fur coat as a "Crush On You" Lil Kim. And one look through actress Taraji P. Henson's Instagram around Halloween shows that #CookieForHalloween was very in — which meant that a faux fur coat was a must for many.
But faux fur isn't just made for costumes. Retailers and designers are finally giving plus size women real options and variety when it comes to this outerwear trend. So whether you want to stand out in a pastel rainbow faux fur coat or look sleek in all black, there's a little something for everyone.
Black Faux Fur Soft Cropped Coat, $60, Yours
This coat keeps it short and sweet and lets the fur speak for itself. It's also available in cream for a winter white look.
Alice & You Faux Fur Jacket, $67, Asos
The deep red, navy, and tan colors in this faux fur coat definitely give me boho vibes.
Jameela Jamil Faux-Fur Jacket, $100, Simply Be
Let's just dream for a minute that the movie Clueless took place in a city like Chicago. If it did, Dionne would have totally rocked faux fur just like this.
Plus Size Fluffy Collar Biker Jacket Black, $102, Miss Guided
I tried to only find jackets that were mostly faux fur but this leather-fur hybrid was just too badass not to include.
Cyber Barbie Faux Fur Coat, $260, Isolated Heroes
This coat is a definite statement. Everything from Isolated Heroes is handmade so you can customize it to your size!
Pippa Coat, $298, Boden
This coat only goes up to size 18, but the sleek contrasting light and navy fur pattern made it too good not to include for my sisters on the smaller side of plus.
ASOS Curve Vintage Faux Fur Longline Coat, $95, Asos
The pattern of this coat is very Cookie Lyon-esque, so wearing it will making you feel all kinds of Lyon Dynasty powerful.
8. Going Glam
Collarless Multi Fur Jacket, $75, Ashley Stewart
Between all of the textures and colors happening in this faux fur coat, this is easily one of the most fabulous pieces on the list.
Loverobe Contrast Fur Jacket, $165, Simply Be
For all of my fellow gaudy fashionistas, this coat was made for you. Channel your best Cruella Deville and show them who is boss.
10. Warm In Hot Pink
Neon Barbie Pink Cropped Fur Coat, $180, Isolated Heroes
This faux fur coat is part of the exclusive collection originally designed for Miley Cyrus, but I'm personally getting more Nicki Minaj vibes.
Jou Jou Faux-Fur Colorblocked Coat, $60, Macys
What I really like about this coat is that the pattern is simple yet done in an unexpected way for a fashion-forward minimalist look.
Plus Size Fur Leopard Coat, $100, Tjmaxx
This coat has an oversized '80s feel that I am totally digging. I can see it styled with a sleek jumpsuit for a more modern look.
Gallery Glamour Coat in Blush, $27, Mod Cloth
The feminine cut combine with the pretty blush color make this the most adorable coat on my list.
Fur Front Moto Jacket, $109, Ashley Stewart
This list is really a stroll through fashion eras past and this one is straight out of the early 2000s in a really good way. You can bet Ms. Tina Knowles would've put a plus size Destiny's Child in this one.
Shaggy Fur Jacket, $140, Simply Be
The ombre pattern on this shaggy fur jacket is truly dreamy. SimplyBe has a huge selection of plus size faux fur coats, but this one truly shines among them.
Images: Courtesy Brands