The Best Essential Oils For 11 Common Problems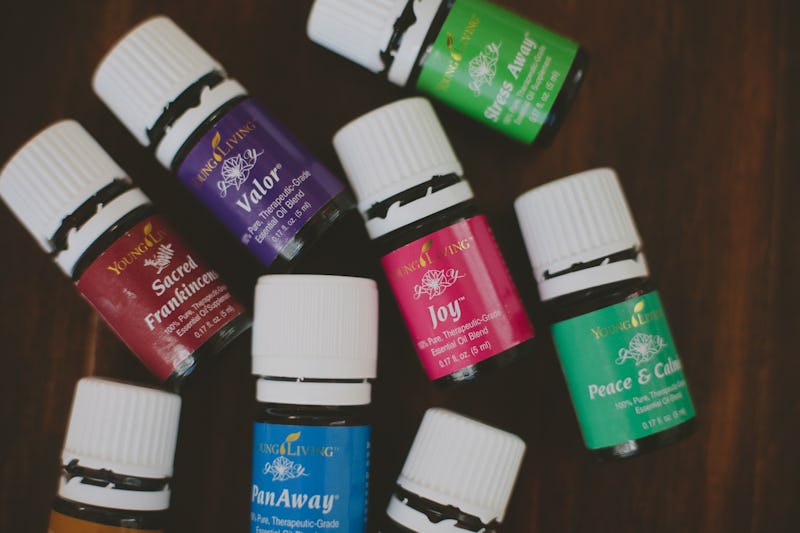 Most of us know a little bit about the science of aromatherapy. Like, lavender is good for sleep and ... actually, that's where the knowledge ends for most of us. Being the vegan, hemp-loving hippie who grew up near Berkeley that I am, I've been curious for awhile about the little tubes I saw in natural health and beauty stores, but have never really been sure which essential oils are worth buying. After all, aromatherapy has been proven by researchers to aid anxiety and depression and improve quality of life — and all by simply smelling, diffusing, or applying these unaltered, natural oils.
Considering a new report released this week by Women's Voices for the Earth found that the safety of fragrance chemicals — AKA the synthetic fragrances in most perfumes, shampoos, & more — is not being safe-guarded by any governmental agency globally, we should all probably be a little more concerned about the less-than-natural products we're using. In fact, the report found, many of the chemicals used to make fragrance are also listed as "chemicals of concern" by the U.S. National Toxicology Program. Considering the fact that what we absorb through our skin is just as potentially dangerous to our systems as what we eat, we might all do better to safely use pure, essential oils instead of synthetic fragrances when we can.
So when I found out that Amy Galper, founder of the New York Institute of Aromatherapy, was offering custom aromatherapy consultations, I jumped at the chance to smell my way to better health. As someone who doesn't like synthetic fragrances — but loves natural scents like pine and almond — I was excited to see what Galper would make for me. Since her business is centered on teaching wellness practitioners and businesses about aromatherapy (classes are open to the public, by the way), I knew she'd have me covered.
First, Galper asked me about my concerns, desires, and what I was looking for in an essential oil. Although I'd never thought about it before, I found I had plenty of requests: I wanted an oil that I could put on my face at night to moisturize my skin, but that would also make me calm, relaxed, and sleepy. She nodded and pulled out several vials, and had me smell them in several different combinations. At first, I didn't like any of them — they smelled too much like soap — but as we got closer to my "custom fragrance" by combining lots of different scents, I started feeling mighty relaxed.
When we'd finally found a combo I liked, she revealed to me what was in it: Clary Sage (for balancing hormones & sedating, also "great to use when your muscles won't let go," Galper says); Blood Orange (good for uplifting and balancing skin; quieting central nervous system because "whenever we can look at things more positively, it de-stresses us"); Ylang Ylang (for the skin, central nervous system & sedating); and Atlas Cedarwood ( good for "grounding" soothing skin, and blotchiness). Galper then added the "carriers" Argan & JoJoba oil, which help the essential oils absorb more into the skin, while staying relatively dry, and voila — I had my new face serum.
Argan & JoJoba Oil, $10, Amazon
I have to say, I've been testing it for the last week, and if nothing else, the ritual of putting it on each night right before bed has had a mighty fine Pavlovian effect. Smelling such relaxing, natural fragrances seems to signal to my body that it's bedtime, and I have indeed been feeling more relaxed before I go to sleep. I'm officially an aromatherapy convert — and my skin is as soft as ever. Look at me, I feel so pretty and well-rested that I'm even taking duck-faced selfies!
In an effort to understand more about nature's yummy-smelling medicines, I decided to look to AromaWeb, a website Galper recommended as credible among the sea of hippy-dippy sources out there, in order to learn more about which essential oils are good for what ailments and desires. Here's what I found there and on other reputable sites, diffused for your pleasure.
For Headaches
Your Best Oils: There are lots of essential oils that are recommended for headaches, but the top ones, according to AromaWeb, are Eucalyptus Oil (anti-inflammatory & expectorant, especially good for sinus headaches); Helichrysum Oil (anti-inflammatory); and Peppermint or Spearmint oils (especially good for migraines).
Oils To Avoid: YlangYlang, which when used in excess can prompt headaches.
How To Use It: AromaWeb recommends mixing an ounce of Jojoba or Almond oil with 10-2 drops of any of the essential oils above into a little bottle, then applying 1-4 drops onto your forehead, temples, and/or neck, and massaging it in. For an even more intense effect, you could also try diffusing any of these scents in your room using a diffuser.
For Stress
Your Best Oils: According to the wellness site MindBodyGreen and other corroborating sources, these are your best bets: Rose (for stress); Frankincense (for relaxation); Lavender (for calming and insomnia); Bergamot: (for calming and mild anxiety); Marjoram (for sadness and grief); Vetiver (for grounding and calming down when you're angry); Chamomile: (for soothing and sleep); Geranium (to cheer you up when you're in a bad mood); Ylang Ylang: (for releasing anger and frustration); and Vanilla (calming, said to remind us of mother's milk).
How To Use It: Apply some drops into a nighttime bath, or on a cotton ball beside your pillow. You can also use a face serum like I have with any of these oils and smell it as you drift off; or try a bed linen mist.
For Anxiety
Your Best Oils: Bergamot; Clary Sage; Frankincense; Sandalwood; Lavender; Clary Sage; Bergamot; Rose; Lavender; Mandarin; Vetiver
How To Use Them: Check out these recipes for your best combinations, and use any of your preferred methods suggested above.
For Low Energy
Your Best Oils: Basil; Cypress; Grapefruit; Ginger; Rosemary; Bergamot; Peppermint; Frankincense; Lemon
How To Use Them: Check out these recipes for blending, and inhale using your method of choice.
For Insomnia
Your Best Oils: Roman Chamomile Oil; Lavender Oil; Clary Sage
Oils To Avoid: The energizing oils above like Cypress, Rosemary, Grapefruit, Lemon, or Peppermint.
How To Use It: Apply some drops into a nighttime bath, or on a cotton ball beside your pillow. You can also use a face serum or try a bed linen mist.
For PMS
Your Best Oils: According to the holistic medicine proponents at Progressive Health, your best bets here are Eucalyptus; Rose; Lavender (for calming); Geranium (for relaxation); Clary Sage (for anxiety, insomnia, and other symptoms of PMS); Ylang-Ylang (for high blood pressure and excessive sebum production, which can also help relieve PMS-related acne).
For Bloating, Make This: Six drops of lavender oil; three drops of juniper berry oil; two drops of birch oil & rub on belly.
For Cramps, Make This: Combine a total of 12 drops of the oils of Lavender, Clary sage, Chamomile, Ginger, Geranium, and Marjoram & put on belly or back.
For "Balancing" Your Hormones: The site Progressive Health says that " because PMS is the result of the interaction of hormones and neurotransmitters, it can be relieved by influencing the balance of hormones and the release of neurotransmitters in the brain." They recommend a mix of two drops of clary sage, one drop of geranium, and one drop of ylang ylang oil.
For Depression (In Addition To Other Treatments, Obviously)
Your Best Oils: Basil; Geranium; Grapefruit ; Lime ; Neroli; Roman Chamomile; Rose; Sandalwood; Mandarin; Ylang Ylang; Clary Sage
Your Daytime Routine: Wear any of the oils or buy a diffuser and/or candle & smell it in your home or office.
Your Shower Routine: AromaWeb recommends that if you shower in the evenings, you should look for essential oils with calming & relaxing properties, like Lavender, Roman Chamomile, Clary Sage,Rose, Sandalwood, or Mandarin and add them to a fragrance-free shower gel.
Your Bedtime Routine: Put some Roman Chamomile Oil, Clary Sage Oil, or Lavender Oil on cotton ball and leave it near your pillow at bedtime, since all of these have sedating properties.
For Seasonal Affective Disorder
Your Best Oils: Orange; Grapefruit; Ylang Ylang; Ginger; Cypress; Bergamot; Clary Sage; Neroli; Jasmine
How To Use It: Check out these recipes for mixing them together, and like all of these, either put in on a cotton ball, on your body, in a bath, or in a diffuser or room spray.
For Dandruff & Itchy Scalp
Your Best Oils: Tea Tree; Patchouli; Rosemary; Sage; Ylang-Ylang; Peppermint; Lavender; Eucalyptus, and Juniper. If you know you have seborrheic dermatitis, you might try an anti-fungal oil like Tea Tree oil; Cinnamon; Tangerine, or Cumin oil first.
How To Use Them: Mix them into a shampoo, or massage a bit onto your scalp after you get out of the shower.
For Your Sex Drive
Your Best Oils: Bergamot; Cardamom; Clary Sage; Neroli; Orange; Patchouli; Rose; Sandalwood; Ylang-Ylang (all said to balance your Sacral Chakra, if you believe in that stuff).
How To Use Them: Take a sexy bath, or have someone give you a massage with any of these. (Or massage yourself — just not on your pussy, since that might cause pH balance issues!)
For Acne
Your Best Oils: Tea Tree; Jojoba; Coconut; Geranium; Lavender
How To Use Them: Check out this recipe blend, spot test, and if it seems all good, apply to your face.
The Bottom Line
You might be a skeptic, but these oils smell really nice, are actually natural, and are definitely at least worth a shot before you start popping pills for every headache or sleepless night (speaking as someone who has totally done that). I haven't tried all of these scents yet, but I can tell you that those I have tried have been pretty comforting, pampering, and powerful.
If you (understandably) don't want to have to buy every oil on this list, it seems like there are a few most essential of these essential oils that keep repeating throughout: Lavender, Chamomile, Clary Sage, Peppermint, Citrus Oils, Ylang-Ylang, Bergamot, and Frankincense all seem like the main defenders. Start with those, or honestly, whatever else smells best to you in the health food store, and take it from there!
May the inner goddess be with you.
Images: Abi Porter/Flickr; Giphy