Female Actors-Turned-Directors Deserve Respect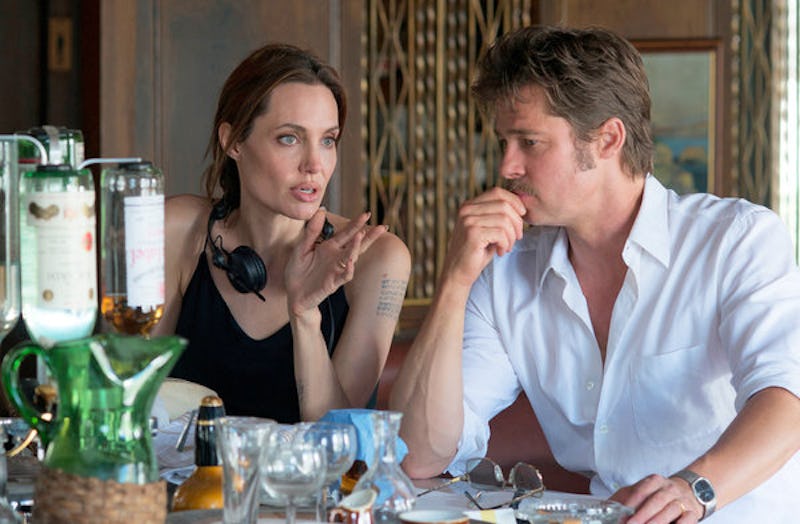 Since Angelina Jolie made her directorial debut with 2011's In the Land of Blood and Honey, the Oscar-winning actor has been developing a strong career as a writer/director. Yet despite earning critical praise for last year's Unbroken, a period drama that explored the World War II imprisonment of Olympian Louis Zamperini, the film, and Jolie, failed to earn any remarkable awards season nominations. There's hope, however, that Jolie's next film, By the Sea , which opens November 13 and stars herself and husband Brad Pitt as an American couple in 1970s France, will be different; this could be the movie that helps the filmmaker slip her name into the Best Director race. If it does, it could mean that Hollywood is finally accepting Jolie as a powerful force in the director's chair — but it won't have come easy.
Hollywood has a tendency to cast off female actors who decide to take it upon themselves to write and direct their own films. It's not just them, of course; the film and TV industry has a severe sexism problem all-around, and is reluctant to utilize the strengths of female directors, whether or not they also work in front of the camera (a study by the Center for the Study of Women in Television and Film found that, in 2014, women comprised just 7 percent of directors on the top 250 films). But it seems that women who started out on-screen have an even harder time being taken seriously and earning the respect of Hollywood than their non-actor peers. We recognize them as actors, but rarely do they get placed in the same category of major female directors like Ava DuVernay or Kathryn Bigelow. Instead, they tend to be seen as actors first, stars second, and then directors third, as judging by how little attention has been paid to women like Jolie, Natalie Portman, or Courteney Cox.
It's certainly not because they're lacking in numbers. Earlier this week, Vulture put out an incredible list of 100 female directors that Hollywood should be hiring now. The list includes many women who started out as actors, such as Elizabeth Banks, Jodie Foster, Barbra Streisand, and Jolie herself. Several of them have found serious success off-camera; Foster recently directed one of the most critically acclaimed episodes of Orange Is the New Black, and her next project, the Julia Roberts and George Clooney–starring Money Monster, will premiere in 2016. And after producing the sleeper hit Pitch Perfect, Banks was hired to direct its sequel and was recently announced as the director for a third installment of the a cappella comedy.
But there are a few other female actors turned directors who didn't make Vulture's list despite having impressive projects under their belts. Portman's A Tale of Love and Darkness debuted at this year's Cannes Film Festival, and while it received mixed reviews, Portman is said to show promise as a director. Then there's outspoken feminist Rose McGowan, who made her directorial debut at the 2014 Sundance Film Festival with the short film Dawn. After seeing Vulture's list, McGowan spoke out on Twitter to express her feelings about her exclusion.
It's frustrating that these talented women not getting their due. Granted, the Vulture list isn't the be-all and end-all of female directors, and plenty of male actors turned directors have had trouble earning respect in their own right. Just look at Ben Affleck; his third film, Argo, won Best Picture in an Oscar race where he was notoriously snubbed as Best Director. Despite the loss, the filmmaker is still chugging along; his next project is the Prohibition-era Live By Night, which just began filming. And today, Affleck is viewed as an actor and director with equal measure, unlike many of his female peers.
So what can female actors turned directors do to earn more respect and build their careers? It seems like the solution is that women just have to keep on helping other women. Recently, Portman reportedly insisted on hiring a female director for the Ruth Bader Ginsburg biopic in which she is starring. Jolie, who has said that she found it remarkable that she was the first woman to direct husband Brad Pitt, told The New York Times recently that "I want to support other women because of the opportunities I've had — and I've had a lot of opportunities. What I try as a female director is to do the best job I can and in the meantime bring attention to as many other female directors and writers as I can."
We can only hope that female directors, be they actors or writers as well, keep paying it forward.
Images: Universal Pictures