8 DIY Projects To Make With Thrift Store Finds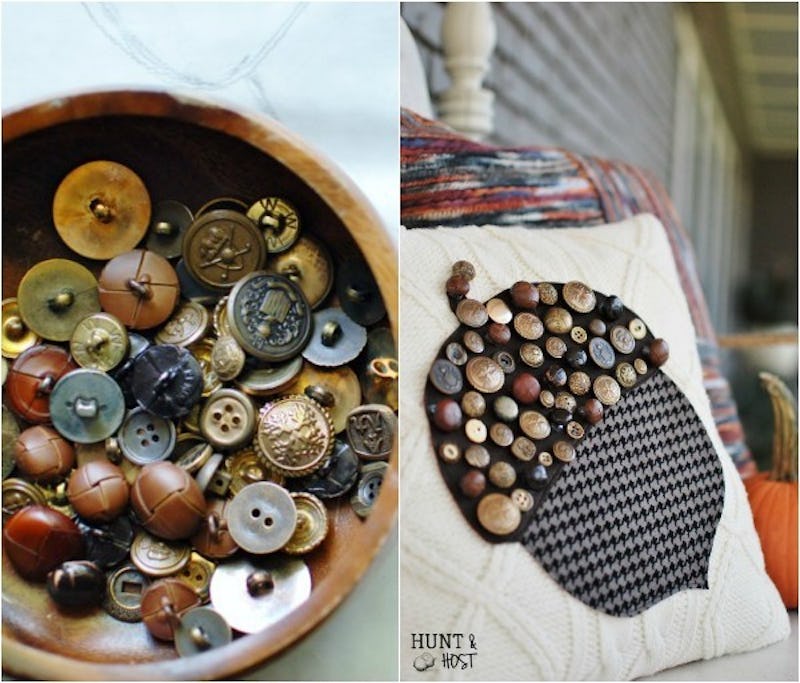 It doesn't take a professional crafter to put together an amazing home decor piece from scratch. Hometalk has compiled eight DIY projects to make with thrift store finds that prove it only takes a little creativity and some random odds and ends to make something that is truly unique. Have a few plain, empty boxes taking up space in your basement? Turn them into ultra chic planters. Looking for a beautiful new table centerpiece, or a few cute throw pillows to amp up your living space? Old baskets, buttons, embroidery hoops, and more can be transformed into surprisingly beautiful household objects. Sounds like it's time for you to hit up your local thrift store — these projects are just begging to be made.
The next time you are craving a classy decor upgrade, don't waste time at those costly home goods shops (that we all love so much) — instead, check out your local thrift store. Thrift stores are chock full of all sorts of old treasures that you can upcycle into glamorous accent pieces to fill every empty bookshelf or coffee table. Make your own designer looks for a tiny fraction of the price, thanks to these fabulous ideas from Hometalk bloggers.
1. Chic Planters Made From Holiday Boxes
Clunky Christmas boxes don't look special, and they're definitely not every day decor. That is, until you give them a chic makeover with paint and add some decorative greenery.
Project via Erin @DIY on the Cheap
2. Woven Hanging Made From Candle Holders
Two spray painted candle makers were pretty, but not quite the decor this DIYer wanted. So instead, she made them fresh and fun with metallic spray paint and a woven wall hanging.
Project via Charlotte @Ciburbanity
3. Color Pop Storage Made From Baskets
Thrift stores are a great place to find mismatched baskets and bins that can be turned into chic, color popping pretties for your coffee table or bookcase.
Project via Ursula @Home Made by Carmona
4. Recipe Organizer Made From Grocery Box
A simple jewelry box may not be your idea of pretty storage for your precious things. But what do you think about excellent organization for recipe cards?
Project via Michelle @Weekend Craft
5. Faux Marble Box Made From An Old Wooden Case
Any thrift store find can become expensive looking decor in a jiffy. With just a splash of fancy contact paper, this faux book box turns into a marbleized decorative storage case.
Project via Bee @Windgate Lane
6. Decorative Orb Made From Embroidery Hoop
Even if you don't embroider, you won't want to pass these hoops up again after seeing this. A designer orb look, perfect for covering a light, or even just displaying on the coffee table.
Project via Kimm @Reinvented
7. Throw Pillow Made From Mismatched Buttons
Dump out your jar or box (or drawer!) of mismatched buttons for this adorable fall throw pillow. Combine the buttons and a few pieces of felt to create this fabric fall acorn.
Project via Kim @Hunt & Host
8. Candle Centerpiece Made From Ceiling Fan
A stack of old ceiling fan lights becomes beautiful candle holders to impress visitors for the holidays. Set them in a wooden beam, and set them down in the middle of any table to add instant charm.
Project via Serena @Thrift Diving
For more amazing ideas, check out the repurposing page on Hometalk!