Here's What Blake & Gwen's Song Should Sound Like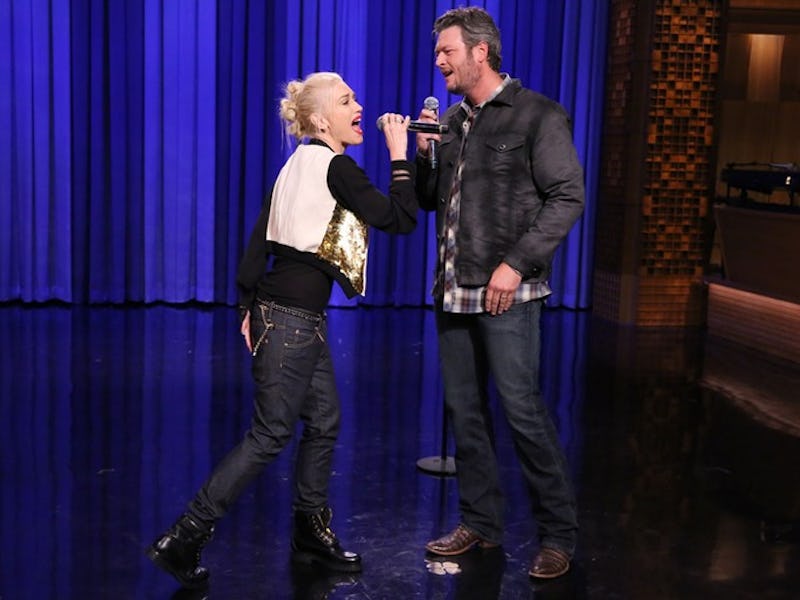 I don't know if I've been as excited about a celebrity couple as I am about Gwen Stefani and Blake Shelton in a long, long time. The musicians and Voice coaches are officially dating, and while the pairing is somewhat unexpected, it's certainly a welcome development. They've apparently been friends for a long time, and now that they're both single, they've discovered another side to their relationship — a romantic side, obviously — and have decided to give it a go. It's a beautiful thing, sure, but that's not even the best part of this whole thing. Stefani and Shelton have written a country song together, and you know it's going to be amazing.
According to folks in the know, otherwise known as the infamous "source," the track is a mid-tempo "real country" track that Stefani sounds really good on, despite country not being her genre of choice. Shelton, who's made a minor shift to more pop-influenced country music in recent years, has apparently made a return to his roots with this track. But what's it about? Well, it's about someone telling a lover to leave the relationship if they're unhappy. In other words, it's something that hits close to home for both Stefani and Shelton and likely came easy to them.
The track hasn't yet been recorded, we still don't know a title, and there's no release set, but it's almost enough just to know it exists right now. Since we still haven't heard it, however, here are a few of Stefani and Shelton's previous tracks that I hope bring a bit of their sound to this new one. If we're lucky, it'll sound a little like each of these:
"Nobody But Me"
An oldie but a complete goodie, "Nobody But Me" is Shelton's heartfelt country jam imploring his lover to, well, never love anyone else but him because he's so good at it and loves her so much. I mean, she's welcome to do what she wants, but seriously, don't leave him. Obviously the track he's written with Stefani has a slightly different message, but it's that imploring tone I want kept.
"Used To Love You"
Stefani's most recent single is heartbreaking, but also perfectly encapsulates the feeling of lost love and how unexpected it can sometimes be. Since the inspiration behind this is probably the same that inspired her new song with Shelton, it makes sense that a bit of this vibe would come with it, right?
"Hillbilly Bone"
I know it sounds kinda crazy that I want this ballad about love lost to sound like Shelton's "Hillbilly Bone," but I was promised good old fashioned country music and that's what I want. I know this has more of a honky tonk vibe to it, and that Shelton and Stefani's song will be a bit slower, BPM-wise, but it's got the right feel.
"Sweet Escape"
"Sweet Escape" is one of my favorite Stefani songs, which tells the tale of a girl who wishes she could be the perfect girlfriend but she just can't because life's not fair and neither is love and sometimes things just don't work out. Again, the vibe is perfect to influence her song with Shelton, at least lyrically speaking.
Basically, we have no idea what this Stefani/Shelton duet sounds like, and if we'll ever get to hear it, but a girl can dream, can't she? I'm holding out for this song, because I'm pretty sure it'll be the song of the year.
Image: Douglas Gorenstein/NBC