This Sam Smith/Amy Winehouse Cover Will Ruin You
There are few artists with the vocal skill to take on an Amy Winehouse cover, let alone those we might actually want to see try. Sam Smith is one of them. He masterfully covered "Tears Dry On Their Own" — people, that is what pure vocal control looks like — and now he's done it again. The new Sam Smith cover of Amy Winehouse's "Love is a Losing Game" is modest (he admits, with prompting from Radio 1 host Annie Mac, that it's a "monster of a song") and quite faithful to the original (though perhaps even more restrained), but heartbreakingly simple and really just excellent. If there's a positive adjective to toss Smith's way, I recommend it.
Smith has earned more than his share of comparisons to Adele. Both have had recent Rolling Stone covers, they (thankfully!) don't conform to the body norms of Hollywood, and both wrote James Bond theme songs in recent years, but it seems like he's a more fitting successor to Winehouse. He told Radio 1 that he was inspired by the documentary Amy. With an Amy Winehouse biopic in the works (Noomi Rapace is projected to portray the singer), might I suggest that Smith be the one to soundtrack the movie?
Even if they don't end up in a movie down the line, Smith has got to keep these covers coming. Check out the latest cover below, and here are a few suggestions for what he might try next.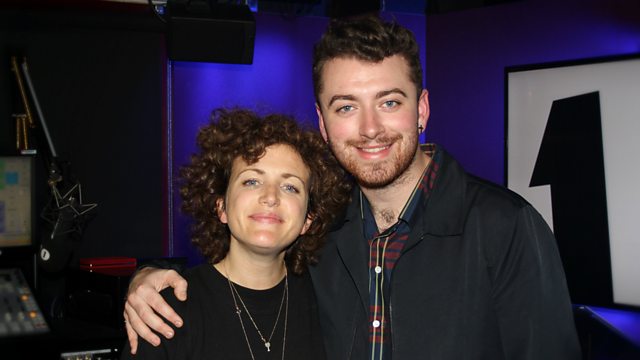 1. "Valerie"
Okay, so it's not actually an Amy Winehouse song; "Valerie" was initially written and performed by a band called the Zutons, released in 2006. But Winehouse's rendering of the song is superior — there's no gentler way to put it. Her collaboration with Mark Ronson was described in Rolling Stone as the "one notable recording" she released after Back to Black.
2. "You Know I'm No Good"
Speaking of Back To Black, Smith should take on "You Know I'm No Good," now that he's covered the song's album-mates "Tears Dry On Their Own" and "Love is a Losing Game." When it was released as a single, Winehouse performed a remixed version with Ghostface Killah of Wu-Tang Clan. Smith might take note and record a similar collaboration.
3. "Back To Black"
According to Rolling Stone, Mark Ronson supplied Winehouse with the piano chords for "Back To Black" — and she wrote the lyrics in an hour. Not that this has much bearing on Sam Smith's performance, but it proves what a total genius Winehouse was and why this song is eminently deserving of his attention.
4. "I Heard Love Is Blind"
A track off her earlier album Frank, "I Heard Love Is Blind" is even more jazz-inflected than her later work. It's hyper-focused on the vocal performance. There's room for improv against the simple percussion-and-brass backing track — a key element of Winehouse's performances, and a well-suited challenge for the talented Smith.
5. "F*ck Me Pumps"
Genius of the music video, with its pre-teen stars adorned with bright circles of blush on their cheeks, aside, this would just be a lot of fun to see brought back to life. The song throws shade at the nightclub-goers on the hunt for the nonexistent "perfect man." I have no scientific reason to proclaim this, but Smith seems like he has the sense of humor to take on "F*ck Me Pumps" and have a laugh.
6. "Rehab"
But of course.
7. "He Can Only Hold Her"
"Love is a Losing Game" is going on a re-release of the self-professed saddest single Smith has written thus far, "Drowning Shadows." "He Can Only Hold Her" is lyrically on par with the weepiest of ballads, but with a jazzy arrangement that belies its really, really sad words. In short, it'd fit in perfectly among the songs that have already composed Smith's canon.
I won't be happy till Sam Smith covers Amy Winehouse's entire discography and can analyze the comparisons in depth, but these seven songs are a good start. Hop to, Mr. Smith.