30 Gifts For Mom That Are Under $30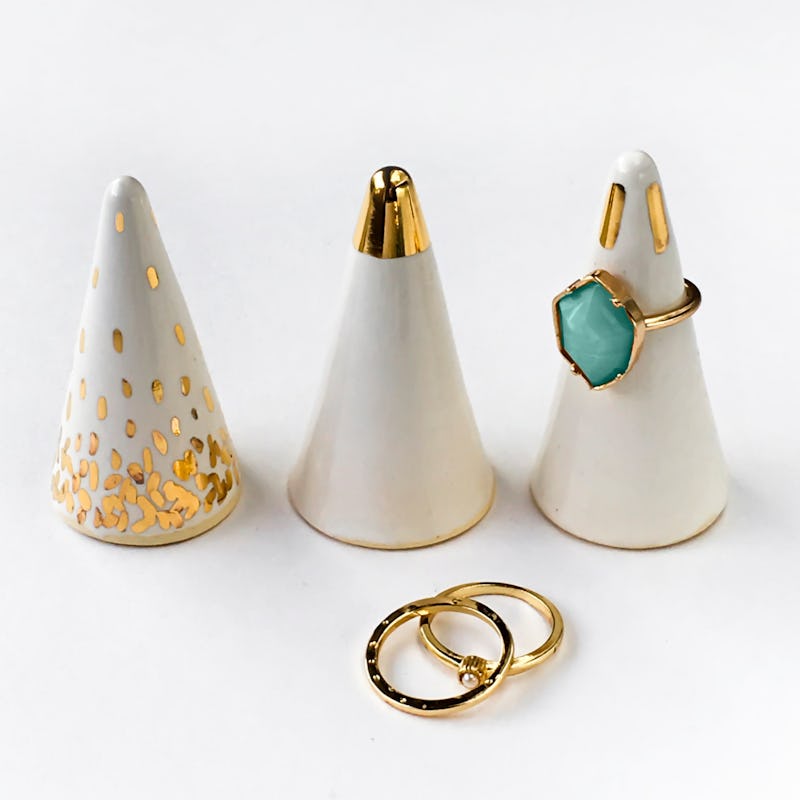 The struggle is real when you want to give your mom — the woman who birthed you, raised you, loved you, and supported you — a great holiday gift, but you're also broke. You have other presents to buy, after all. Luckily, you can still find cheap gifts for mom that are under $30, yet still feel luxurious.
Moms are honestly the easiest to buy for during the holidays. Just keep them fed, warm, buzzed, or entertained, and they'll appreciate any gift. Of course, every mother is different, but there are a handful of gifts almost any mom will love to receive during the holidays. Comfy slippers, good wine, and a riveting read are usually good go-tos based on your mom's interests, hobbies, and loves. For instance, my mom is a vegetarian, yoga-loving gardener — so I'm always safe with getting her something for her backyard, or something for the yoga studio. And coincidently, these types of gifts are always pretty affordable. There are plenty of great gift ideas for $30 or under that your mom or any mom would be happy to unwrap this season.
Of course, these are just ideas to get you started, but chances are you will find something you like. And with such affordable price tags, you might end up picking up a few items for yourself, as well!
1. "You Are The Best" Mug
We all think our mom is the best mom, because guess what — all of our moms are the best! And I'm sure our mothers know this, but it wouldn't hurt to remind them with this chic mug.
You're the Best Mug, $16, tuvaluhome.com
2. Scarf
Scarves are always a great gift if you're in a pinch. This one is warm and delicate, and could easily transition from winter to spring.
Rustic West Scarf , $19, nordstrom.com
3. Bottle of Wine
When all else fails, just get mom a nice bottle of wine. The California-made Save Me, San Francisco brand is tasty, and has a bit of a rock star quality to it (it's produced by the band Train, by the way).
Soul Sister Pinot Noir, $17, amazon.com
4. Cookbook
My mom happens to be a vegetarian, but I think all of us could use a few more ideas on how to cook veggies. Come spring, mom will be an expert!
Plenty: Vibrant Vegetable Recipes Cookbook, $21, amazon.com
5. Notorious RBG
Supreme Court Justice Ruth Bader Ginsburg is one of the most bad-ass ladies in history, and her biography is definitely worth reading. You should get one for yourself and one for mom so you can chat about it.
Notorious RBG: The Life and Times of Ruth Bader Ginsburg, $14, amazon.com
6. Perfume Roller Balls
Let dad get mom the really expensive perfume — these roller ball minis are great for mom to just throw in her purse, or to take on a trip.
Elizabeth and James Nirvana Mini Rollerball Set , $25, sephora.com
7. Boyfriend Watch
It's funny that this is called a boyfriend watch when clearly it has mom's name written all over it. The black color and studs make it a great accessory for everyday.
Olivia Pratt Women's Pyramid Stud Boyfriend Watch, $18, overstock.com
8. Tea Drops
If your mom is a big tea drinker, these tea drops are probably a good buy. No tea bags, no straining — just drop the cute little shapes into hot water!
Tea Drop Sampler, $12, uncommongoods.com
9. Nail Polish Set
This is a particularly festive set of nail polish that mom can wear through New Year's Eve, and all year round. The sparkles are especially perfect for the holidays.
Essie Ravishing Red Festive Mini Set, $13, ulta.com
10. "Shhh... There's Wine In Here" Mug
Shhh, shhh little one. Mommy just needs her wine, OK?
Shhh... There's Wine in Here Mug, $16, tuvaluhome.com
11. Personalized Family Tree
This isn't your typical family tree. There are no names, just a bird for every member of your family — any minimalist moms will love it.
Personalized Family Tree, $18, etsy.com
12. Quote Wine Charms
If your mother enjoys wine, she'll probably also enjoy these hilarious wine charms. My favorite is "You had me at Merlot."
Funny Wine Charms, $12, etsy.com
13. Nice & Normal Family Tea Towel
This will be a good reminder for mom that as weird and dysfunctional as your family is, you guys are totally normal — at least, as far as everyone else is concerned. It's the little things that get us through the day, right?
Nice & Normal Family Tea Towel, $12, tuvaluhome.com
14. Soap and Lotion Caddy
Not only are the pump bottles convenient, but the caddy makes it feel like mom took a trip to the spa instead of just her bathroom. The plumeria flowers are a good scent for any season, too.
Retreat Plumeria Liquid Soap and Lotion Caddy, $10, worldmarket.com
15. Slipper Socks
Socks are always a good gift option — especially now that it's finally cold! These are hand-knit too, so you know they were made with lots of love.
Chunky Hand-Knit Slipper Socks, $18, etsy.com
16. Bath Bomb
After all the stress of the holidays, your mother will be singing your praises if you get her this relaxing bath bomb. It's even festive!
Luxury Lush Pud, $7, lush.com
17. Yoga Mat
Even if your mom isn't into yoga, she could still use this yoga mat for the beach, or just to stretch after a walk. Or maybe you getting it for her will inspire her to try yoga, and you could go together.
Sivan Health and Fitness Yoga Mat, $19, amazon.com
18. Slippers
Cold nights mean cold feet. Mom will love these faux shearling slippers for their warmth and pretty color.
Blue Knit Shearling Slippers, $23, worldmarket.com
19. Leather Journal
Whether mom is keeping a gratitude journal or just a daily account of her awesome life, this gorgeous leather-bound notebook is perfect for all of her thoughts. You can also get it customized with her name!
Not All Who Wander Are Lost Quote Journal, $25, etsy.com
20. Blackberry Fig Candle
Blackberry fig is a perfect scent — if not a bit unique — for the holidays. Plus, the Henri Bendel label will make mom feel like a superstar.
Blackberry Fig Signature 9.4 oz Candle, $30, henribendel.com
21. Ring Cone
Aren't these ring cones adorable? They're perfect for keeping mom's special rings safe while making her counter look very hip.
White and Gold Ring Cone, $24, etsy.com
22. Stemless Wine Glasses
I actually own these glasses, and they're glorious. Not only are they great for casual wine drinking, but if mom has a little bit too much, she won't have to worry about breaking them.
Govino Wine Glass Flexible Shatterproof Glasses, $15, amazon.com
23. Bracelet Display
If your mom has a bit of a more rustic taste (mine sure does), go with the wooden jewelry holder. It's still cute, and gets the job done.
Wood Jewelry Display , $7, amazon.com
24. Outlander
If your mom isn't already watching Outlander (she should be), you could always try and get her hooked on the books first. With eight books in the series, you might be good for presents for a while if she likes it.
'Outlander: A Novel,' $10, amazon.com
25. Grocery List
Your mom is way too cool to go to the grocery store with just a boring piece of paper. Plus, this list is magnetic, so it's easy to jot stuff down while peering into the fridge.
Magnetic Fridge Note Pad, $8, etsy.com
26. Blender
This is great if your mom makes morning smoothies or late night margaritas for herself. The blender is a great size, and won't take up too much counter space.
Hamilton Beach Personal Blender, $15, amazon.com
27. Lip Balm Set
Lipstick might be a give or take with your mom — if my mom wears mascara, it's a really special occasion — but she can always use good lip balm. Those winter winds can be harsh, after all.
Jack Black It's the Balm Lip Quartet , $25, sephora.com
28. Petty
One of my mom's favorite musicians is Tom Petty, so this book is a must-have for her. It's written by a fellow rocker and friend, which means mom will get a pretty unique look into the life of one of rock-and-roll's greats.
Petty: The Biography, $21, amazon.com
29. Salted Caramel Bark
Just like wine, if all else fails, you can alway get mom a delicious, chocolate treat. A perfect holiday snack to go with tea or coffee.
Salted Caramel Bark Tin, $7, worldmarket.com
30. Dream Bracelet
This bracelet is both chic and meaningful — each little charm can represent a unique dream or wish for your mom, whether it's a dream for herself or for her beloved children.