This 'Flesh And Bone' Star Was A Black Swan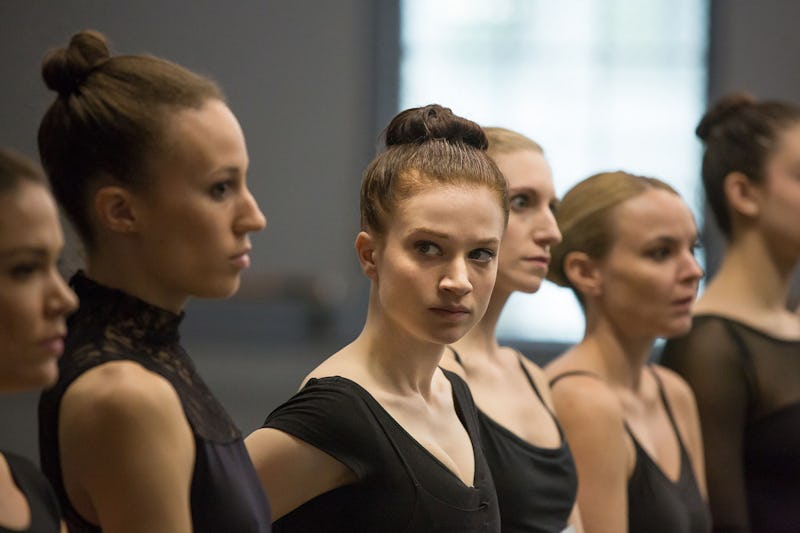 Five years ago, Natalie Portman danced her way to an Academy Award with her role as a ballerina in Darren Aronofsky's Black Swan. Well, sort of — while the actress did most of her own dancing, some of the more complicated routines were executed by a body double: American Ballet Theatre (ABT) dancer Sarah Lane. For those sequences, Lane's face was later digitally replaced with Portman's, and moviegoing audiences were none the wiser. Starz's ballet-themed limited series won't require any such technical wizardry; unlike Portman, Flesh And Bone star Sarah Hay does all her own dance moves.
Audiences will likely be unfamiliar with Hay — unless they're season ticket holders at Manhattan's Lincoln Center, where ABT performs, that is. The 28-year-old only has two other credits on her acting resume (more on those in a moment), and Flesh And Bone is her first significant onscreen role. So where did she come from? Is she a recent graduate of a prestigious acting program? Or was she plucked from a thousand-person cattle call of wide-eyed young actresses looking for their big break? Neither, actually. The fledgling TV star isn't even an actress at all... or she wasn't, until she was personally recruited by creator Moira Walley-Beckett (Breaking Bad) to play her protagonist, Claire.
According to Hay in an interview with WWD.com, she was raised in New Jersey by artist parents (her mother was an amateur dancer, her father a member of the New York Philharmonic), and she commuted every day of the week to train — first with the New York City Ballet, and then with ABT itself. After graduating, she landed a job with the Semperoper Ballet in Dresden, Germany, where she has been dancing for the past six years. When Walley-Beckett began casting a net for her leading role, she was determined to find a dancer who could act, rather than an actress who would have to be trained to execute the complicated ballet routines, as she recounted to USA Today. But after auditioning over a hundred girls, the showrunner was stymied.
That's when Flesh And Bone's choreographer, Ethan Stiefel, stepped in. Formerly a principal dancer with ABT, Stiefel remembered Hay from her time training with the corps. He and Walley-Beckett tracked the young woman down to Germany and sent her an email inquiring about her interest in the role. Initially, that interest was zero. Ironically, Hay had previously worked as an extra in 2010's Black Swan — and her experience on that film had turned her off from any notions of an acting career. "Watching Natalie Portman work was kind of stressful because she was working so hard to keep herself in this form, so it kind of scared me," Hay said in her interview with WWD. (Her only other credit is a 1997 short film called You're Invited To Mary-Kate & Ashley's Ballet Party.)
So what changed Hay's mind? It wasn't fellow former ABT dancers Sascha Radetsky and Irina Dvorovenko, also cast in lead roles on the show. It wasn't even Flesh And Bone's Emmy-winning creator (most famous for writing the "Ozymandias" episode of Breaking Bad). Rather, it was one of the show's executive producers. Hay was finally "drawn to the project when I saw Lawrence Bender's name on the production list. He works with Quentin Tarantino and I love Tarantino," she told WWD. (Bender has produced five of Tarantino's eight films and has accrued three Academy Award nominations for his efforts.)
So how did Walley-Beckett produce a compelling performance from her untrained lead? By not giving her the scripts until right before filming for any given scene began, in order to elicit unrehearsed impulses and natural reactions. "If you don't know what's going to happen, I think it's a little easier to feel it when it does," Hay explained. And now that the dancer has been drawn back into the Hollywood limelight, she just might stick around this time. "I definitely have the bug," Hay admitted.
Claire may or may not survive the events of Flesh And Bone — with episode titles like "Cannon Fodder," "F.U.B.A.R.," and "Scorched Earth," her fate is anyone's guess — but it looks like Hay herself is here to stay.
Images: Starz