7 Writers & Directors Who Went "Family Friendly"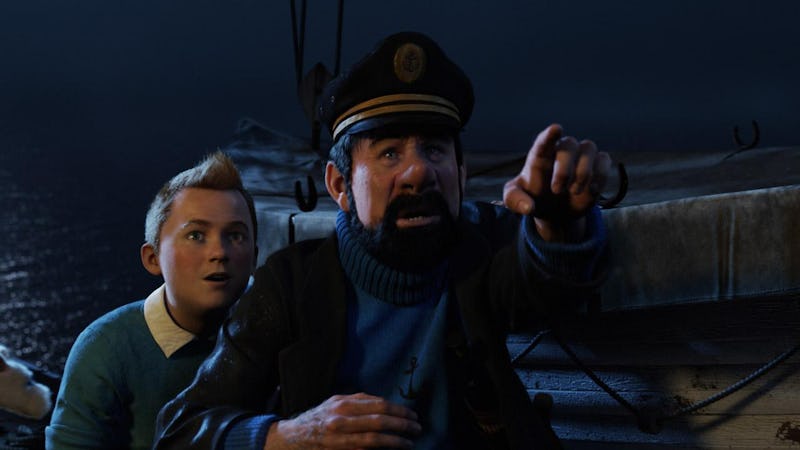 In lieu of figuring out a way to work the ol' "Sentient office supplies stand in for a magical leprechaun to repeatedly churn out works of gold for an ungrateful screenwriting wannabe" premise into an episode of Sports Night, a wide-eyed Aaron Sorkin thought he might bring the concept to life as a Pixar film. Alas, the Social Network writer's dreams of penning an animated film have (unlike the story's top-billed staple remover) yet to find life, a fact that Sorkin blames on his own "limited imagination." The screenwriting mogul discussed the project that never came to be with Digital Spy , recounting that it was Steve Jobs — Pixar affiliate, as well as Sorkin's friend and future muse — who egged on his aspirations to bring his voice to animation.
While Sorkin may yet earn his seat in the Pixar legacy, the verbose intellectual with a penchant for inside baseball stories is not exactly the first name we think of when we consider the Hollywood's great innovators of children's entertainment. That said, just because Sorkin might be untested in the feat of writing for a younger audience, that doesn't mean he wouldn't conquer the task with aplomb. We've seen plenty of well-known, adult-skewing creatives try their hand at kids' movies.
1. Rover Dangerfield
Rodney Dangerfield is the obvious adult-oriented name associated with the largely unheralded animated comedy — basically just a transposition of the self-deprecating stand-up's usual shtick into the form of a cartoon mutt. However, Dangerfield wasn't the only well-known name responsible for bringing Rover to the screen. The comic icon wrangled his Caddyshack director Harold Ramis to help develop the story and script.
2. Toy Story
Alongside the many Pixar regulars who brought the studio's inceptive masterpiece Toy Story to life — John Lasseter, Pete Docter, and Andrew Stanton among them — was a young man who'd become the kingpin of another Disney enterprise: Joss Whedon. Toy Story preceded Whedon's work on Titan A.E. and Atlantis: The Lost Empire. Ever since, he's stuck pretty rigidly to live-action feature work, though has had his hand in a couple of animated TV series.
3. Bee Movie
The 2007 animated comedy wasn't your usual outpatient voice-acting gig for star Jerry Seinfeld. The comedian and sitcom star co-wrote the screenplay with Seinfeld and The Late Show with David Letterman vet Spike Feresten.
4. Antz
A completely separate bug-themed cartoon adventure — also starring, but this time not written by a famous comedian (Woody Allen) — came from a writing-directing duo that'd come to fame just one year later. After making their screenwriting debut with 1998's Antz, Chris and Paul Weitz broke out with films like American Pie and About a Boy. Their latest ventures include the Lily Tomlin-starring comedy Grandma and the developing Star Wars film, Rogue One.
5. The Adventures of Tintin
In addition to being Steven Spielberg's first foray into animation, the 2012 unappreciated gem The Adventures of Tintin worked off a script from screenwriting and directing greats Edgar Wright (whom you'll know best for Shaun of the Dead, Scott Pilgrim vs. the World, and the Ant-Man that might have been) and Steven Moffat (creator of Sherlock and head honcho behind the scenes of Doctor Who).
6. The Mighty B!
Especially committed to supplying venerable entertainment for younger viewers, Amy Poehler did not simply develop a single film, but an episodic cartoon series. Between 2008 and 2011, Poehler co-created and starred in The Mighty B! The family-friendly series brought the vim and enthusiasm of Poehler's Parks and Recreation performance to a properly vibrant animated form.
7. Heavyweights
Although not an animated movie, the family comedy was a mainstay for many kids growing up in the 1990s. The feel good flick marked the feature screenwriting debut of Judd Apatow, who'd in due time become one of the most powerful names in studio comedy film.
If you're blinking and scratching your head that so many of your favorite movies and TV shows for children came from people you'd never expect, you're not alone. Thus, Aaron Sorkin shouldn't worry about his ability to pull off a Pixar film. Many greats have gone family-friendly with no problem.
Images: Paramount Pictures (3); Warner Bros; Disney; DreamWorks Pictures; Nickelodeon; Buena Vista Pictures