8 Real Counterparts To 'Empire' Season 2 Songs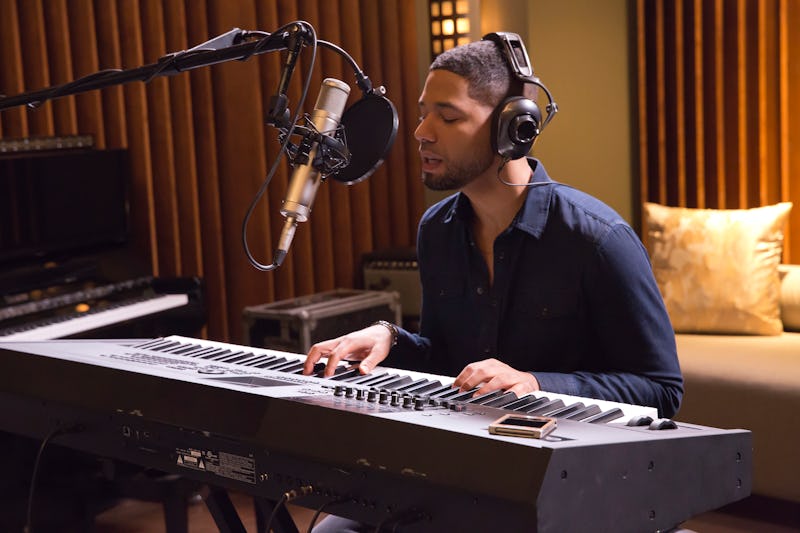 The most realistic element of Empire is its use of legitimate hip hop and R&B producers and artists to create an original soundtrack. From heavy-hitters like Timbaland and Pitbull to up-and-comers like Bre-Z, the songs of Empire Season 2 prove it has the most expansive collection of talent of any musical television series today. What's more, the musicians of Empire don't limit themselves to one genre, exploring everything from sultry R&B to the southern hip hop of the mid-2000s and the party-rap hits of today.
While the Empire soundtrack already features plenty of ballads and bangers, a good way to expand your Empire playlist is to include the artists that inspired these songs. Each member of the multi-generational cast shows their sensibilities in their music —Hakeem has a penchant for trap-influence bangers while Jamal is more drawn to the R&B of the late-00s — and they all have their roots in songs that you may have seen climbing the charts, or on that playlist your friend sent you when they heard you like Empire. Here are some real-life equivalents to your favorite Empire songs.
"Snitch B*tch" = "Who Run It" by Three 6 Mafia
Lucious may have started the season in prison, but that didn't stop him from finding time to record a hot new diss track. The southern-influenced banger "Snitch Bitch" has a lot in common with the music of Three 6 Mafia, whose song "It's Hard Out Here For A Pimp" won the Academy Award for Best Original Song after being featured in Hustle & Flow, starring none other than Lucious and Cookie themselves, Terrence Howard and Taraji P. Henson!
"Bout 2 Blow" = "With That" by Young Thug
Hakeem's "Bout 2 Blow" may have been co-written by Timbaland, but it doesn't sound anything like the Timbaland you know. It sounds a lot more like the music of up-and-coming Atlanta rapper Young Thug, except Hakeem's lyrics actually makes sense most of the time.
"Born To Love U" = "Climax" by Usher
Jamal's music has a lot in common with real-life superstar Usher, both in sound and in song titles. Usher regularly forgets that the word You has three letters in songs like "U Got It Bad" and "U Remind Me", and the title of "Born To Love U" appears to be an homage to the musician who inspired Jamal's sound.
"Mimosa" = "Focus" by Ariana Grande
Your new favorite brunch jam "Mimosa" is a well-produced pop jam that would fit on the Billboard Top 40, and has a lot in common with the music of Top 40-staple Ariana Grande. It's bubbly, fun, and has a strong bite of attitude like Grande's biggest hit "Problem" or her newest single "Focus".
"Dynasty" = "Jump Off The Roof" by Vince Staples
The clunky, rough-around-the-edges beat on Hakeem's "Dynasty" is reminiscent of the beat on another song by an up-and-coming hip-hop star. Vince Staples' "Jump Off the Roof" has a cathartic beat much like "Dynasty," and a hunger and ambition to his lyrics that matches Hakeem's.
"New New" = "Bandit" by Jazmine Skye
Valentina's "New New" is song about ambition and power over a harsh beat, but it doesn't go quite as hard as it's real-life counterpart "Bandit" by Justine Skye. Valentina could probably take a few lessons in intimidation from Skye, whose presence is equally enticing and threatening.
"Why Go" = "The Hills" by The Weeknd
Sure, you've already heard the inescapably dark sound of "The Hills," but there's no other comparison that comes closer to the sound that Freda Gatz is going for on "Why Go". It sounds like what would happen if The Weeknd has a rap verse on one of his songs performed by Angel Haze.
"No Doubt About It" = Any Pitbull Song
Pitbull, aka Mr. Worldwide, makes a guest appearance on the song "No Doubt About It," and it sounds like every other song that Pitbull raps over. However, just because Pitbull only does one thing that doesn't mean he's not good at it. This party track could easily top the charts in the real world, and the world of Empire.
The songs of Empire are great on their own, but when placed next to their real-life counterparts it's fascinating to see just how authentic and true-to-life the music of the series is. Empire will likely keep taking inspiration from the new trends in pop, R&B, and hip hop as the show continues to give a platform for up-and-coming artists to display their talents.
Image: Chuck Hodes/FOX