'Master Of None' Is Helping TV's Diversity Problem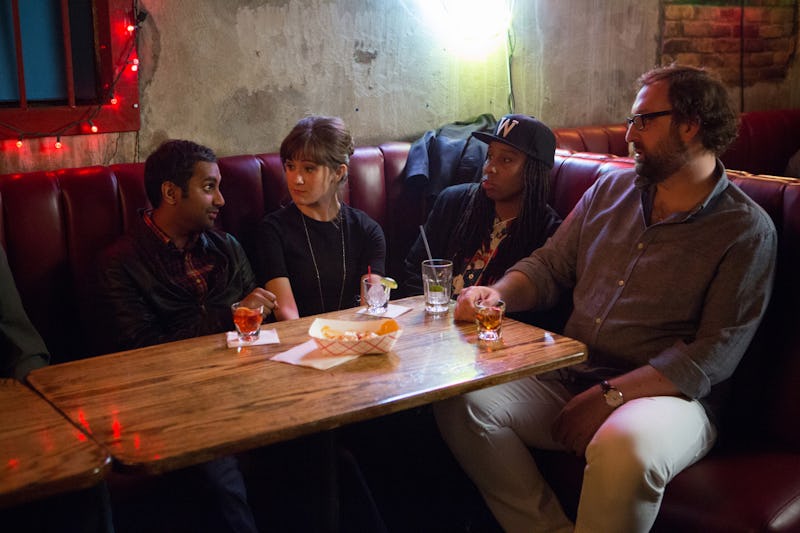 There are so many things to applaud Master of None for — its honesty, its quick writing and impeccable pacing, its ability to breathe new, fresh air into the overused trope of young people trying to make it in New York City. But all that aside, there's a bigger reason to pay attention to a show like Master of None: for its seamless demystification of TV's antiquated diversity problem. As a show that challenges the preconceived, unspoken "rules" of diversity on TV, Master of None's approach to the representation of diversity proves to be effortless, and in that sense, completely refreshing to witness.
Co-creator Aziz Ansari, known chiefly for his role as Tom Haverford in Parks & Recreation, plays Dev, a 30 year old "actor" living in New York City. Alongside him, sits an impressively diverse cast. According to CNN and Master of None's other co-creator, Alan Yang, the diversity of the squad (including an African American lesbian played by Lena Waithe, a Taiwanese American played by Kelvin Yu, and what everyone is now calling the "token white guy" played by Eric Wareheim), wasn't purposeful. Yang explained that the casting director was only instructed to find "interesting and cool people" to round out the friend group. Knowing that the show wasn't intentionally trying to put together a diverse cast, just for the sake of doing so, makes the ease with which it treats race seem then, entirely unsurprising.
This kind of seamless and authentic representation is also due in part to the diversity present behind the camera. There's Ansari, of course, an Indian American, and then there's Yang, an Asian American, who've created the show together. For Master of None, race as an inherent and natural function of the character's lives was inevitable. Yang told CNN, "It's about getting diversity behind the camera. Given that the show was created by an Indian guy and an Asian guy, we were already several steps ahead with that." Ansari also told Refinery29 at the show's red carpet premiere on Thursday, "I think anybody that's doing a show with me, automatically [knows] it's going to be a little more diverse because of my skin tone and background. I do have a group of friends that's diverse. I don't hang out with three white people. I do have friends that are Asian, and Black friends. And so, it's authentic, and that's important to me."
To witness an Indian American actor/writer/creator as part of the brains behind an operation as large as Master of None is something that's long been overdue. Thankfully, and without hesitation, I think we can all deduce that Ansari is the perfect man for the job. On top of that, he has brought on his own real-life parents, Fatima and Shoukath, to play Dev's parents in the show — all in an effort to broaden the narrative of his character and set him apart from the "typical" Indian character you'd normally see in Hollywood.
While race isn't the only topic Master of None seems to handle with authenticity and candor, it's something worth paying attention to. And I have to say, seeing the world through the eyes of diverse creators Ansari and Yang, proves to be just as rewarding and groundbreaking as you'd think. Piece of advice? Don't miss Master of None, available on Netflix now.
Images: Netflix (2)