How Ashley Nell Tipton's Win Changes Everything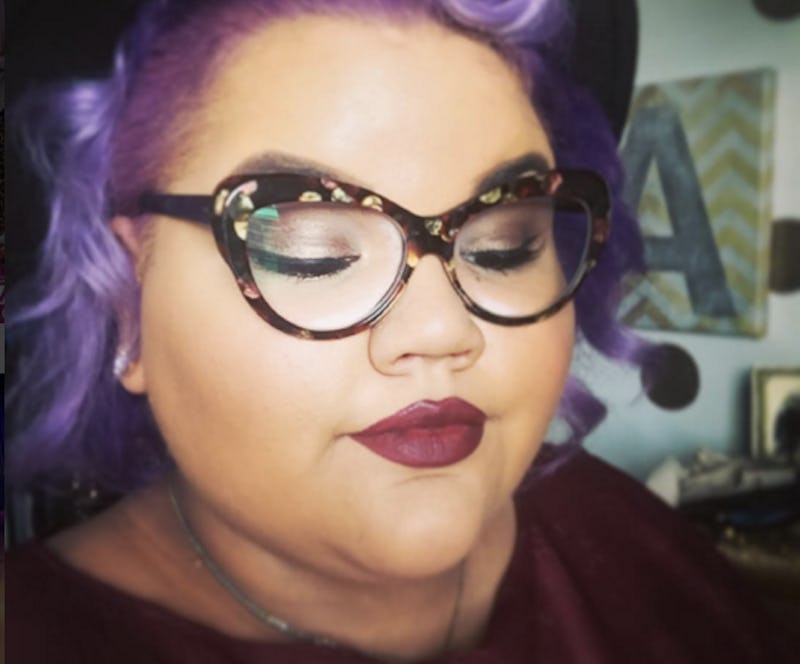 As you've likely heard already, plus size designer Ashley Nell Tipton won Project Runway's 14th season on Nov. 5 in a remarkable step towards diversity — and not just for the show, but for America. You see, Ashley Nell Tipton wasn't the popular program's first plus size winner, but the first plus size designer to compete in the American franchise. The fact that she was in the competition smashed boundaries for the plus size fashion community, sure. But the win means so much more for all us body positive babes as well.
I often find myself celebrating plus size collections or body positive brands that don't entirely align with my own aesthetic. Although I love and appreciate what progress these retailers are inciting for fat fashion and plus size individuals, the styles often aren't exactly me. Style is a totally personal journey and choice, so my love of Ashley Nell Tipton's designs could be called biased, sure. But her bright colors and fun designs — styles that challenge the norm of plus size clothing — are exactly what many members of the plus size fashion world have been waiting for.
Of course, my adoration is clearly mimicked in Tipton's Project Runway win and commercial success. But aside from her personal taste, there are a whole host of reasons that Tipton's success is a huge step for body positivity and plus size fashion.
1. She Was The First Plus Size Contestant On Project Runway
Although we're all beside ourselves with Tipton's win, we shouldn't forget that she'd already changed the plus size fashion game by appearing on the show in the first place. Even without the win, being the first plus size contestant in the States' version of the show would've been a huge step on its own.
2. She Gave Project Runway Its First Plus Size Winner
I just want to re-acknowledge what progress we've made. I mean, we've just seen a plus size contestant appear for the first time in 14 seasons. And not only did she compete, but she won! There's so much more to this than just the win itself, but we can still sit back and appreciate how great that crown is.
3. She's Helping Plus Size Fashion Appear In The Mainstream
Considering how often those of us in the body positive community see plus size fashions on the daily, it's easy to forget that outside of fatshion, diverse plus size styles are rarely seen, let alone celebrated. With this public win for Tipton and plus size fashion, we're that little bit closer to making our way into the mainstream.
4. She Gives Publicity To Body Positivity
Ashley Nell Tipton is so much more than a plus size fashion designer. In fact, she has been an active member of the online plus size fashion and body positive communities for years. As Tipton said in an Aug. 2015 interview with Bustle, her work is about so much more than clothing: "I would like everyone to embrace who they are in this world, do what they want to do, and not let anyone take that away from them!"
5. She Offers A Unique Take On Plus Size Style
What I especially love about Tipton's designs — especially her NYFW collection — is how bold, bright and daring they are. Her specific use of pastels with huge flower crowns alongside revealing cuts and shapes not often seen in the plus size fashion world create a new way for us to see and discuss plus size women and plus size clothing. Taking risks with colors and cuts is exactly what fatshion needs.
6. She Lessens The Gap Between Plus And Straight Sizes
In conversation with Bustle, Tipton addressed the fact that she wants to create an online clothing destination for everyone — including plus size unisex and male lines and maybe one day even straight size lines too. With Tipton's winning collection featuring solely plus size fashions and models competing against straight size counterparts, perhaps the need for separate plus size and straight size fashion weeks is slowly dissipating.
7. She Promotes Intersectionality
Tipton is a plus size woman, yes, but the babe is also a proud, self-identified "Latina from San Diego," meaning a woman of color. She's smashing boundaries and stereotypes from multiple angles. Intersectionality is key in feminism and body positivity. We must recognize that we need to support all different types of people — rather than focusing on the fat versus thin argument only.
8. She's Outspoken Against Sizeism
In an interview with The Wrap following her win, Tipton addressed the sizeist critics claiming that her collection only won due to being plus-focused. Although she admitted that fat shaming "hurts," her confidence in herself and her work refuses to be shaken. "My collection was cohesive. My collection was wearable. My collection can also go for straight-sized women," she said. "I'm a talented designer and that is why I won."
9. She Presents A Realistic Representative For Plus Size Women
Not only does Tipton create plus size clothes, but she is a plus size woman herself. On top of that, she's not a plus size woman by modeling standards. The reality is that many plus size women — like many straight size women — don't have the proportions of conventional models, and more diverse representation of the many types of plus size women out there needs to exist.
And so, this isn't just about a win on a reality show. Tipton is helping change the worlds of plus size and straight size fashion's perceptions surrounding fat women and fatshionable clothing. Now we can only sit and wait for her first commercially available collection to come through. I have no doubt it'll continue to show the world what plus size fashion can actually mean.
Want more body positivity? Check out the video below, and be sure to subscribe to Bustle's YouTube page for more self love inspo!
Images: Ashley_Nell_Tipton/Instagram