Meet 'Project Runway's' First Plus Size Designer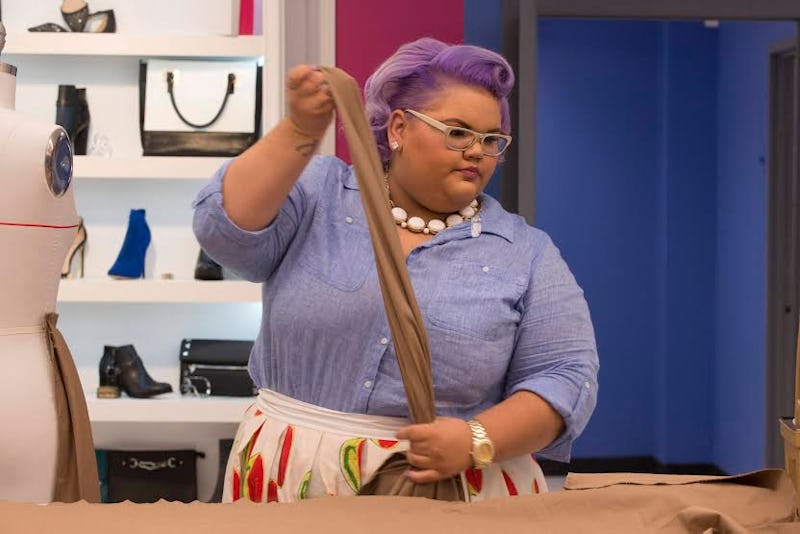 I swear I heard a collective gasp from the body positive Project Runway fans of the world when the show announced its groundbreaking choices in the casting for this year's program. The 14th season of the fashion design competition would be featuring Ashley Nell Tipton: Project Runway 's first plus size designer in the U.S. franchise. So, yeah. That was a pretty memorable day.
Just over a year ago, beloved host Tim Gunn — the only thing on PR more delightful than Heidi Klum's adorable accent — told The Hollywood Reporter that he'd like to work on a season of the show that featured only plus size models. It made perfect sense: The plus size fashion industry is arguably on fire right now and much of that is down to über talented plus size designers, bloggers, and models paving the way to inclusivity. In fact, the plus size clothing industry is worth close to $20 billion worldwide and it continues to grow exponentially, especially amongst a younger demographic.
Plus size women can be such important influencers in fashion and these days they are stepping up to take their rightful place as trendsetters. Ashley Nell Tipton is undoubtedly poised to turn heads and make history by gaining a spot on a show as iconic as Project Runway. From the moment I first saw her debut collection making its rounds on Tumblr, I knew that her style was different from anything currently out there. Her vision and risk-taking prompted me to chat with Tipton via email about her journey to Project Runway, her design ethos, and the best (and hardest) parts of being a young designer.
Tipton began designing in high school when she was just 16 years old. "What sparked me to start designing was my freshman year when I had to design an entire wardrobe for the characters of my high school play Grease," Tipton writes. "I first remember being interested in fashion when I got my first job at Torrid when I was 16."
The designer has also revealed that she was bullied in school because of her size, which drove her to pursue her dream of designing. "When people told me that I couldn't do something, I wanted to always prove them wrong," she told People. "That comes a lot from people always bullying me because of my size, and not thinking that I could do anything to impact the world or inspire other people."
Eventually, Tipton started noticing the distinct lack of bold, fashion-forward designs available for plus size women — the types of clothing that she'd like to wear herself. "I believe trendsetters and taking fashion risks with designing are gaps that exist in the plus size market," Tipton says. "Of course being plus sized myself and being an active member of the plus size fashion community affects the way I design and think about fashion because I think about what I want to wear and what other [plus size] women want to wear."
After studying design at fashion college and creating a debut collection that would make waves all over social media, Tipton received her big break by being invited to show at Full Figure Fashion Week. The interest in and enthusiastic reception to her work led her to create her own eponymous collection, having no doubt that she wanted to work on expanding her own brand rather than working for a retail chain or established designer. It hasn't been an easy feat, though.
"As a young designer, the biggest challenge for me so far has been creating my dream business. Especially with being so young and not having the financial stability to make a successful company just yet," Tipton explains. She describes the journey to this point in her career as a "roller coaster" that took "a lot of self encouragement and being creative."
It is Tipton's love of fashion and the plus size women who crave more of it that has kept her going throughout her struggles. "My inspiration that pushed me to keep creating fashion and designing is seeing all the clothing that is being made for the plus size women and has inspired me to make clothing that is missing in this industry," she says. The pastel-haired designer has an amazing network of support as well, citing her family, friends, and followers as her biggest champions. "They are the ones that keep me going because they inspire me to believe in myself."
Tipton is beyond excited for the opportunity to appear on the show and to see what that may mean for her line and her career. "The most exciting part about being on Project Runway so far — besides all the exposure I'm going to get — is getting critiqued by Tim, Heidi, Zac, and Nina. This is feedback that no one can get in the industry unless you pay for it," she explains.
However, nothing is more important than the message she wants her stint on the show sends to viewers. "I would like everyone to embrace who they are in this world, do what they want to do, and not let anyone take that away from them!" Tipton also hopes that people understand her passion and that it drives them to chase their own. "I hope viewers are inspired to chase after their dreams no matter how big they are, and don't let anyone or anything stop them. I would like them to know my tears are not tears of weakness but tears of passion."
No matter the outcome of the show, Tipton's appearance is definitely about more than a prize. It's a step towards visibility and more importantly, towards having another voice for plus size women in the fashion industry. A voice for all the fun, funky, fat babes craving beautiful clothes attached to a beautiful message.
Project Runway premieres Aug. 6 and will air on Thursdays at 9 p.m. ET on Lifetime. Personally, I'll be watching Ashley Nell Tipton and cheering her along, tears of passion and all.
Want more body positivity? Check out the video below, and be sure to subscribe to Bustle's YouTube page for more self love inspo!
Images: Courtesy Barbara Nitke/Project Runway