The 7 Weirdest Christmas Movies On Netflix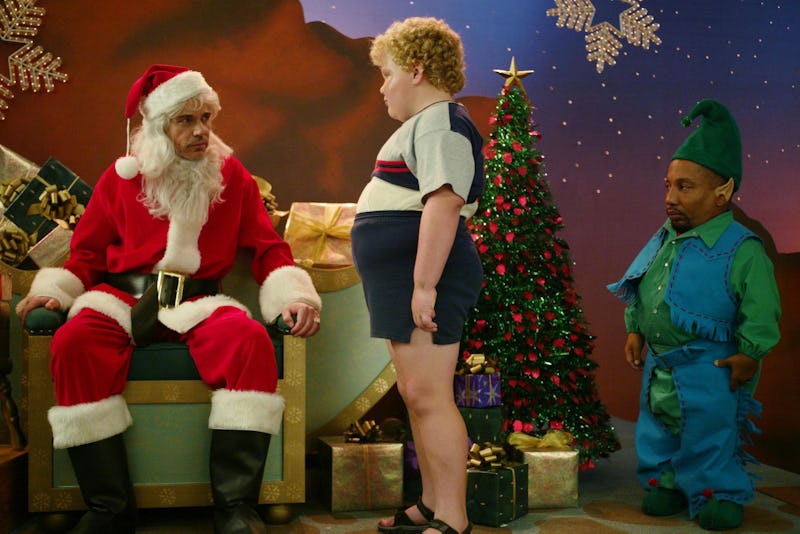 It's that wonderfully magic time of year again, you guys, the days after Halloween where we kind of pretend Thanksgiving isn't so relevant and already find ourselves feeling the Christmas spirit (and when I say Christmas, I mean it in the most general, commercialized sense — I'm looking out for you Hanukkah, Kwanzaa, and other winter holidays!) While you've probably already retired your Halloween movie playlists and may be already halfway through the Thanksgiving ones (confession: I've always got to watch A Charlie Brown Thanksgiving every year), now is the time to start putting together your Xmas must-sees. Of course, there are the holiday classics and the Nightmare Before Christmas debate (is it a Halloween, Christmas movie or both?) But if you want to be the true MVP of your holiday get-together, you can go the extra mile by tossing in one of these very weird Christmas movies on Netflix that'll surely switch up your otherwise feel-good queue.
For your hipster viewing pleasure I've scoured through Netflix's holiday movie offerings and have selected the most atypical ones for you to laugh at (or watch in amusement/horror) this season. I've also ranked their weirdness factor on a scale of 1 to 10, because you deserve to be warned about what "weird" really means when it comes to Christmas-centric movies.
1. Christmas Icetastrophe (2015)
Plot: Where everyone's idea of a "white Christmas" goes horribly, terribly wrong because instead of getting a few inches of powdery fluff, pieces of a meteorite hit the earth, thus causing an Ice Age-level freeze that leaves everyone fighting to survive... on Christmas.
Weird Factor: 4/10. This is par for the course when it comes to apocalyptic-situations-via-natural-disaster movies. If only Santa could come and save the day for this one.
2. All American Christmas Carol (2013)
Plot: A selfish mother (Taryn Manning from Orange Is The New Black) who embodies the trailer trash stereotype (she has a son named Cheese Doodle) is about to lose her children. So of course the three ghosts of Christmas Past, Present, and Future appear to guide her into being a less terrible human being.
Weird Factor: 7/10. Let's just say the version of the three ghosts made famous from Charles Dickens' A Christmas Carol in this movie are just as off-kilter as the "Scrooge" they're trying to convert, if not even more so.
3. Christmas Bounty (2013)
Plot: A former bounty hunter who's quit the family business to become an elementary school teacher (aww), returns home for Christmas to take a dive back into her dangerous past one more time to capture the one bounty that got away. That's easier said than done however, as she tries to hide her past from her fiancé who tags along. Throw in her bounty hunter ex-boyfriend to the mix, and it all becomes a recipe for a holiday disaster.
Weird Factor: 5/10. I don't know about you, but I really don't associate bounty hunters with Christmas fun times (surprisingly, this is an ABC Family movie!) On the other hand, I think we can all relate to the idea of our pasts coming back to bite us in the butt whenever we're with our loved ones.
4. What She Wants For Christmas (2012)
Plot: When 10-year-old Abigail doesn't get the Christmas "gift" she specifically asks of Santa, she turns to extreme measures in retaliation. Yikes!
Weird Factor: 6/10. She ends up kidnapping Santa, ya'll. Where is her chill?! All sense has been lost with this poor child, and it freaks me out.
5. Hercules Saves Christmas (2011)
Plot: This has nothing to do with the Greek hero from the Disney movie, FYI. Hercules in this movie is none other than a talking dog. Yep. A talking dog that takes a boy named Max Moogle to the North Pole in order for him to convince Santa that he deserves to be on the nice list.
Weird Factor: 8/10. There's a talking dog. Hercules also acts as a lawyer for Max in Santa's courtroom once they make it to the North Pole. On that note, Netflix appears to have a fair amount of cutesy animal-related Christmas movies, so if that's your thing, full speed ahead.
6. Bad Santa (2003)
Plot: Two criminals work together as a Santa and elf duo for the sole purpose of getting to work in department stores in order to steal from said department tores. Can anyone say naughty list central?
Weird Factor: 12/10. This raunchy black comedy features a lady with a Santa Claus fetish, gun shootings, and addiction. Definitely not for the faint of heart.
7. Ernest Saves Christmas (1988)
Plot: An Ernest (a character made famous by Jim Varney) movie, this cult classic follows Ernest's adventures in finding a suitable replacement for Santa Claus, who is more than ready to retire.
Weird Factor: 3/10. Poor ol' Saint Nick ends up in jail and the future of Christmas is left in the the hands of the zany Ernest P. Worrell and a runaway teen girl named Harmony. Santa also punches a director in the eye for daring to make a movie about an alien that attacks children on Christmas Eve. You do you Santa, you do you.
Spice up your holiday movie queue with a few of the films above, and you'll surely be in for an interesting Christmas season.
Images: Cinetel Films, August Heart Entertainment, ABC Family, Shortywood Productions, Dimension Films (2), Disney, New Kingdom Pictures