Britney Should Watch Out For Rogelio On 'JTV'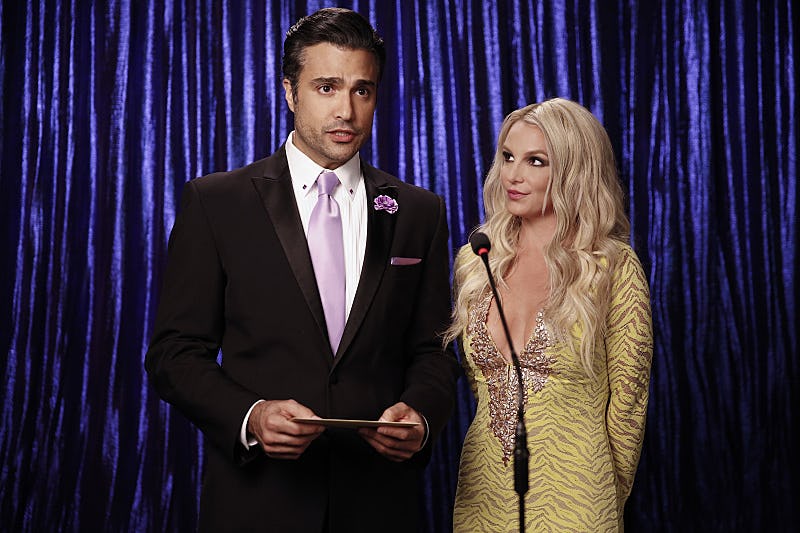 Jane the Virgin already boasts quite the collection of famous cameos, from EGOT winner Rita Moreno (really, who else could play Rogelio's mother?), to "TiK ToK" songstress Ke$ha, but it's about to top itself. On Monday night, Britney Spears will appear on Jane the Virgin, and the most exciting part? She will be playing herself — or, as showrunner Jennie Snyder Urman put it to Entertainment Tonight, "an exaggerated version of herself." This little bit of stunt-casting is awesome for a whole host of reasons; chief of which is the fact that Rogelio's been locked in a one-sided feud with the pop songstress for years. According to the ET interview, the creative team behind Jane the Virgin happened to find out Britney was a fan of the show, so they pitched her the idea of being Rogelio's archnemesis, and "she loved it" — talk about kismet!
Leave it to Rogelio to have beef with just about the biggest pop star ever, right? After all, over the show's 26 episodes, he's proved himself more than capable of having a drama-filled feud with the best of the best. So, with that in mind, let's review all of the times Rogelio has shown off his Britney-level skills.
1. All Those Times He Proved Himself As A Dancer
Jane does the "Toxic" dance in the promo, but we've got to see Rogelio give Britney's moves a spin as well!
2. When He Was "Serious" About His "Craft"
Britney's not going to know what hit her.
3. That Time He Showed Off His Spray Tan Prowess
Maybe he and Britney could have a tan-off...
4. Whenever He Was Dramatic
See that? Prime public beef behavior.
Seriously, I'm expecting at least one elongated "nooo!" to come out of this Britney/Rogelio feud.
5. When He Proved He Can Write A Good Hook
We were pretty much all singing "Wake Up, Rogelio" to ourselves for at least a week after this aired, right?
6. That Time His Makeup Game Was On Point
Both mega stars know their way around their makeup (Britney even has her own fragrance line!).
7. Whenever His Fashion Game Was On Point
It's no nude sparkly bodysuit, but Rogelio knows his way around a fedora.
8. Every Time He Was (Very) Confident
Come on, he's going to be squaring off against the woman who sang, "It's Britney, B*tch." You need a lot of self-confidence to compete with that.
9. That Time He Showed Off His Poetic Skills
If that's not the opening line to a kick-ass break-up ballad, I don't know what is. Watch out Britney, Rogelio just might make for a formidable foe on Jane the Virgin.