7 Times Rachel On 'Master Of None' Was Style Goals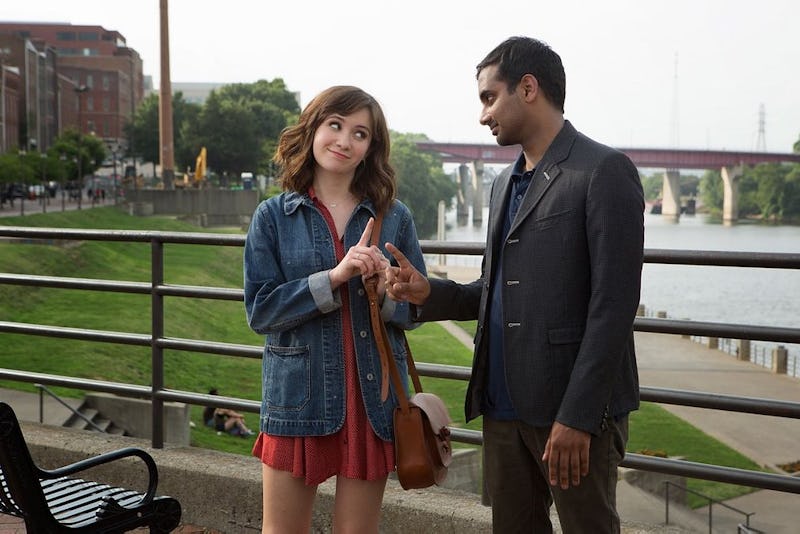 When Aziz Ansari and Netflix team up, the result is a television masterpiece — one especially worthy of a binge-watch and Italian take-out. Master of None premiered on Netflix this past Friday, and I have loved every second of it. A brilliant comedy about millennial life in the Big Apple, MoN's storylines are especially relevant to today's day and age. From the politics of posting your brunch frittata on Instagram to the dynamics of hookup culture, Ansari's series has opened to much critical acclaim for exploring complex themes of immigration, sexism, and racism. But while Master of None has been praised for its social commentary, what is also noteworthy is its wardrobe department. Meet Rachel, Master of None's ultimate style icon.
Now you may be asking: Who exactly is Rachel? Played by comedian Noël Wells, Rachel is the love interest to Ansari's character (Dev), a music publicist, and purveyor of jokes and sass. Light-hearted and undeniably charming, Rachel's outfits reflect just her personality. Her wardrobe, ranging from formal to travel attire, is spunky with a girly twist. Think Zooey Deschanel meets NYC hipster.
For me, watching Master of None was 50 percent laughter and 50 percent coveting Rachel's closet. Take a look at her seven best style moments on the show and prepare to fall in love.
1. Airport Chic
Looks like I'll be taking a page from Rachel next time I'm jet-setting across the country. While most would stick to the classic sweats-and-sneakers combo at the airport, Rachel opts for a more polished travel uniform: a collared blouse paired with a leather jacket. As for hair, forgo messy bedhead and embrace the classy braid.
2. Denim Duty
For a day of thrifting, (vegetarian) BBQ, and jamming out to country music, stick to a casual denim jacket, flowy dress, and leather satchel to ensure maximum comfort and style.
3. The New LBD
Why settle for a safe and mundane LBD when you can pull a Rachel and make it a glittery number?
4. Pretty In Plaid
Rachel is evidently a denim jacket devotee — and this time, she's paired it with a plaid skirt and black crewneck for a brunch meets Craigslist appointment outing.
5. Printed Perfection
Meeting the (grand) parental units requires something conservative yet chic, and a crisp patterned button down gets the job done.
6. Go Graphic
Moving in with the BF: Check. Debating with said BF on toothpaste squeezing habits: Check. Lounging around the apartment in oversized graphic print sweaters: Check.
7. Drugstore Chic
In case you need to mimic the look: Layer a color block sweater over a white button down, throw on a brown leather jacket — and don't forget the Martinelli's apple juice just because Dev said so.
Want to go watch the whole series and go shopping now? Yes, me too, me too (again).
Images: Netflix (8)