5 Reasons We're Excited About Roxane Gay's Award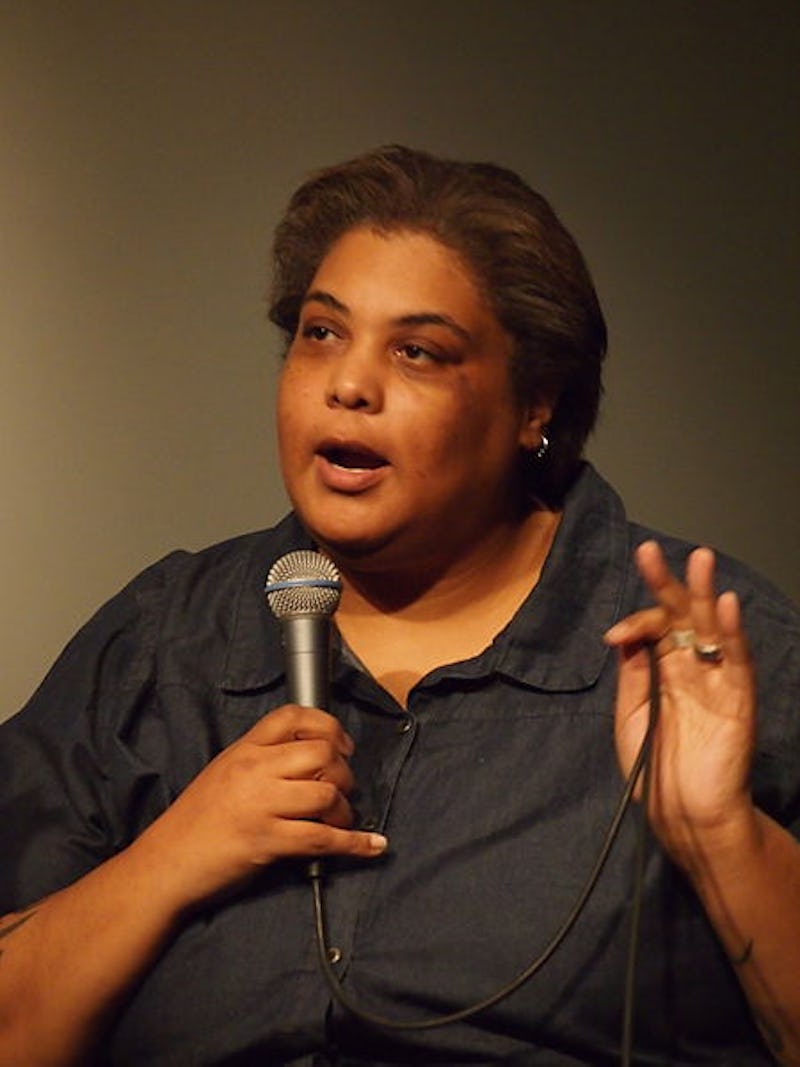 Good news, everyone! Last week, PEN Center USA awarded its Freedom to Write award to Roxane Gay, author of the essay collection Bad Feminist and the novel An Untamed State . And as a huge Roxane Gay fan myself, I couldn't be happier.
The PEN Freedom to Write award is given annually to a writer who "produced notable work in the face of extreme adversity or demonstrated exceptional courage in the defense of free expression." It's an apt award for Gay, whose fiction and nonfiction both tackle difficult and often controversial subjects with a great deal of nuance and empathy, and who frequently speaks about issues facing women, people of color, the LGBTQ community, sexual assault survivors, and other marginalized voices.
Upon receiving the award, Gay said:
The freedom to write has been one of my life's greatest blessings and it is a freedom that should be available to everyone who wants or needs to share their voice.... It is humbling to be considered worthy of such an award. I am thrilled and honored.
Whether she's writing essays for online publications like Salon or the Toast, ruminating on life and food on Tumblr, tweeting to her nearly 100,000 followers, or writing fiction that will leave you breathless, Gay is always pretty excellent.
So here are five reasons it's incredibly exciting to see her win this award.
1. She Stands Up For Important Issues
Whether she's discussing sexual assault, the need for a woman on the $10 bill, police brutality, or recent news stories, Gay doesn't shy away from the tough issues. And, as Out magazine points out, "As a recognizable and respected voice in the writing community, Gay has continually used her writing to fight on behalf of the LGBTQ community, women, people of color, and anybody who has ever felt marginalized." So it's wonderful to see such a person honored.
2. She's A Breath Of Fresh Air Online
In the vast, untamed wilds of the Internet, it's unusual to come across someone with a consistent commitment to nuance who doesn't treat issues as black and white and who always tries to appreciate the complexity of a given situation. It's even more unusual to find such a person who also has a large online following. Yet Gay manages to be that person.
In an essay on the responses to the Charlie Hebdo attack in Paris earlier this year, Gay wrote that, "Life moves quickly but, sometimes, consideration does not." The way that Gay consistently takes her time in considering issues is something the world needs more of as it moves ever faster along the digital highway of the Internet, and it's great to see Gay's measured voice recognized — especially by an award that honors those with a commitment to free speech. Since I would argue that trying to preserve an appreciation for distinction is in fact essential to to the preservation of free speech as well.
3. Representation Matters
It's sad but true that even today awards and honors tend to be awarded disproportionately often to straight, white men. Straight, white men are not the only ones doing worthwhile things and it's always a welcome sight to see other people getting recognition instead of being overlooked. So seeing Gay, a bisexual woman of color, win such a prestigious award is amazing.
4. She's A Competitive Scrabble Player
This doesn't really have any bearing on the award, it's just really cool.
5. Her Writing Is Amazing
The PEN Freedom to Write Award is for people who have produced notable work, and Gay's undoubtedly fits the bill. Her essay collection, Bad Feminist, discusses pop culture, politics, feminism, and Gay's own journey in a way that will make you think and make you marvel. Her novel, An Untamed State, was one of the most powerful and gripping works of fiction I've ever read. Even short mini-essays on Tumblr as she cooks and contemplates her life, she's always a treat.
So congratulations, Roxane Gay!
Image: SLOWKING/Wikipedia Commons