THINX Ads Are On The Subway — But That's Not All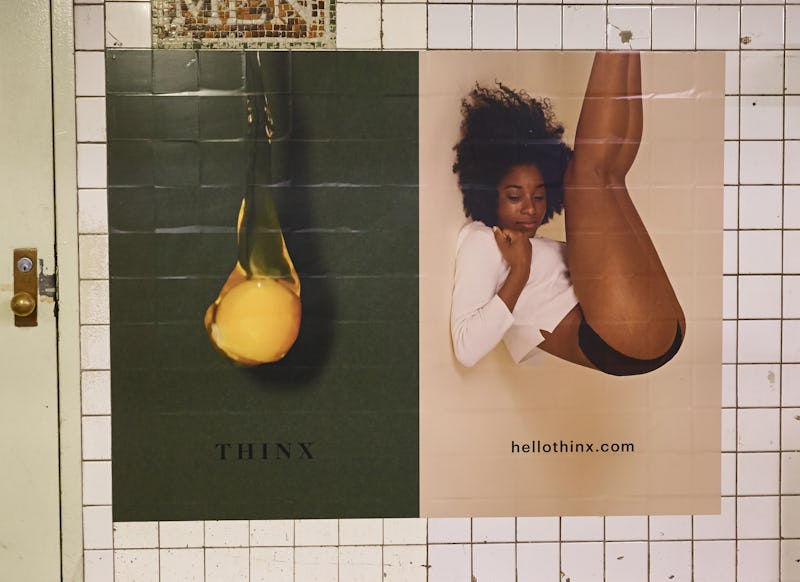 A few weeks ago, THINX's director of marketing, Veronica del Rosario, called her boss, crying. "I was feeling so defeated," Del Rosario remembers. She'd been going back and forth with an ad agency on the creative for THINX — aka the "period" underwear's — ad for weeks, and she was finally convinced that THINX wouldn't be able to run their ads on New York City's subways.
Del Rosario said that an agent at Outfront Media, the company which approves most of the copy and images for review before the MTA board, already had several issues with the ads, starting with the company's slogan.
"When we said the text would read 'Underwear for Women With Periods,' the agent said, 'We won't be able to run the copy as is,' we could only assume that meant they didn't want us to use the word period," Del Rosario tells Bustle. She also said that a male agent asked her what would happen if a kid saw the ad. Del Rosario said he also took issue with the word fluid, as well as the pictures of the grapefruit (meant to symbolize the vagina) and eggs (meant to symbolize a woman's ovum), she says. "He said they were too suggestive ... as were the women in their underwear," Del Rosario tells Bustle. His suggestion was to use white silhouettes with black underwear, she says. This, despite the fact that several of the ads depict women in turtleneck sweaters.
Hardly skimpy.
The agent remarked, "'Don't make this a women's rights thing' — and then he hung up on me," Del Rosario tells Bustle. That's when she called her boss, cofounder and CEO Miki Agrawal, crying — and they went to the press.
While the MTA and Outfront Media has commented that the concern over the word period was brought up by an Outfront representative before THINX had officially submitted the copy for the ad — and before the MTA or Outfront Media had formally had a chance to review or reject it — Del Rosario says she felt the entire process was "an uphill battle," and one that operated under the assumption that talking about women's periods was potentially inappropriate. According to the the MTA's guidelines, subway ads can't depict "sexual or excretory activities" or materials that promote a "sexually oriented business." THINX, which markets underwear for women on their periods, was doing neither.
After going back and forth on the copy and images, Del Rosario says she began questioning the agent on the obvious double-standard behind his edits — especially when there are so many far more suggestive and objectifying ads on the subway, featuring both naked women and grapefruits, like this infamous one.
And this one.
Oh, and this one.
In response, she says the agent remarked, "'Don't make this a women's rights thing' — and then he hung up on me,'" Del Rosario tells Bustle. That's when she called her boss, cofounder and CEO Miki Agrawal, crying — and they went to the press. "She said, 'That's it — no one makes my Veronica cry,'" Del Rosario remembers. Twitter subsequently erupted in a feminist fury, and the story went viral.
In response, Outfront Media issued this statement in October to Mic (Outfront has not yet responded to Bustle's request for comment).
Together with our transit partners, OUTFRONT Media makes every effort to assist advertisers in creating campaigns that are both effective and appropriate to the transit environment. This is the approach that was followed with respect to the advertisements proposed by Thinx. No copy was ever rejected and the current copy is still in the MTA review process. We suggested changes that we felt were appropriate for the riding public and were hoping to work with the advertiser to refine the copy.
THINX responded by posting what it claims is the actual redacted email exchange to its Facebook page.
Following the social media outcry that exploded before the ads had even been reviewed, an MTA spokesman told the Times on October 22 that "of course [the ads] will be approved." They were, and ads went live on L trains and at the Bedford L stop in Williamsburg, Brooklyn this very Monday.
At this point, THINX cofounder and CEO Miki Agrawal (that woman jumping above) is obviously thrilled. THINX is getting the last laugh: tons of press, "a slight spike in sales," and, of course, an entire dialogue about period-shaming sparked by her company.
"The president of the MTA told the Times when this story broke that, 'On a personal level, I just found these ads offensive,'" Agrawal says. "My response was, 'Is it offensive that that blood created you?'" According to the MTA president, his daughter and wife found it offensive too...and that's exactly the kind of internalized female stigma around periods we're addressing." Period stigma-busting revenge is sweet.
Agrawal and her company are now building on the momentum of the MTA controversy with the announcement of two new products: a new 'Sport' THINX underwear model for the athletic woman on her period, and an offshoot of THINX coming this Thursday called "Icon," a new underwear line aimed at young mothers and other young women with incontinence (or as they like to say, "women who tinkle").
It's a natural taboo for THINX to tackle next — after all, as they point out, urinary incontinence is actually incredibly common among young mothers, and without a special underwear designed to help protect women dealing with it, they might be forced to "wear a pad every day, or even Depends," Agarwal says. They wanted to make something that would make them feel sexy and like themselves, instead. Icon, whose site launches later this week (though you can sign up for the mailing list here), aims to help normalize incontinence, right alongside the company's original mission to destigmatize periods.
Even better? For every pair of Icon underwear you buy, THINX donates to the Fistula Foundation, which helps the estimated one million women suffering from the painful postpartum condition.
Fistula, which occurs during prolonged labor, happens when a hole is torn between the vagina and rectum or bladder, leaving the woman constantly leaking urine, feces, or both. The smell often leaves them social outcasts, potentially "left to rot," as Agrawal puts it, "when a simple surgery can fix the problem."
If you'd like to help these women but don't need Icon underwear, you can still donate to the Fistula Foundation — and also be rest assured that, for every pair of THINX you buy, the company pays for a pack of reusable pads made by women in Uganda through the company AFRIpads. (So either way, you can feel justly self-righteous about shopping for some cute underwear.)
THINX has also just released a new, celebrity-filled short film aimed at fighting period stigma. So all in all, it's safe to say there's only happy crying in the THINX office today — and no, that doesn't mean anyone's on their period. Though if they are, they'd definitely be covered.