9 'ER' Quotes That Remind You Of Fall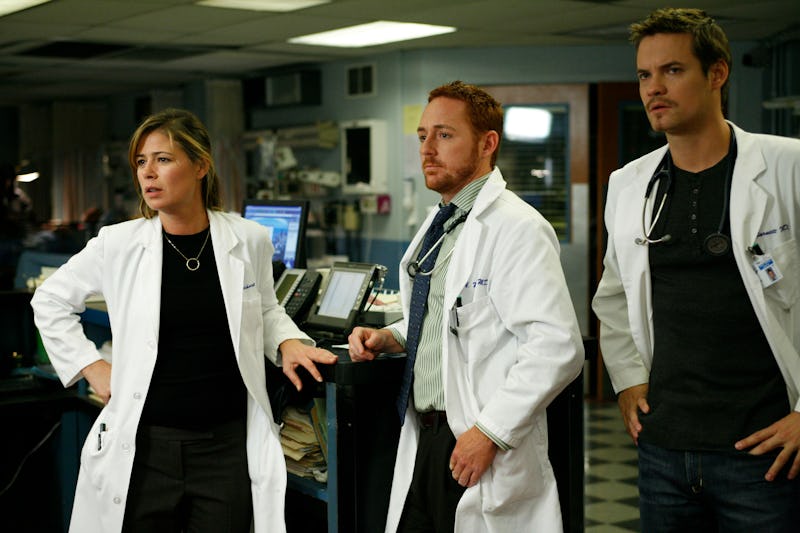 Nothing says fall to me like the start of new television seasons. And, while we are now months past the start date for many of the new and old shows, it's always just about when the weather starts to change that I start getting nostalgic for all of the old shows that still have a special place in my heart, especially those Must See TV favorites like ER and Friends, with their memorable holiday-themed episodes. So, it's no wonder that this time of year I find myself perusing past episodes, looking for the ER scenes and quotes that remind me of fall.
Watching those doctors come in from the cold Chicago weather, wrapped in scarves and bundled up in thick jackets, it makes sense to me why I always find myself craving old episodes of ER when the fall hits. As crazy as that emergency room always seemed, there was a warmth to it, a security for everyone who came in from the harsh elements outside and sought safety.
So yeah. That's how I'm rationalizing this connection. And it's also why these quotes from the long-running show always remind me of cold weather, cozy scarves, and everything that I love about the fall.
Dr. Robert Romano: Will somebody turn down the damn heat? Feels like a hundred in here.Nurse: The thermostat is set at 68 degrees.Dr. Peter Benton: Maybe you're coming down with the flu.Dr. Robert Romano: It's not the flu.Nurse: Maybe you're going through "The Change."
How I feel every day at work. Seriously, why are my toes freezing and my face on fire?
Nurse Haleh Adams: I've been doin' this job for 17 years, honey. Doctors come and go, but nurses make this place run. We don't get much credit or pay. We see a lot of misery, a lot of dyin', but we come back every day. I've given up bein' appreciated, but I sure as hell won't let any of us be taken for granted.
Because we all need to be reminded sometimes to be thankful for the people in our lives who really make them run, and this season (and this moment in ER history) is a perfect reminder of that.
Dr. John Carter: We have a man with a large carrot stuck in his colon coming in.Lucy Knight: How did he ever swallow it whole?
Maybe your holiday dinners don't get this exciting, but you can always count on one member of the family doing something ridiculous.
Frank: I thought he froze to death last winterAbby Lockhart: The iceman cometh back.
How I feel about November. Always.
Dr. Susan Lewis: Why do I feel like a school kid out here?Dr. John Carter: It must be the adolescent sexual tension.
It happens with every new school year. The new kids come in and make us all feel like awkward teenagers.
Dr. John Carter: So, what are you gonna do tonight?Dr. Deb Chen: Oh, the usual. Get drunk, meet a random guy at the bar and have a night of wild sex until I pass out from sheer exhaustion.Dr. John Carter: Takeout and a hot bath?Dr. Deb Chen: Yeah.
Let's be honest: With the weather as cold as it is, these are your fall evening plans, too.
Patient: What do you do to work out?Dr. Susan Lewis: I do these [arm curls].Patient: Curls? How much?Dr. Susan Lewis: Sometimes a whole pitcher of margaritas.
At this point in the season, I find myself longing for warm nights on the water and bicep curling entire pitchers of margaritas too.
Dr. Robert Romano: Is anybody in this city not sick? It's like the damn plague down here.
Welcome to cold and flu season, everyone.
Dr. Cleo Finch: Happy Hannukah, Kwanza, whatever...
Because, sometimes, you don't feel like getting into the holiday spirit either.
Now excuse me while I go curl up with a hot cup of mulled cider and Seasons 1 through 3 of ER. You want to know what I'm thankful for this year? My ability to marathon an entire series in a single weekend.
Image: Warner Bros. Television (10)