Kelvin Yu Stands Out On 'Master Of None'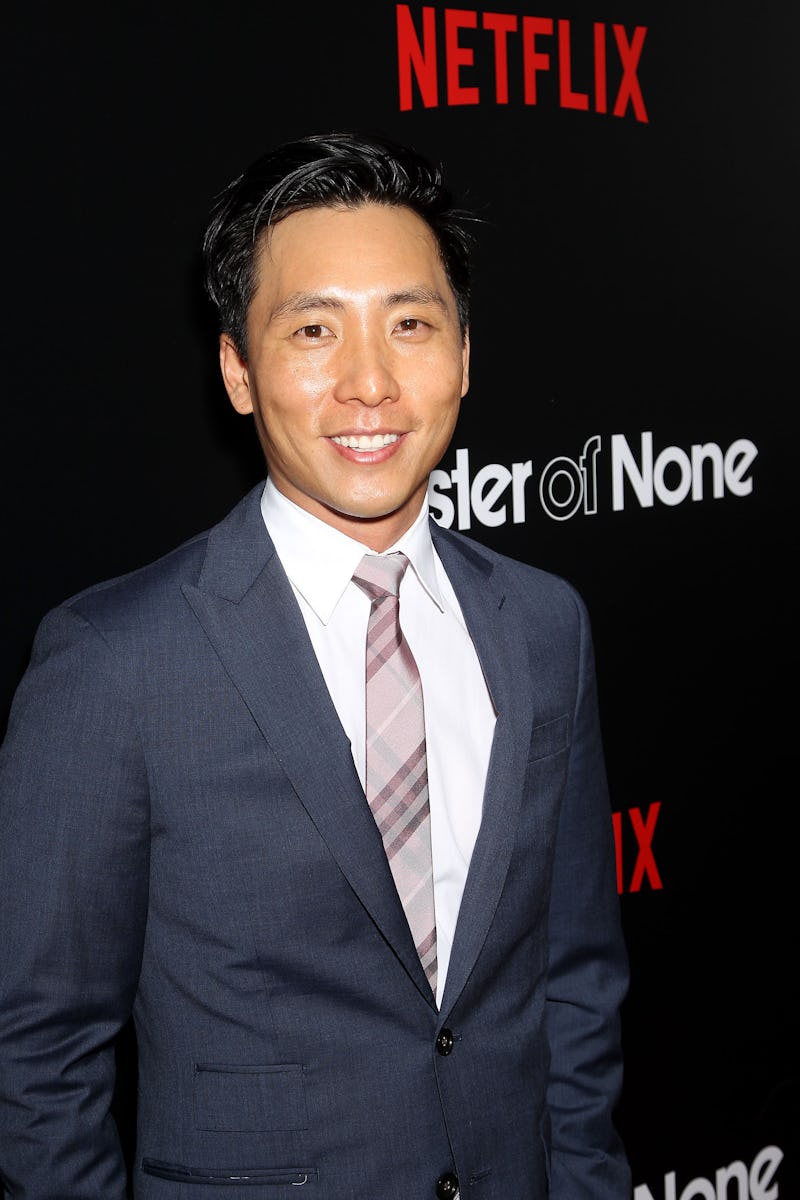 Netflix's new original series Master of None is a comedy created from the minds of Aziz Ansari and Alan Yang, who worked together as actor and producer on Parks and Recreation. Ansari himself stars as Dev — seemingly inspired by the comedian's own life experiences — whose life is filled with interesting characters. But who is Brian on Master of None, one of Dev's best friends?
Actor Kelvin Yu stars on the Netflix series as Brian, who, like Dev, is the child of immigrant parents. The two bond over the way their lives have been influenced and impacted by their parents' beliefs, as well as what their parents sacrificed in order to give them their comfortable and fun existence. Dev and Brian also bond over their parents' weird quirks, like Dev's father's trouble with his iPad. In the excellent second episode of Master of None, the aptly-titled "Parents," Brian and Dev take their parents out to dinner to show that they're appreciative of everything they've done.
If Master of None was your introduction to Yu, you're likely wondering where else you can see him, as his performance stood out, even among the very talented cast. The actor has played a number of bit parts or supporting roles in movies and television series since getting his start on a popular teen series in 1999. Yu has also worked behind the scenes on one of Fox's animated comedies. Here are some places where you've seen this Master of None co-star.
Popular
Yu got his official start playing Freddy Gong on Ryan Murphy's two-season teen drama Popular that aired in the late '90s and early '00s (as you can tell by the outfits). He only appeared in six episodes, but it was enough to launch his career.
Gilmore Girls
After his short stint on Popular, Yu played a number of bit roles in various television series throughout the '00s, appearing for single episodes on shows like Judging Amy, The Shield, NCIS, Burn Notice, and Satisfaction. However, his most notable guest role was as Lane's cousin David in the Season 2 episode of Gilmore Girls "A-Tisket, A-Tasket." David gets pulled into Lane's convoluted plot to evade her mother and go on a date with her boyfriend, Henry — but David doesn't even get lunch out of the deal!
Milk
In the mid-to-late '00s, Yu had a couple of supporting roles in major films, such as Grandma's Boy, Cloverfield, and Star Trek, though he's probably most recognizable for his role as Michael Wong in Milk, the film about gay activist Harvey Milk.
Bob's Burgers
Although Yu has portrayed smaller roles on the big and small screens, he's spent plenty of time over the last four years working behind the scenes on Fox's animated comedy Bob's Burgers. Yu has served as a member of the writing staff since 2011 and wrote a number of episodes including "Moody Foodie," the Christmas episode "Christmas in the Car," and the most recent Halloween episode "Hauntening" — which was a particularly frightening and hilarious episode that finally saw Louise meet her match in terms of haunted houses.
With the amount of acclaim Master of None has already received, I'm sure we'll be seeing even more of Yu very soon.
Images: Marion Curtis/Netflix; Giphy (2); tinarannosaurus/Tumblr